Once you step on the SEO-path, you'll want to know for sure which buttons to push to get high rankings on search engines. In this article, we shed light on the factors that have a strong hold upon your website performance. Namely, DA, PA, and SB rank.
What means DA?
Folks from MOZ invented this metric to identify the authoritativeness of a website. Combining more than 40 factors, DA takes an unbiased look at your site chances to get high rankings on SERPs. Among the most prominent and apparent things considered are the number of backlinks, MozRank and MOZTrust.
Every decent SEO expert considers DA metric to foresee how well your site may rank on search engines. In essence, this metric has become an integral factor needed to compare any website to the competitors' sites.
The DA metric is represented by a 0-100 scale. The higher score means stronger authority and reliability of a website.
Previously in the article, we mentioned MozRank and MozTrust, the two ingredients that make the DA picture full.
MozRank
MozRank denotes how many websites link to you. The more quality websites link to your site, the higher MozRank you obtain. Basically, MozRank deals with your backlink profile and look much like the Google's now non-existent PR.
In other words, there is a point in linking to quality websites since they automatically boost your backlink profile as well.
MozTrust
As you can see by the name of this metric, it's one more invention from the Moz team. Whereas MozRank deals with the number of links in your website backlink profile, MozTrust scrutinizes the value of your backlinks. There's a bunch of pages that are automatically considered as the more trustworthy: homepages, government and university pages, websites with .com domains and many more.
How to increase DA?
The sure way to boost your DA rank is picking in quality backlinks. But still you have to remember that not all backlinks are treated equally, so the trick is diligently to search for the relevant and quality links. Every time you enlarge your backlink profile your domain authority will steadily grow up.
Four simple ways you can increase your domain authority:
Craft a lot of quality content with diligent internal linking
Work on gathering plenty of high-quality inbound links.
Weed out bad links pointing to your website.
Give yourself time because of DA slow increase.
What means Page Authority?
In contrast to DA, PA (Page Authority) evaluates the strength of a separate webpage. Page Authority is based on the quality and authority of inbound links.
A whole website can have high DA while its separate pages can have low PA. Usually, this score matters when you monetize your site content. People tend to buy ads from web pages with high score.
Needless to say that web owners always strive to make their website pages quality so be able to monetize each of them. So here are simple steps you can take to improve your page authority.
How to increase PA?
Domain authority matters. So web pages on high authority domains tend to gain high PA score as well.
Make sure that the content of your web page is useful, relevant, and unique.
Check and fix on page issues that may also prevent you from getting high PA.
Don't forget about relevant internal linking on the given page.
Grow many high-quality backlinks pointing to the given page.
Clear away any bad links pointing to the page (this is also true for your whole website).
What means SB Rank?
Back in the days when Google announced that PageRank ceased to exist, ScanBacklinks developed a new score that can easily replace PR. That is the story about how SB Rank appeared. And the cornerstone of this new metric is DA, PA, CF, and TF.
Citation Flow (CF) is a number of predicting how influential a URL might be based on how many sites link to it. Trust Flow (TF) is a number predicting how trustworthy a page is based on how trustworthy sites tend to link to trustworthy neighbors. CF and TF are a set of link metrics represented by Majestic SEO.
SB Rank is a perfect blend of all these 4 metrics from MOZ and Majestic. What we like the most in SB rank is that it's totally fair and you cannot cheat it. Plus, SB Rank updates every single month so you can be sure that the scores provided are always up-to-date.
Furthermore, you don't have to check each of the link metrics separately. Instead, you can check only SB Rank and get the fair score of any web page you wish. SB Rank is a time and nerve-saver that will let you build links correct and effortlessly.
How to make your DA, PA, and SB Rank Better?
When it comes to any improvements to your website performance we'd recommend you to consider the following factors: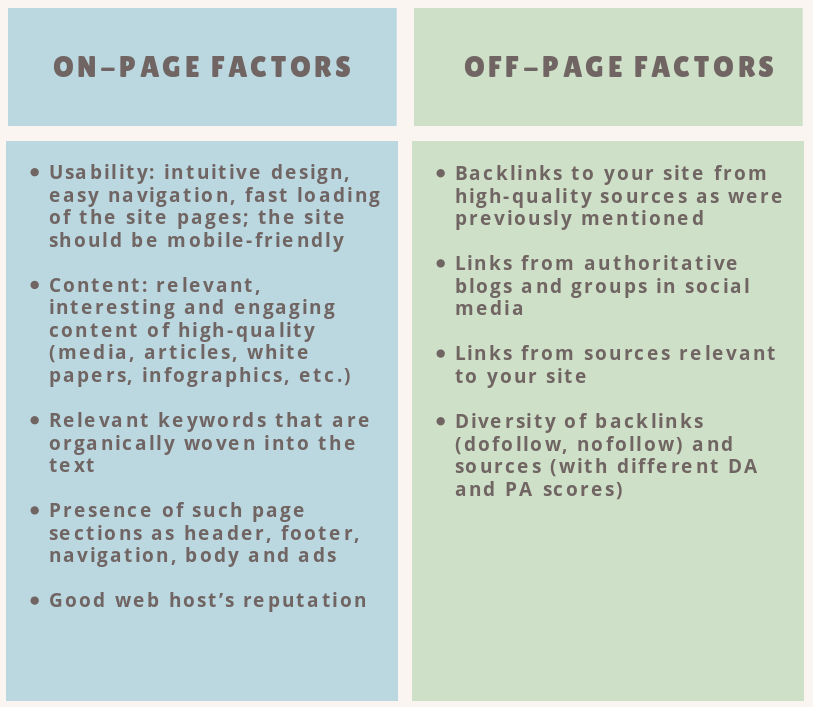 Unified solution to check DA, PA, and SB Rank
You can view your website's SB Rank by using ScanBacklinks. All you need to do to check the DA, PA or SB Rank of a website is simply put the URL into the box and click 'Check right now' button. Just in a few seconds, you'll get DA, PA, CF, TF, and a summarizing SB rank of a selected web page. It's easy as 1-2-3.
Step 1. Enter the URL into the box.

Step 2. Click 'Check right now' button.

Step 3. Ta da! Check out the result.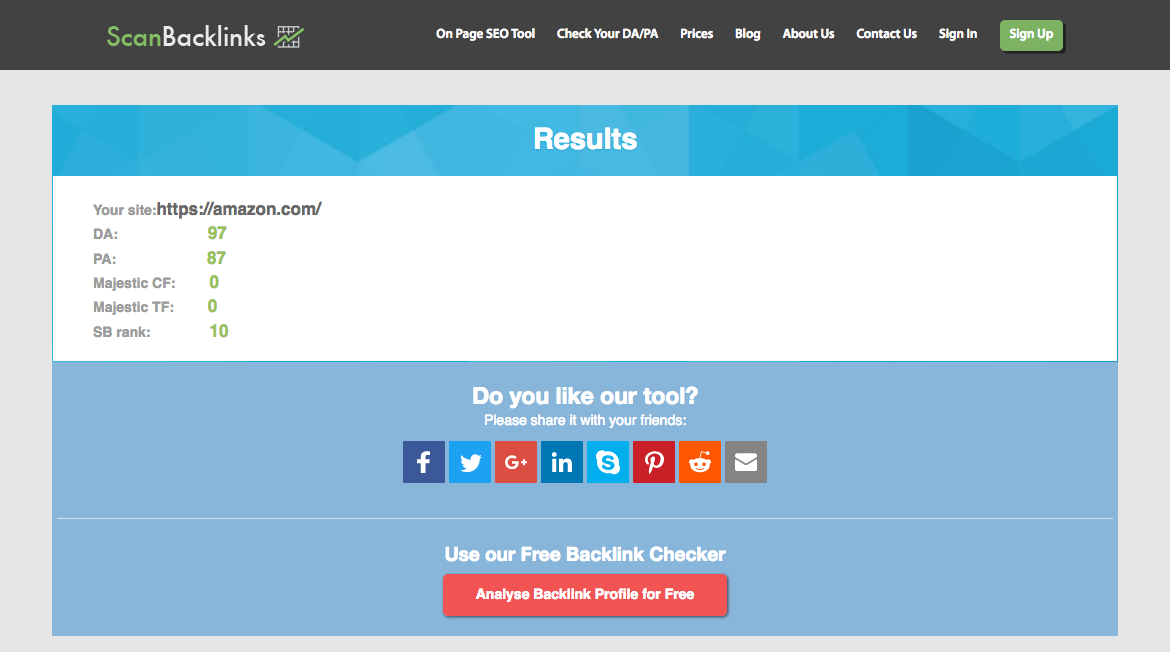 In case you want to check your backlink profile or on-page issues, you'll have to sign up for ScanBacklinks and examine your website from all SEO angles possible.
Check DA/PA/SB Rank of My Website
Have any questions left? Leave your comments just below the article and we'll do our best to clench the matter!
In this day and age, the expansion of the internet and the access to the plentiful platforms with an all-encompassing focus on making money has empowered users to build their own websites and blogs on a shot. And a website by itself became the most powerful digital marketing tool you can have.
But usually launching a website is entailed with a lot of hassle. Once you decide to launch a website, you'll have a myriad of questions and issues to solve:
How to buy a domain name?

How to make a website work?

How to monetize the website?

How to allure customers and make them spend their coins on your site?

How much time does it take?

And finally, does it worth it?
However, launching a website and making money online seems more difficult than it actually is. What if you had a thorough guide of all the things you had to do to successfully launch a new website and make a profit?
Look no further – this guide will lead you through the nuts and bolts of launching a website and making money out of it. You'll get to learn how to monetize your website with MageNet and start earning a side income with little effort. Even if you want to launch a website just for fun, it's always great to know that your hobby can bring in an extra revenue!
Here's a short overview of the guide:
Step 1. Define your genuine goals
Step 2. Find a promising market
Step 3. Acquire a top-notch domain
Step 4. Build your website's inner structure
Step 5. Keep your website fresh
Step 6. Put a proper SEO strategy in place
Step 7. Find out the efficiency of your website
Step 8. Join an affiliate program & earn more

Step 1. Define your genuine goals
99% of average internet users are well-acquainted with surfing through various websites, but few are aware what's actually under the hood of those websites. All technical details stay behind the scenes. Before we dive deep into the website launching process, you'll have to answer the single question:
What is the underlying reason for starting your own website?
Answering this question will let you decide a number of issues in one go. At least, you'll be able to figure out the final goal. But one thing which is more than a little obvious is that as a website owner you'd like to get a profit from your website. And it doesn't matter whether you run it just for fun or with the express purpose of commercial profit.
Even if you are of those few people who don't look for making money, one day you'll be seduced by the opportunity to get revenue with your website. Bear in mind that MageNet enables you to start making money with your website in 3 easy steps. Learn more how to start your journey through MageNet inventory.
Usually, the cornerstone of your website's success is attracting advertisers and active users. So basically, you can assume this as your primary goal. Because, believe it or not, this is what will turn your financial dreams into reality.
Know your intended audience.

As you learn your prospects' desires and favors, you'll know what to do with your website, what content to publish so to make people read it and share it with others.

Learn your advertisers' needs.

Since they are your future buyers who will visit your website being interested in your services.

Learn how to attract and preserve heaps of visitors.

They are the lifeblood of your website. Be sure that the longer they stay on your site, the more likely it is that they will eventually leave your site by at least clicking on your advertiser's links.
Step 2. Find a promising market
Once the goals are defined, it's high time to look for the appropriate business niche. The rich flow of traffic and high revenue comes to those webmasters who are choosy in the target market.
The most common path to success for many newbies in online business is to find a niche market and establish themselves as a chief player in that niche. Focus on these 4 basic concepts for niche markets success:
An exclusive product or service.

If you're about to conquer a niche market, you'll have to think through some unconventional product or service. Ideally, you have to be the only one offering that kind of goods. The trick is to reveal and fill the gap of customers' unmet needs.

Conduct a massive market research.

Whatever great product you'll invent, there must be people needing those goods. If not, it's not worth the effort then. A massive market research will show you the way with your online business. You'll spot your competitors' weaknesses, your prospect users' needs, and finally the growth areas for your business.

Carefully analyze your competitors.

Bear in mind that there a lot of smarts like you in the niche market. And the point is that you have to be smarter. The competitors' analysis is a terrific way to know whether there is still a place for you in the intended niche.

Foster your efforts in marketing.

Your website success or failure will depend heavily on people who should come to your website and buy from you. The one the surefire way how to do this is to break into the marketplace with some under-served services. The best way is to differentiate from your competitors and align your branding strategy with a unique market proposition.  
Below are the most profit-yielding website niches among MageNet publishers.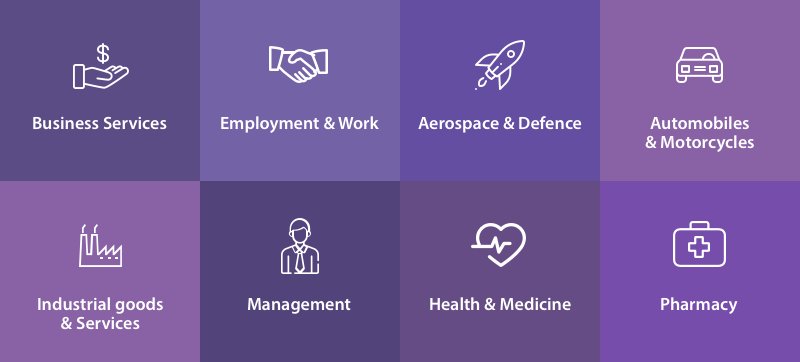 Tip: Follow the money — launch a website in one of these niches to get an option to coin it in. The competition in these niches is low and your contextual ads will be purchased fast. Our clients are also looking for DA50+ links from Brazil, Indonesia, France, Germany, Mexico, Italy and Canada. Plus, you'll get a special bonus from MageNet for adding your website in one of these topics into our inventory. If you are eager to know how much money you can get with your website right away, use MageNet Value Calculator.

Step 3. Acquire a top-notch domain
Logically, before building up the inner form of a website and fill it with useful information for your customers, you need a domain name.
By the way, some people mix up these two terms: 'a website' and 'a domain'. Simply put, a domain is a smart letter pointer to your website location on the internet. While a website is a set of web pages with video and text content. In other words, a domain is what your users type into their web browser to find your site, whereas a website is what they see when they enter the webpage.
Technically, a domain name is made up of two pieces: SLD (second level domain) and TLD (top level domain).

And here's teh distinct differences between SLD and TLD: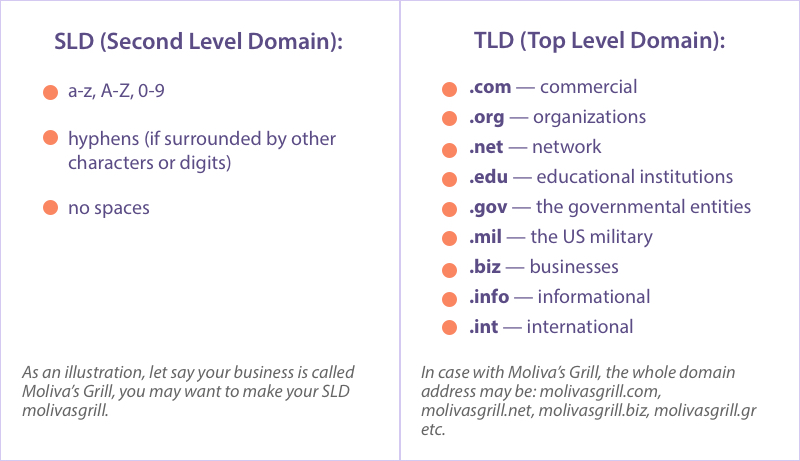 Nowadays, though, no one focuses on the basically intended purposes for TLDs, and there's surely no one pushing you to use a certain TLD when launching a website. That said, you cannot get .gov, .edu, and .mil domains even for a large amount of money.
Still, 9 out of 10 website owners want to get a .com since it's the most distinct and esteemed TLD. That is why every time you want to get a short, haunting, and catchy domain name, you'll face a fierce competition and jaw-dropping prices for those juicy .com domains.
As an alternative, you can always get local/regional TLDs, such as:
.uk — for the UK

.at — Austria

.be — Belgium

.br — Brazil

.dk — Denmark
If your website operates only within the specific region, you'd better pay attention to these TLDs. The issue if those local TLDs are usually cheaper than .com domains.
Tip: Always try to get the .com domains — because it's the most popular TLD in the whole world.
How to pick up a domain name?
Selecting the proper domain name remains to be a real challenge to this day. There's a long list of factors to consider. Here are the most  important tips on how to craft great domain names:
The shorter, the better

No trademarks, or well-known branded names

Get a .com or .net whenever it's possible

Craft your own words

(example – MySpace, CloudSound, Yahoo, Shazam)

Write down these words and read them repeatedly before the purchase. This is to avoid the misspelling and awkward sounding

(examples – therapist.com, childrenswear.co.uk, crapparchitects.com, titsa.com etc)

Use keywords or least niche-relevant terms*
So basically, your aim is to craft a simple yet strong name that should be short and easy to memorize. In brief, you have to stick to the simple formula:

Bear in mind that your domain name is your website identity. This how your prospects find you and pass to others.
These are a great news in case you are out of imagination. These free domain name generators will help you make up your mind to choose just the appropriate domain name:
NameMesh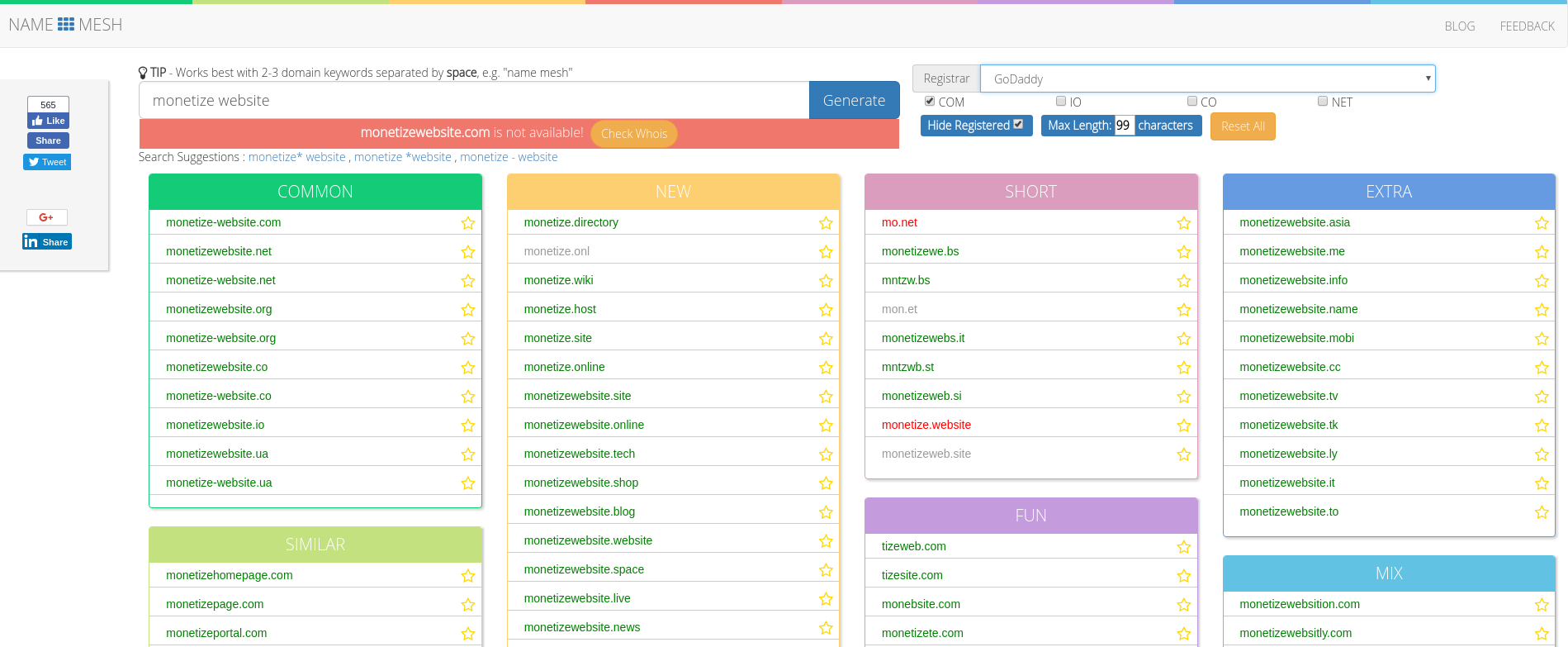 NameMesh delivers you a totally fantastic versatility. Type in just a word or two and get astounded by the available options. Apart from getting a mere list of available domain names, you'll get a number of alternatives, derivatives, and blends of your typed word.  
NameMesh generates so many word forms that you can easily get lost in the wide scope of ideas. Some people like this while others will prefer an easier way to vivify their imagination. In any way, this tool 100% worth your time.
BustaName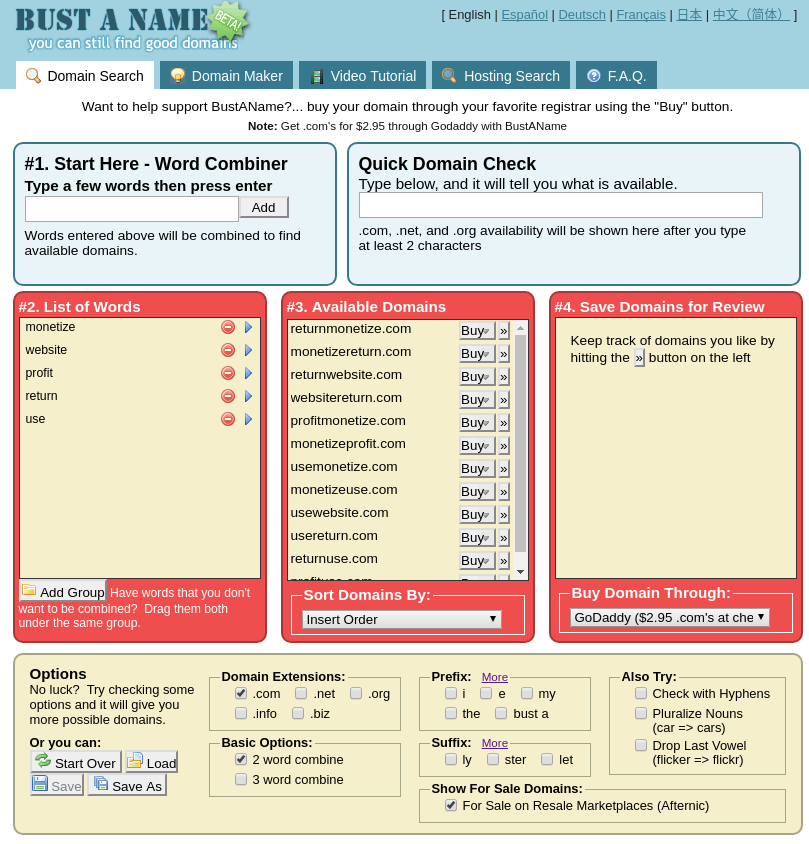 Bust a Name is another great tool to help you with domain name generation. It runs in a two-screen mode. The first one is for searching the domain name, while the other one is for making up a domain name. Domain name generator is great at finding the most relevant words to your website niche.
Moreover, with Bust a Name you can check whether the domain names you like are available.
Panabee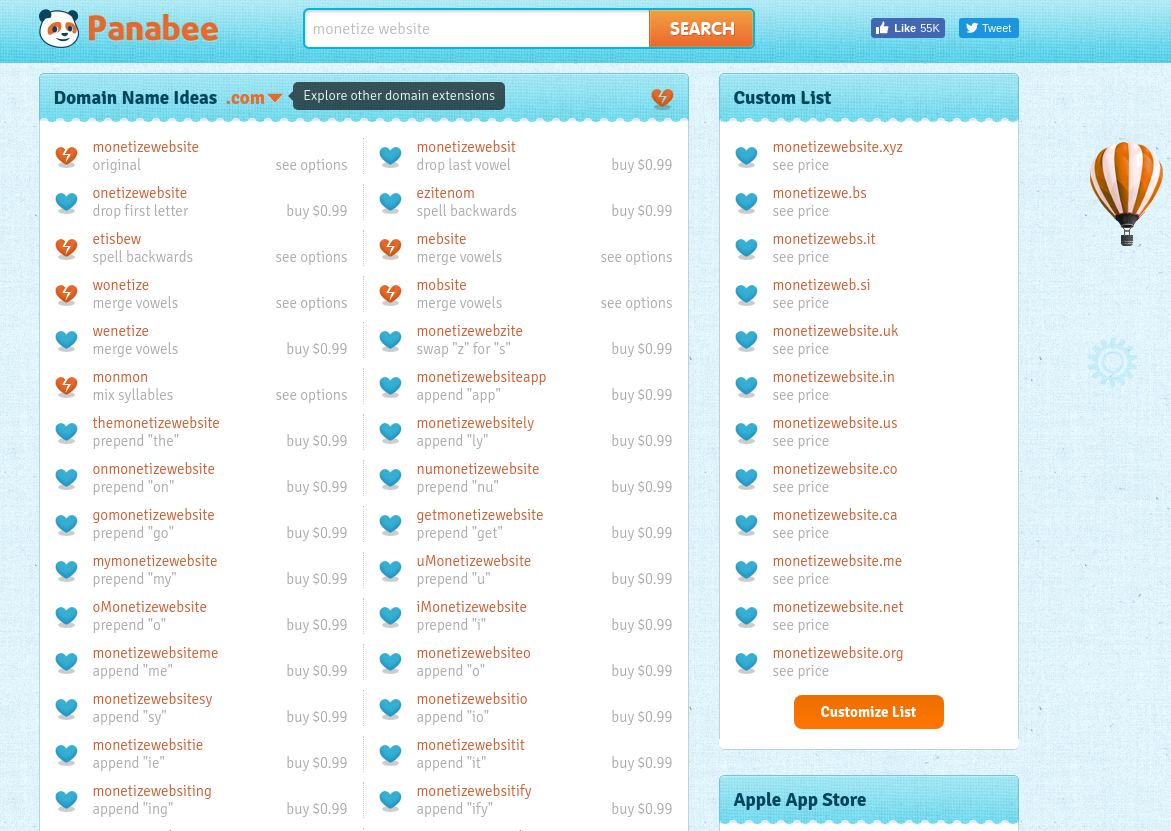 Panabee is a multipurpose online tool for generating domain names. All you need to get some fresh naming ideas is just to describe your idea with a couple of words. And voila a long list of available names for your future domain is just at your fingertips.
What we like the best about this tool is that below the each generated domain name idea there goes an explanation on how it was derived. The domain availability you can check just within the tool's interface.
Tip: Nowadays keywords in your domain name don't boost your chances to rank great on Google. But all the same, your domain name should evolve around the core keyword so to give your first-time visitors an immediate idea of what your website is about.
Where to buy a domain?
When looking for a website name you may see that there are a lot of domain names that are quite cheap. Especially when compared to some 'golden' names that can cost you a real fortune.
The point that it's not the matter of naming as it is. It's more complicated, and you'd better take domain name purchase as a long-term investment. Because you'll most likely use it at least a year and beyond. The right domain name can have a weighty impact on your website's — and, therefore, your business's — success.
More importantly, you have to decide what kind of domain you'd like to possess: a brand-new domain with a clear backlink profile and no authority or you're eager to catch an expiring neat domain name with a solid history and PA/DA rankings.
In the below table we compared the types of domains that can be purchased so you can figure out which variant is yours: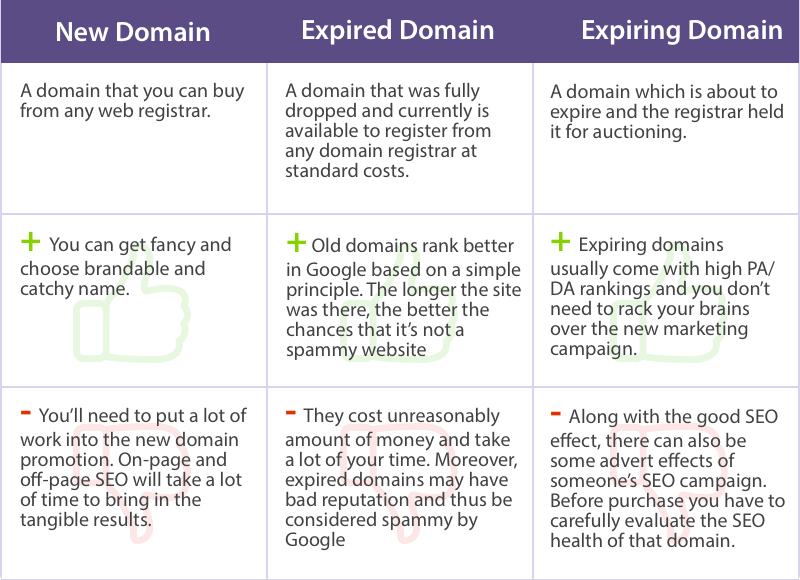 Usually, domain flippers buy expired or expiring domains since they return investments quicker than the totally new domains. In layman terms, domain flipping is getting revenue of buying and selling domains. Despite the fact that the competition in this industry is rather tough, you can still hunt for the successful and profit-yielding domains.
But before, you have to know some unevident facts about domain flipping so to know what to expect when entering the market.
No success comes overnight.

Yes, we are also become motivated after hearing those stories when a random guy sold a high profile domain name and made a fortune on it. But it happens seldom or never. The patience and insistence are the best in this industry.

You have to be active.

Because you never know why people burn through a lot of money on this or that domain name. To predict the future success of a domain you need to have a close eye on the industry and upcoming trends, so to be able to catch just the relevant domain before it stands high.

Get ready to hit the books.

Just like any other business, domain flipping requires a relevant experience and knowledge. If buying domains and selling them at a higher rate was a piece of cake, we wouldn't talk about it now. Before you get your first profit from domain flipping, you'll make numerous bosh-shots. So take your time and learn how to hang of it. Slowly but steadily.

There are still many good domain names.

One may think that all first-rate domains are not available anymore. Nonsense! To be frank, the possibilities in the domain flipping industry are boundless. You always can explore new niches and topics that were never used before.

Think out the box and use cunning methods to reveal the domain gems.

On the internet, there is a bunch of articles, guides, and tutorials on domain flipping. They all are great and extremely helpful if you don't even know from where to start. But there's one little "but" in it. Domain flipping is easy to play but hard to master. All the time-honored methods in the industry become old and ineffective in no time. So you have to be flexible, cunning, and piercing domain flipper with your own, unique methods.

Domain flipping won't take all your time.

Despite that domain flipping requires a lot of practice and knowledge, once you master it, you'll be able to get a revenue of selling domains on a part-time basis.

Domain flipping in ethical and legal practiсe.

Some people feel that domain flipping is unethical. The reason is that many business owners and big corporations face a problem to get just an appropriate domain name since the best-matching variants are already taken. However, you'd better treat domain names as houses sold in the offline world. There's nothing illegitimate in domain flipping.
How to choose a domain registrar & web hosting provider?
Domain registration secures the specific domain name for you so no one else on the internet can use it, while the web hosting provides you with a powerful server that has a constant internet connection.
Once you crafted the perfect domain name, you have to make your website alive. To do this you need:
Register your domain

Select a hosting company
There are companies that act as a one-stop-shop — you can register your domain name and host it with the same company. Still, many website owners choose not to do so. Because registering and hosting a website with different companies is like a double belt and braces. If anything goes awry with a hosting company, you'll still own a domain name.
Another reason for being versatile is that if you have a variety of websites and want to monetize them all with MageNet, please keep in mind that we have a special reward for those publishers, who add websites with different IP addresses into our inventory.
Add a Website With Unique Ip & Earn More
Let's start with the domains registrars. Today there is a wealth of registrars for you to choose from. But before making up the final decision on registering your domain name with a specific domain registrar, you've got to focus on the following issues.
Domain transfer option.

Sure enough that you will not want to transfer your domain name the next day after purchase. But still, one day there might arise the opportunity to move to the other domain. So make sure there are transfer details in your current policy.

Pricing details.

We are totally sure that pricing will be the most crucial focus when selecting the appropriate website registrar. But we do recommend to pay careful attention to the all the ins and out of pricing policy. This concerns all the extra costs that may tack on during your custom domain usage.

Client support.

Believe us, you'll want to get a caring and helpful support manager if anything goes wrong with your domain names. In any case, you'll want to make sure that there's a person who would crack your problems efficiently.

Extra services.

As we said before, there are many registrars who will fight for their customers in any possible way. For this reason, many domain registrars offer a wealth of extra features just for registering a domain name with them.

Drop catching.

You have to pay a yearly fee for your domain name maintenance. After the year goes by, you have to prolong your domain use and pay for the years to come. Sometimes a website owner may forget to prolong the domain name. And it suddenly appears in someone else's hands. To avoid this pitiful situation, some website registrars hold your domain name for you to take time and pay for it before the domain passes to another owner.
We've picked up the few registrars that we actually respect and ready to give our money them.
Namecheap

Namecheap is easily one of the most popular domain names registrars. The folks have a gust of the company for their user-friendly and simple interface. They also deliver the top-notch domain management pages, reasonable-priced domain names along with free DNS service and WHOIS encryption. SSL goes for those who are looking for some extra ways of their domain reinforcement.  
Now you can register a domain name with Namecheap for just around $11/year. 1 year of a free WHOIS protection goes as a bonus. More than that, Namecheap has crafted ample troubleshooting videos.
One more thing that we love about Namecheap is their handy and intuitive checkout process. And their enormous knowledge base does deserve high praise. One of the minor drawbacks is that they do merely chat support. However, it doesn't influence their responsiveness and helpfulness.
Bluehost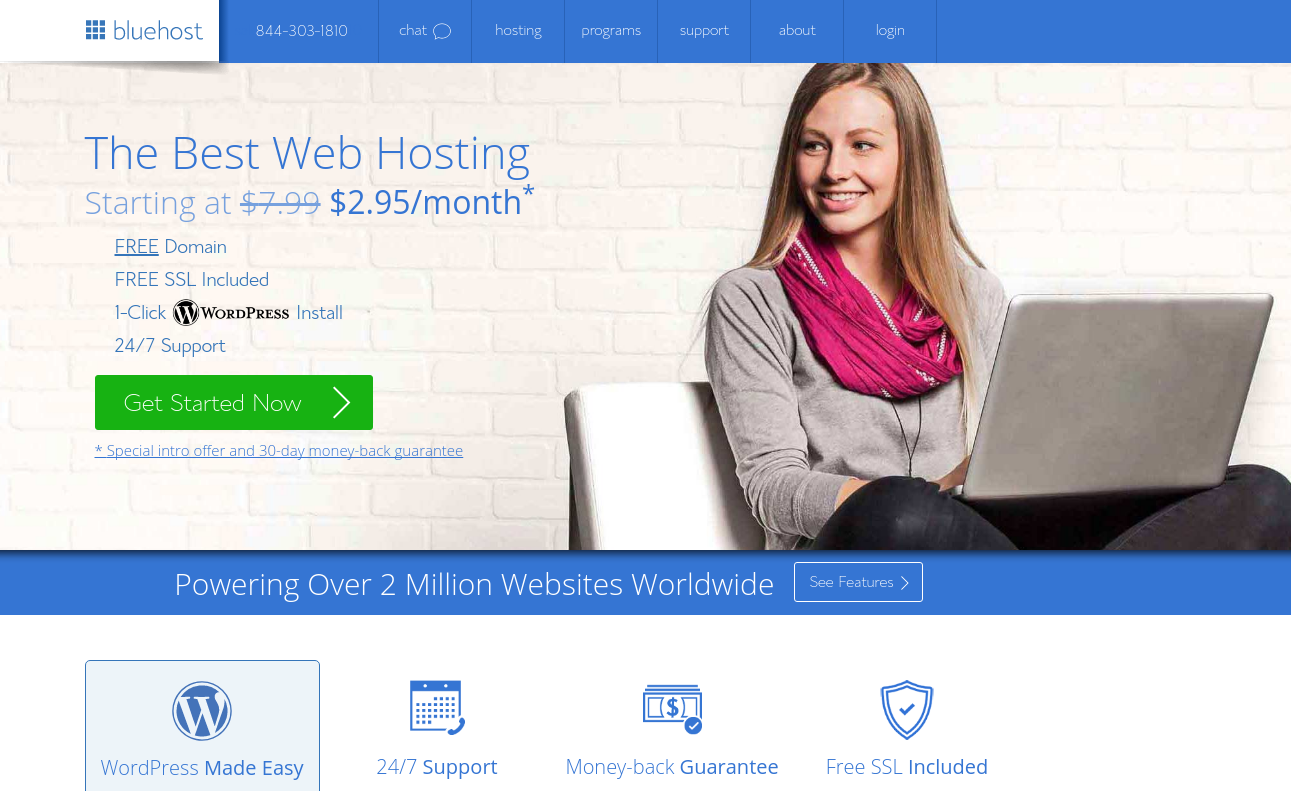 Bluehost is yet another popular domain registrar that is regarded as a great option for those who only starts their online journey. They are also well-known as a web hosting company. If you are looking for the single place to register and host a domain, Bluehost may be your perfect fit.
Usually, people choose Bluehost for their all-in-one option of domain registration and hosting. We cannot but adore their outstanding their support team that is available at any time of day or night throughout the year. We're totally sure that the vast majority of people choose Bluehost just for their support.
HostGator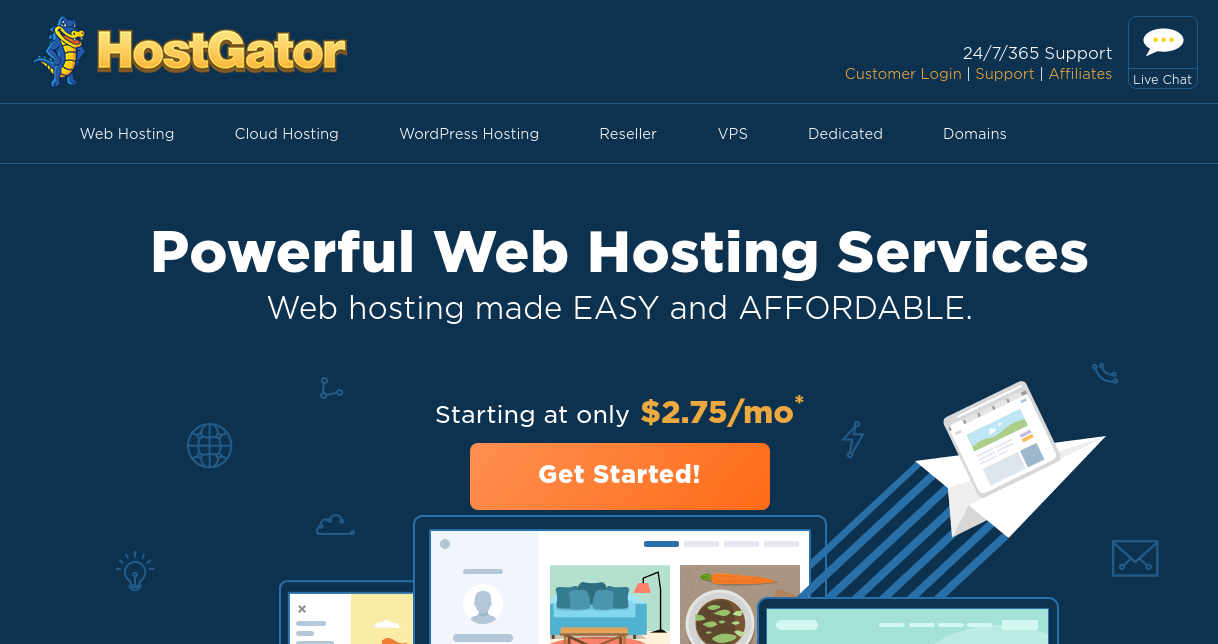 HostGator is a domain names registrar and hosting service all rolled into one. The company is a great choice for both newbies and skillful users. They offer cost-efficient domain registration and hosting packs for just $5/month which is literally a give-away price.
If you are hunting for some package decision for your website maintenance, then carefully consider HostGator. Plus, they claim that they have a 99.99% uptime which means that you nearly always will be online.
Currently, more than 10 million websites rely on HostGator services. This is really the company that has everything you need to be off to a flying start in online business.
GoDaddy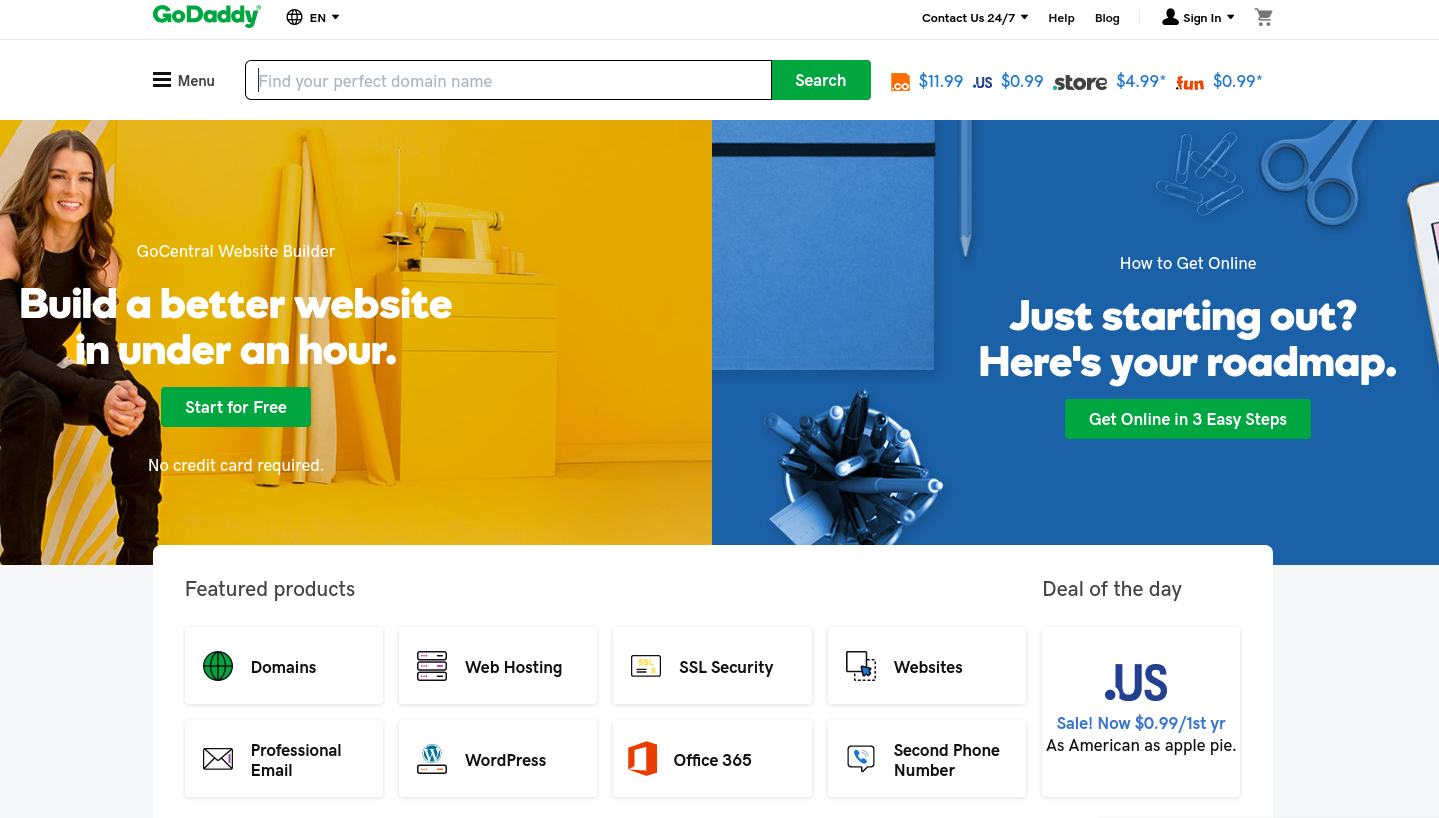 Everyone who has ever taken an interest in buying a domain name heard about GoDaddy. And this is truly one of the most reputed and large companies offering domain names registration and hosting services. GoDaddy is the largest domain name registrar in the world and they also offer many extra services.
Basically, they charge you $15/year to register a domain. However, they also run various special offers where you can register a domain for $1.
GoDaddy does deliver an excellent service, but there's no limit to perfection. And we believe that they can improve their design and interfaces so to make the users' interaction better. Yes, they perfectly deliver what they should but their upselling policy is a little bit irritating.
If you need their qualified support, you'll be able both to write and call them. And in either case, you choose you'll get your issues handled properly.
The one thing I absolutely hate about Godaddy is the hard sell once you select your domain name. The extras that they try to add in your basket is a bit too much, and for a newbie, can be quite confusing. Personally, I'd use Namecheap, Bluehost or Hostgator over Godaddy, purely for this reason.
Dreamhost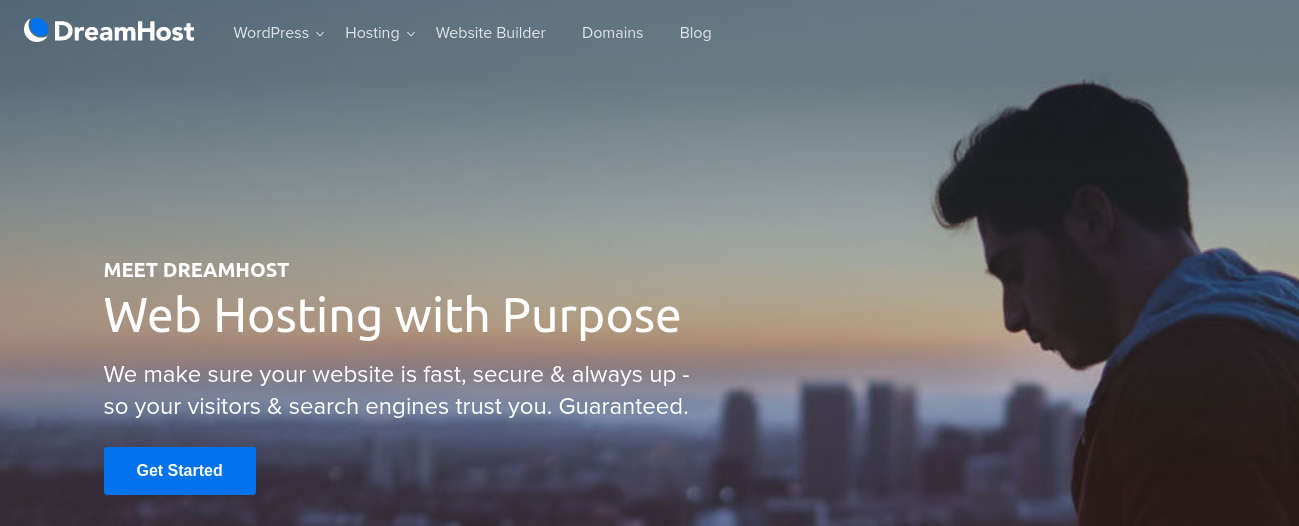 Dreamhost has been on the market for more than 20 years. And in course of time, they proved themselves as a reliable and constantly developing company which now combine domain names registrar and hosting functions.
Dreamhost delivers a bunch of useful services and goodies like domain name extensions, free of charge domain privacy, handy settings and control options for your domain and many more.
This being said, they rarely offer any discounts. Plus, you have to pay attention to their policies before you decide to transfer your domain name to them.
The latest price for a .com TLD is $14, with the lower prices for any other extensions.
Flippa

Flippa is purely a marketplace for trading domain names. Quite often there is a ton of domain names and websites for as little as $1. At this point, Flippa may become just the right place to start your online journey.
Moreover, you can buy a domain with a solid backlink profile and high DA score which will inevitably give you a bump in the SERPs. The only point is that as you get a domain name with Flippa, you'll have to register and host it elsewhere.
Choosing the appropriate hosting provider
Now let's dive into the process of giving a foundation to your website. In other words, let's evaluate various hosting providers. Often the importance of the right hosting selection is underestimated.
We're giving here 5 solid reasons why a hosting plays a crucial role in your website's success.
Slow servers degrade the user experience.

In case your website is hosted on slow servers, it'll stay slow no matter how hard you try to optimize its speed. What's worse, is that according to the latest research by KissMetrics the pages that take more than 3 seconds to load experience an extreme bounce rate which translates into the lower rankings on search engines.

Servers that are often down, turn away users.

If your hosting servers are often down, this will inevitably irritate your customers. As a result, they would forget you and never come back again.

Your insecure website would be duck soup for the crooks.

If you decide to host on insecure and shady servers, be minded that you'll be under the threat of hackers, malicious software, and other scammers.

High traffic websites require extra powers.

Basically, the main goal of every website owner is to attract traffic flow to their websites. Thus you need to make sure whether your hosting server is ready to handle 1,000, 2,000, or even 10,000 queries simultaneously. If not, then what're the doubts then? Go away from such servers.

Poor customer service will drive you out of senses.

There's nothing more irritating than an awful service and support that doesn't actually support or help you but worsen the situation. Especially when your website is down and you need to handle this as soon as possible.
Before learning the fine grain of the best hosting providers, let's take an outlook of their most distinctive features.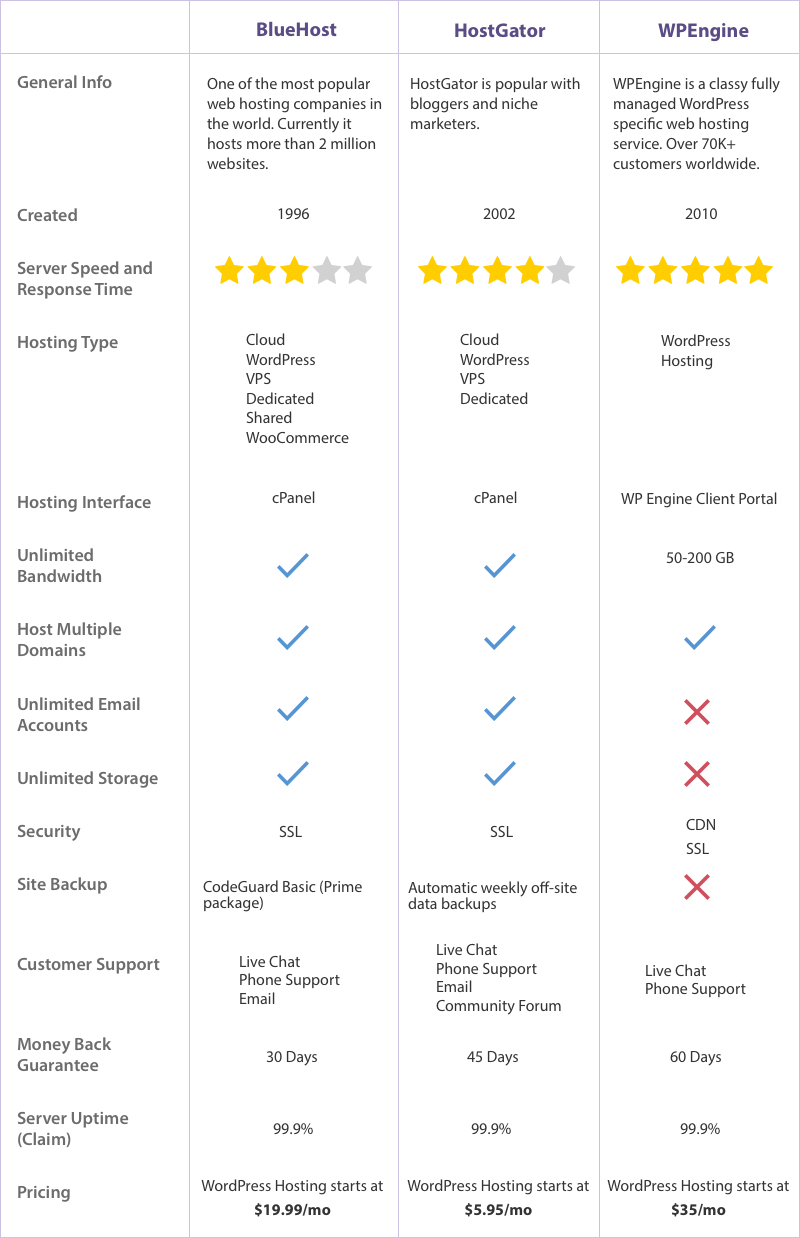 Before you make up your mind on the purchase, please be aware of the main pros and cons of the mentioned hosting providers.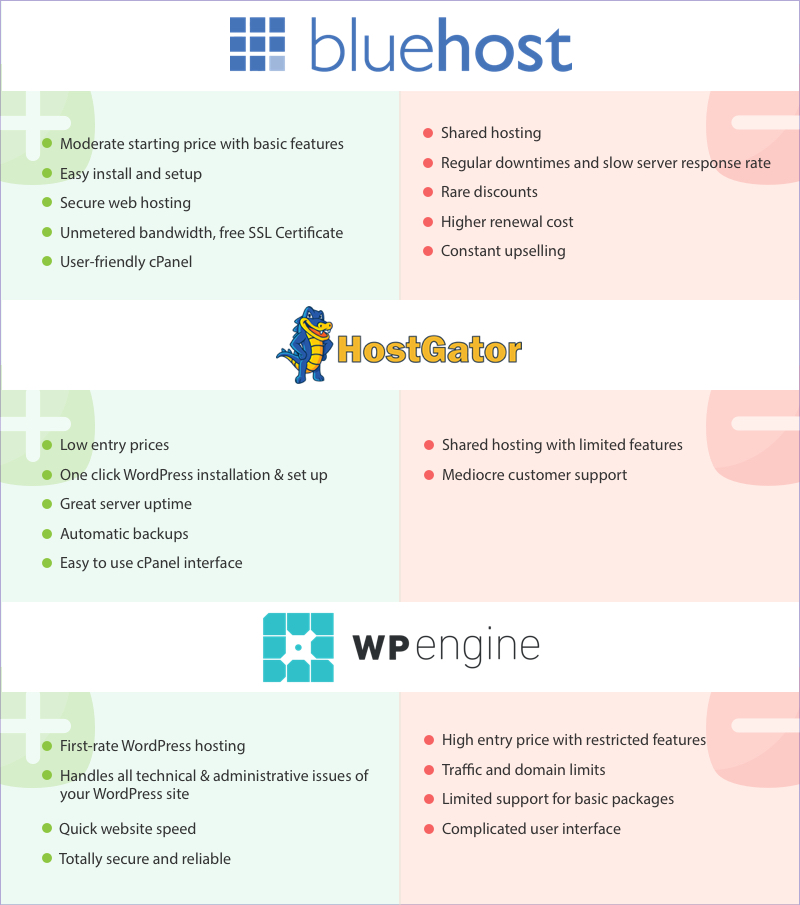 Now, when you know all the benefits and drawbacks of the hosting providers, it's time to make your choice. So which hosting to choose? And the answer is a big fat "depending on the situation".
The matter is that different websites have different capacities. No wonder that a small start-up website would require other functions than a website of any large corporation which can hire an army of SEO experts to maintain and strengthen the company's online visibility.
Before making your final decision, we'd recommend you to bear in mind the size of your website.
For beginners
In case you are a complete newcomer with limited budget and knowledge, try out HostGator's Basic Package.
We recommend doing so because of the following reasons:
As a beginner, you will likely to have a shoestring budget. So an opportunity to save a few bucks will be welcome for you.
With HostGator, you can concentrate on launching a basic yet solid website and start upgrading your knowledge.
HostGator Basic plan allows jumping for the better hosting once you start making more cash with your website.
For as little as $4/mo, you'll get unlimited bandwidth, unmetered disk space, and emails for your domain. Plus, HostGator delivers an extremely user-friendly cPanel, easy WordPress installation, data backup, customer support, and just the perfect server uptime so you can be sure that your website will always be online.
For intermediate website owners
If you've already poured a good deal of money into your online business, but still want to try something new by running several websites at once, go for BlueHost.
Here's why
If you already have solid working knowledge of how the things going in online business, you'll certainly wish to start making more money by launching a bundle of websites. Going for BlueHost will open you the door to the progressive services and a little hint of superiority in comparison to HostGator.
BlueHost offers you the best flexibility & and steadiness in its packs. At that, neither of the packages will cost you a fortune.
BlueHost is the best place to host intermediate WordPress websites. As a bonus, you'll get a bunch of useful tools to maintain and secure your site.
For seasoned website owners
If you've already succeeded with your website, have some extra funds and eager to expand your business without handling a myriad of day-to-day admin tasks then your choice is WPEngine's Professional package.
WPEngine will provide your website with the decent speed, performance, and security.

This hosting provider will perfectly cope with all your mundane admin tasks concerning the usual website maintenance. So you'll have more time for dealing with core activities of your business.

You can reckon with certainty on WPEngine as they will perfectly handle important information.

There is a group of SEO experts behind WPEngine. And this is what actually makes them stand out from the crowd.
How to choose a CMS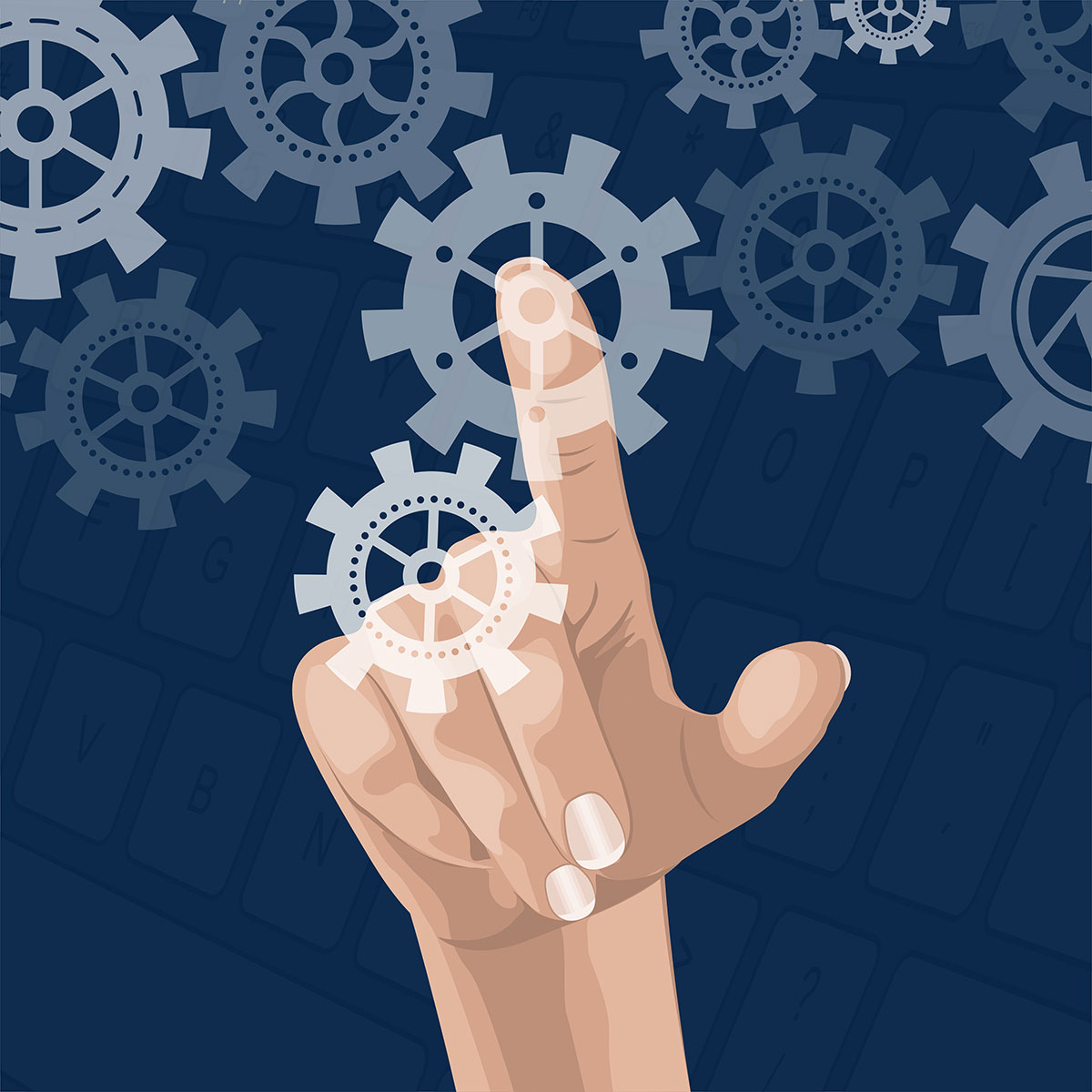 CMS, a content management system, is an absolute must for every single website owner. Since this is the only right way to operate the great volume of texts on your website.
Before we suggest the top-used CMS, let's cover some basics.
First, let's cover why to use a CMS:
Prompt edits.

Using CMS software you'll be able to edit every single page of your website on a dime.

Your databases will be in safety with CMS.

By using CMS the possibility that you may mess something up with your data slims to none.

User-friendly interface.

CMSs provide you with ready-to-use content formatting controls and media upload tools. Most also provide an option to preview your draft articles.

You don't need to be tech-savvy to manage your website content.

The best part is that you need no or little knowledge of HTML to edit your website if you use a CMS.

No need to ask a web designer for help.

When using a CMS, you can easily create new web pages, upload images and change your blog content wherever you need to.

Automatization.

Usually, CMS can automate the overall process of content delivery. That is you can schedule your future publications and feed into your social media accounts, e-store and more.

Flexibility.

The vast majority of CMSs provide useful and handy extensions and plugins. And since the layout of your website and design is individual, you can redesign your website and preserve your content without a great deal of difficulty
Now when you're convinced about the benefits of CMSs, let's look up at the choices. But before, keep in mind these 3 questions answers that show your way in using CMSs.
Do you possess any experience?

This is more than an obvious question but still keep in mind that if you've already worked with any CMS, we'd recommend to enrich your existing experience and choose more progressive software. And vice versa, if you're a complete newbie then your choice is some easy basic CMS that will give you a decent push for further development.

Which database and scripting languages do you prefer?

Once again, if you're a seasoned developer of MySQL or PHP, it's pointless to go for any Java-based CMS.

Where are you heading for with your website?

By answering this question, you'll be able to tilt toward this or that CMS. Some websites need to have a bunch of plugins to turn into a full-run e-commerce site, while the others steer towards a mere development and just useful content production. Make your mind up to avoid money burning.
To facilitate your tough searching for the best software, here's a quick look-up of the most popular CMSs out there:
The multipurpose CMS.

WordPress is a stellar choice if you want to get a stable all-in-one decision to manage your website content.

The top e-commerce CMS.

Magento was originally developed as a specialized CMS for online shops. No wonder that it serves the best possible plug-ins and options to operate a commercial website.

The top SEO CMS.

Drupal is an open-source content management system that allows structuring your website for any search engine in the most SEO-efficient way.

The top small businesses CMS.

Joomla, an open-source platform, is easily customized and handled. Just think of the companies that rely on Joomla with their websites: Ikea, Holiday Inn, and Harvard University.
This article will lead you through the further details on content management systems.

Step 4. Build up your website's inner structure

The time has come to put spirit into your yet lifeless website. Now you have to fill your empty website with content that ideally should engage crowds of people to your site and pull in extra cash for you.
Your website's blog will speak for your credibility and authority to the potential customers. The more useful information people will find on your site, the better. One more thing that makes people believe you is the writer's persona. We do tend to believe the information if we can see the real person behind all those texts online.
The good news is that at the very beginning there is no need to craft solid long-reads or hands-one guides. You can start with one this content type:
Infographic. An extremely popular content type which attracts readers with its easy-digestible information and visual representation of complex facts and numbers.
Videos. People like watching videos. Take avail of it.
Images. Who doesn't enjoy looking at random amusing pictures? Especially when they just perfectly cover any interesting topic. An image is also content. Make use of them as well.
Common articles. Yes, they should also be in your blog. You can start from the medium-sized articles in 500-700 words. Later on, you may be even get hooked on writing.
Having that blend of videos, images, and text articles make a website more visually appealing. Admit it that to describe an image or recap the infographic content is way easier than running a research and rolling out an article on the topic.
Also, be minded that your website should include such pages as:
About us
Contact us
Frequently asked questions
Blog
Privacy policy
Terms of reference
These are the pages that tell your users the most essential information about your company. So be ready to find time and whip them into shape.
In case you are sick and tired with content creation, there's a solution which many people consider as an unethical though. However, we are telling it as it is. You can steal content. And this would be up to you.
So, you can refer either to the Wayback Machine or … Google. In first case, you can easily look up the history of your domain name and take up the old version of your domain for your own benefit right now. The trick is that you can just copy and paste the content you find because it has been already outdated and out of Google's index. But you can give that old pages a second life.
In case with Google, you can absolutely legally see the previous version of a web page, in other words its cached version. Yeap, Google's crawlers not only prowl about your website but also take pictures of it and store that information as a backup.
Frankly speaking, this is rather useful option. Usually people use cached versions of a webpage to find an information that is no longer available in the current website version. Also, Google's caching comes into handy when a website is down and user can still access that website by using Google's cached pages.
The second reason to love Google's cache is that when internet users are off the internet, they can still scroll through the web pages simply by using Google's cache.

Step 5. Keep your website fresh
Your website needs a regular refresh. Here are the 3 main things to focus on when updating your site:
Security Issues

Content

Design
Security Issues
Your website security is undoubtedly must be the top priority when dealing with an online optimization. No one wants to be hacked and lose all the meaningful data. With this in mind, you have to take care of your site's information, and your customers' private information as well. Because if you provide low security, you'll hurt your website and your customers will go away to your competitors with better data security options.
Keep your content fresh
Your website's content regular updates can help you in many ways. Namely:
Up-to-date content pulls in more traffic to your website.

And it also helps to build trust with your customers.

Fresh content helps boost your domain authority.

By regular posting the new content, you'll show Google that you are a stable and developing resource and thus your are the one who can be trusted.

Amended keyword strategy let you outwin your competitors.

It's crucial to take your keywords updated as well. Because the online businesses never stop, they are constantly progressing, and you goal is to always stay on track and provide your readers with the most relevant and fresh information.
Refreshed design
This is where many business owners fail. Because they concentrate merely on content and marketing issues, ignoring at that the importance of design and navigation matters of their websites. So stay up to date with the following:
Mobile-friendly design. More than 74% of web traffic currently derives from mobile devices. It means that you cannot ignore the necessity to provide a handy and responsive design for mobile users. Because you may easily miss out over a half of your prospects!
Focus on your target customers' needs.

Every single web form, button, and scroll should reflect the behavior of your customers. But keep in mind that over time your intended audience may change. So you will have to do the appropriate changes to your website as well.  
Step 6. Put a proper SEO strategy in place
As a newbie in online business, you may take SEO an a needless expense. But believe us, it's totally worth each invested coin and spent minute. Nowadays SEO plays a significant role for any business size: large corporation, midsize companies, and small local business can altogether benefit form SEO. And here's why.
Basically you have to deal with two sides of SEO:
On-page optimization

embraces all actions you take to improve your individual web pages. These include formatting, URLs, pages' descriptions, website navigation, load speed, and responsive design.

Off-page optimization

covers any actions you carry out of the internal website structuring. Usually, the major part of off-page SEO takes link building. But don't forget about social media, your company profiles and blog posting.
To get started with your SEO strategy, you can follow these 6 simple steps:
Carry out a keyword research.

We'd recommend to conduct even more that a mere keyword research. Create a long exhaustive list of your target keywords. Having them all, you'll be able to choose the best ones and outplay your competitors. If you run a small local website, you'll benefit the most from targeting the long-tail keywords. Use Google Keyword Planner to reveal the best niche-oriented keywords and start generating content based around these keywords. This is a well-tested method to reach top position through SERPs.

Keywords optimization.

You need constantly add the new keywords to your entire site to get natural rankings and follow the latest trends on the internet. This approach will not only deliver the better content to your customers, but will show Google that your business is a top-notch and relevant one.

Gain trust and authority.

The single aim why people promote their websites online is gaining the trust of Google and your customers. Strategic link building is the best method ever to demonstrate your authority. Try out guest blogging, and generating content others like to share.

Track your progress.

Have a close eye on your metrics and analytics. Even the slightest changes in your Google Analytics will signal you that you have to adjust your strategy.

Sustain your rankings.

Improve and enlarge your website to be able to stay on top positions for as long as possible. Running a website and reaching high rankings with it doesn't mean that that would be the final point of your work. To get a constant traffic flow you have to always keep up with your competitors and become better than they are.

Start all over again.

Once you complete all the above steps, start from the very beginning. Optimize each side of your website up and down.
Just to recap the steps you have to take – start with your keywords strategy, apply them throughout your website. Then promote your site with social media, link building, and Google Local Businesses. During the process, constantly check your analytics to evaluate your keywords performance and make the needed changes to your strategy. As soon as you have succeeded with your initial keywords set, repeat all the steps from the very beginning.
One more reason to go for SEO is making your website attractive for advertisers. From our experience, the quality websites meet with a ready market. As a result, you can also increase the prices for your contextual backlinks. People tend to buy links from websites with high SB Rank and healthy backlink profile.

Step 7. How to know the efficiency of your website?
Deciding how much your business costs is essential in maximizing your payout when you decide to sell it one day. Basically, you can use either of these 2 ways to get a rough valuation of your site:
Multiply your annual sales by your industry's average multiple

Multiply your annual profits by your industry's average multiple
There is a great number of factors that determine the success of any website. But these are 5 digital marketing metrics you should take care of every single day.
Conversion rate.

This metric has a direct correlation with your overall online success. That is how many people convert from common visitors to your customers. Monitoring your conversion rate on a daily basis will enable you to find out what works best to hook up your prospects.

Page views per visit.

This crucial metric shows up how exactly people enjoy your website and how many web pages they look through before bounce or sign up.

Backlink profile.

Google judges you on the websites that links to you. The more quality and authoritative backlinks you acquire into your profile, the higher ranking you get.

Return visitors.

This metric shows how many people got engaged into your content, happily share it with others and recommend you as a trustful website. And come back to your website each and every time.

Search engine queries & landing pages.

It is important for any website to realize where it ranks better for these or that keywords, what are the queries through which you get your visitors, and how great are your landing pages at attracting and maintaining customers.
Step 8. Join an affiliate program to earn more

MageNet Referral Program was crafted for your convenient earnings. The overall referral process looks like that:
You invite people with your referral link — They monetize their sites — Every month you get a 10% commission from what they earn
Now you don't need to do any extra actions to earn your referral commission. With our preset creatives, your monthly 10% is only two clicks away.
The creatives are grouped in six channels. Use the one you like best or all of them together to reach $1,000/mo faster.
Broadcast. Use it to send emails through your existing base of subscribers;
Banner. Choose between different sizes, and place banners on your sites to maximize the number of people joining MageNet using your link;
Skype. Spread the word about the Referral Program using ready-to-use messages;
Twitter. Short and concise tweet that you can share simply by logging in to your account;
Facebook. Three blog posts with useful information on monetization will definitely attract the audience interested in earning money from their websites;
LinkedIn. Copy&Paste those messages – sharing your referral link has never been easier;
Why MageNet Referral Program?
You earn forever – You refer people once, but get the commission on a monthly basis
You earn without limits – The more people you invite, the more money you'll be earning
You are safe – We use a machine learning algorithm to protect you from fraud
Take your first step toward $1,000 earned monthly today – choose the creatives to use, and profit. Your 10% referrer commission is so close, just make a click and grab it.
Refer Your Friends and Earn $1,000+/mo
We tried our best to deliver you the detailed guide on how to successfully launch your website and make a revenue of it with the help of MageNet services.
You've almost certainly heard that traffic is a lifeblood of a website and the first ingredient for online success. So, usually all SEO efforts are directed at driving more and more traffic. But are you sure that heaps of traffic is all you need to succeed in SEO?
What to fight for: more traffic vs higher conversion rate
Definitely, traffic is an important factor of your website well-being. If your website drives relatively high traffic, it means that there are a lot of people interested in your site and thus goods and services that you offer. Usually, high traffic means that you can close more sales and earn more money.
There's the snug! High traffic will not necessarily bring in more clients, i.e. conversions. Let's turn to the basics to clarify these two concepts and find out which one should be your major focus.
Generally speaking, traffic is an amount of visitors to your website. Amount of traffic is an important marketing metric which shows how popular your website is. Formerly, this metric was a key one but over the years there appeared more precise and specific metrics that featured the online success of your website better.
If you want to flourish with your online business or blog, you need to have customers. The larger interested audience you gather, the more income you'll finally get. So here pops up another metric that is much more important for you than the traffic rate. We are talking about conversion rate. It determines how many users buy your products or services and indicates whether your website is effectively selling its product offerings.
Let's illustrate the correlation of traffic and conversion with two simple examples:
Website 1 elaborated effective landing pages with appropriate call to action buttons and concise product descriptions. As a result, such website converts a high percentage of visitors to sale with minimal traffic. For instance:


60 sales/800 visitors * 100 = 7,5 % Conversion Rate (CR)

Website 2 ranks highly in Google SERPs, rolls out quality content, and uses paid advertising. It earns a lot of web traffic, yet converting a minimal number of customers. For instance:


60 sales/8000 visitors * 100 = 0.75% CR
This example shows that traffic cannot be viewed in a vacuum. By focusing on the one metric, there is a risk to miss the area for improvement. Knowing the whole picture and going for an appropriate optimization will give your customers the best possible experience while maximizing your income.
So, you should always keep in mind that:
Not all traffic is good.

Sometimes you gather junk traffic that brings you no conversions. Usually, junk traffic is a result of bad SEO implementation, wrong SEO focus, and thin content. Accordingly, if you want to get rid of junk traffic and get the quality traffic flow, you'd better ask the professional SEO how to deal with it.

It's important to use all available information to your advantage.

Learn to advertise yourself and attract people to your website.

You have to speak your customers' language.

You'll close zero sales until you reveal your customers' needs and wishes. Plus, it's important to figure out your customer persona so to be able to address them properly.

There is no need to focus on traffic.

Instead, optimize your website for your visitors since this is the only way to get quality and income-generating traffic.
7 ways to boost your conversion rate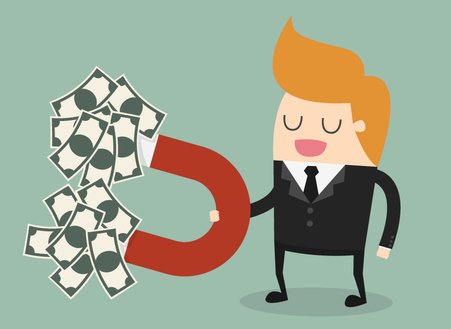 We've come to the fact that to foster a successful website, you have to optimize conversion first. And drive traffic second. In other words, your website should appeal to your visitors and make them stay as long as possible on your site, and finally make a purchase from you.
Here are 7 tactics that boost your conversion rate:
Take care of your

website load speed. Nowadays, a rare user will wait more than 3 seconds for a web page to load. So make sure that you are keeping on a safe side with your super-fast website! Read more about the influence of your website speed on the online success.


Make a

valuable proposition

that your customers can't resist. Learn to express your advantages through the words on your website. Believe it or not advertising texts work perfectly and influence your customers desire to buy or not as well.

Polish your website to make it

easy for navigation

. The more handy your website will be, the more users it will capture. People don't like to solve riddles. Ensure that your website navigation is clear and intuitive.

Provide

truthful and authoritative information

, so to make your customers feel safe and secure. No one likes to be fooled. So keep away from handling the information. Take care of your customers and tell them truthful and valid info only.

Don't ignore the power of

A/B testing

. If you hesitate between two variants of subject line, landing page design, button color – go for A/B testing! This is a proven technique to find out what engages more customers to your website.

Improve the quality of your content, add more

call to action buttons

. Appeal to your customers desires and make them do what you want them to do. Don't make them wander idly to and fro.

Consider your

buyer persona

and re-evaluate your audience targeting.
5 ways to increase traffic flow to your website
However, sometimes it happens that a website has a good conversion rate but it starving for traffic load. In such case, you should think how to boost your traffic. Let's consider the major traffic issues and how to deal with them:
1) You have zero traffic or a little traffic. Decision: you can buy web traffic. To our opinion, PPC campaigns are the best options, paid inclusion in emails, ads and banners can be efficient if well-placed and well-designed.
+ The quick method
– May be expensive in your niche
2) Pull in organic traffic. Gather the subscribers database and work via email campaigns, grow social networks and get traffic from them.
+ Constant traffic flow
– You have to spend more money and time to gather organic traffic
3) You have a relevantly high traffic but want to earn more. Decision: monetize your website with MageNet! We offer you a unique chance to get 100% guaranteed payment for placing contextual ads. Read the article on how to get started with MageNet and let your website bring you more profit!
Have any stories about how your life changed after getting a unique IP address – feel free to share them by commenting below!
Start Earning With MageNet Today
4) Check once again your conversion rate. As we stated before, traffic issues shouldn't be considered in a vacuum. You have to understand the correlation between various marketing metrics to keep succeeding online. So, before fixing your low traffic, check once again if you've done everything you could to convert more people to your website.
5) Improve your website constantly by providing your users with quality articles. Don't know how to deal with content marketing? Join Adsy and get the cutting-edge industry articles placed on your website! And be sure that quality content will pull in much more visitors to your website and will let you win not only heaps of visitors but boosted income in MageNet.
Have any stories about how your life changed after getting a unique IP address – feel free to share them by commenting below!
Join Adsy to Enjoy Quality Content on Your Site
Please, feel free to leave your comments below on how to boost traffic and conversion.
Working hard to improve your website?
Struggling to boost its Quality Rank?
Watching carefully over your Performance Rate?
We bet you do and rightly so. But 93% of our customers say that there is one more thing that matters…IP address uniqueness.
Unique IP address does attract customers to your website like bees to honey. Because backlinks from various IP addresses are SEO-friendly, while backlinks from similar IP addresses are not. It's ineffective and suspicious to search engines. No wonder that customers prefer uniqueness over dull sameliness.
Still, a unique IP address is beneficial not only for your customers' backlink profile but for your website performance as well. Some time ago there was even a widespread misbelief that unique IP address helps your website to rank higher in search engines. Though this myth was busted, you shouldn't pass by acquiring a unique IP.
And here the 5 more reasons (apart from the ability to win more customers and profit) to prove it:
Unique IP address gives access to your website anytime

Unique IP address is beneficial for your email campaigns

Unique IP address speaks for your business identity and brand awareness

Unique IP address positively influences your website load speed

Unique IP address provides higher security of your website
Don't look for excuses and stop wasting your time, money, and customers. Check your IP address uniqueness and be happy!
Log in with MageNet (or sign up if you are a new user) and choose Your sites tab, then choose Already added sites tab.

When all this is done, you'll get an opportunity to check the uniqueness of your website IP by clicking on the Site IP filter.

Have any stories about how your life changed after getting a unique IP address – feel free to share them by commenting below!
Check My IP Address Uniqueness
A lot of people use WordPress as a content management system. It's easy to use, works well with most browsers and websites, and offers a lot of features. What many people aren't aware of is that there are a lot of secret WordPress features that could make it a lot easier to add your content and make it a lot more interesting to readers. Are you using all the WordPress features that are available to you?
Benefits of WordPress
If you already use WordPress, you are aware of the benefits it offers. The platform allows you to do a number of things with your content and websites, including:
Find new ways to increase revenue

Make changes quickly

Use SEO tracking

Make your website available to more readers

Improve your readers' experiences

Create websites that stay relevant

Get support from the WordPress community
WordPress Features You May Be Missing Out On
You might already be impressed by how much WordPress has to offer, but what if there is more? There are a lot of secret WordPress features that many users don't know about. By missing out on these features, you could be stopping your website from being as successful as it could be or preventing your content from being as effective and reaching as large an audience as possible. If you are curious about what other features are available on WordPress, consider some of these.
Customizing Themes
One of the things so many people love about WordPress is the themes that are available. You can find a theme to match any website or topic. In fact, there are thousands of themes to choose from. Some themes are free and can be downloaded for no cost at all. Others must be purchased.
Many people make the mistake of buying WordPress themes when they could easily find a similar one that is free. WordPress themes are customizable, so you could download a free theme and then customize it to match a theme that must be purchased. A lot of people shy away from free WordPress themes because they are afraid that other websites and blogs overuse them.
While free themes are more popular than the ones you have to buy, the fact that they can be customized means that they are not likely to appear the same. If you decide to use a free template without changing it, there is a chance that other websites will be using the same one. By adding small changes and things like photos, widgets, and other features, you can make your website stand out and appear different despite using the free template. When choosing a theme to customize, consider the niche of your site. You want to make sure the theme makes sense to readers.
Plugins
WordPress has more to offer than just interesting themes and templates. There are a lot of convenient plugins that can be added to your website, as well. These plugins can help make some of the things you need to do with WordPress easier. If you have a task you want to make easier or do faster, simply search for a plugin that can help you.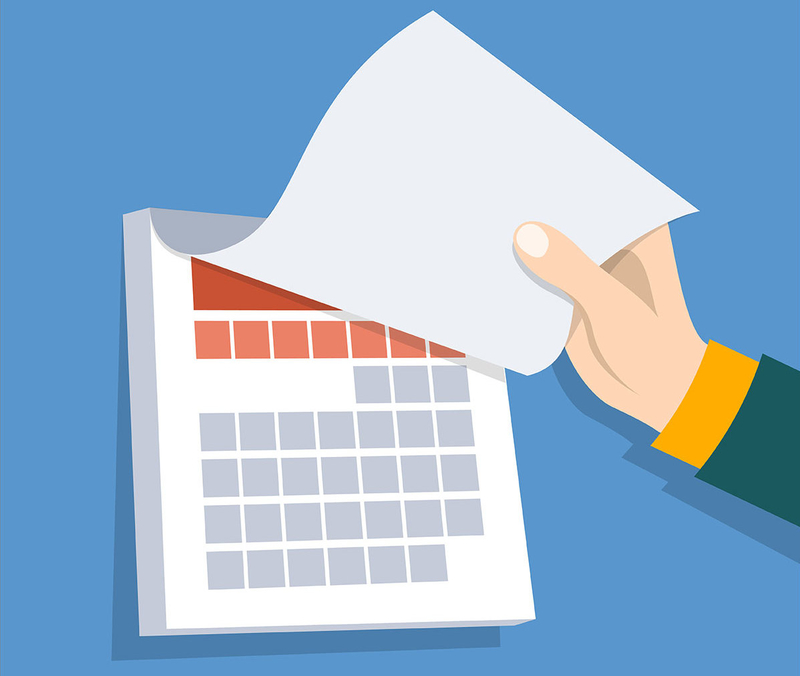 Scheduling Posts
If you want to create your content ahead of time but aren't ready to publish it, you can always schedule it for a later date. WordPress gives you the option to choose a date and time to schedule your post in the future. You already have the option to save it and publish it later, but what if you forget about it? By scheduling the content, you can be sure it posts on time.
Revisions
When you make changes to your posts, you can go back and see your previous versions. WordPress will display how many times the post has been edited and allow you to go back and read each page before or after the revisions were made. This can be helpful if you removed something you wish you hadn't or can't remember if you changed something.
Sticky Notes
If you have a page that you want to get a lot of views and want to stick to the top of your site, the Sticky Notes feature can help. By clicking on this feature, you can make it so a post stays at the top of the homepage and is the first page that people see when they visit your site.
This is especially helpful if you have important information for your readers to see before they start browsing, if you have to alert them of something, or if you just want to make sure certain information is being read. A lot of people who have blogs and forums will use this feature on their websites.
Page Splitter
If you have an extra-long page of content and you need to split it up, you can do so with the Next Page Tag. When people go to your website, they will see the option to click on other numbered pages at the bottom of the first page of content.
Formatting Changes
A lot of people prefer to write their content elsewhere and then copy it to WordPress. This creates an issue when the formatting from the other programs is carried over. Thanks to the Remove Formatting feature, you can paste the content into WordPress and then format it differently. This makes it easier to change the formatting to meet your needs.
Using WordPress to Your Advantage
If you are not aware of the secret features of WordPress, you can't use them to help make your website better. These are just a few of the hidden or secret WordPress features that are available. If you are using WordPress and feel that there is something that could be done better, chances are, there is a feature for it. Don't be afraid to explore your options or ask for help in the WordPress community to learn more about the features that are available on WordPress. If you need help finding new features, visit Magenet.com and don't forget about special WordPress plugin for your website monetization.
In many fields and industries, once a new, revolutionary trend appears, most of its older counterparts become somewhat obsolete. For example, typewriters, calculators, and photocopiers are appliances that dominated the business world in the past but are now on the verge of extinction.
On the other hand, when it comes to marketing, this is usually not the case. Rather than making them obsolete, new trends are often bringing new life to some of the most widely used traditional methods. With this in mind and without further ado, here are five marketing techniques that are still not obsolete.
1. Email marketing
Due to the fact that we are living in a world of IM tools, a lot of people would assume that email marketing is on its last legs. However, nothing could be further from the truth. Recent surveys show that every single dollar invested in email marketing returns about $44.25, which makes it one of the most cost-efficient techniques out there. Furthermore, in the world of smartphones, emails are more accessible and user-friendly than they ever were.
2. Influencer marketing
In the past, numerous marketing experts praised influencer marketing but as of recently, the tides have turned. In fact, numerous estimates claim that in the following several years, there is a real risk that influencer marketing might simply die out. The greatest culprits behind this are the so-called legal grey areas influencers are venturing into, the inability to calculate the ROI and the validity of an opinionated, yet subjective influencer. On the other hand, when combined with an adequate content, influencer marketing can still make an astonishing impact on your marketing efforts.
3. Promotional merchandise
The rule of seven, one of the oldest principles of marketing, claims that in order for a person to become a customer, they have to encounter your brand on seven different occasions. One of the most cost-effective ways to ensure that this happens as soon as possible is to distribute some promotional merchandise. Imagine a scenario where you print out a sufficient number of custom t-shirts and distribute them among your employees, regular customers and contest participants. In this way, every single one of them becomes a walking billboard, carrying your brand name about.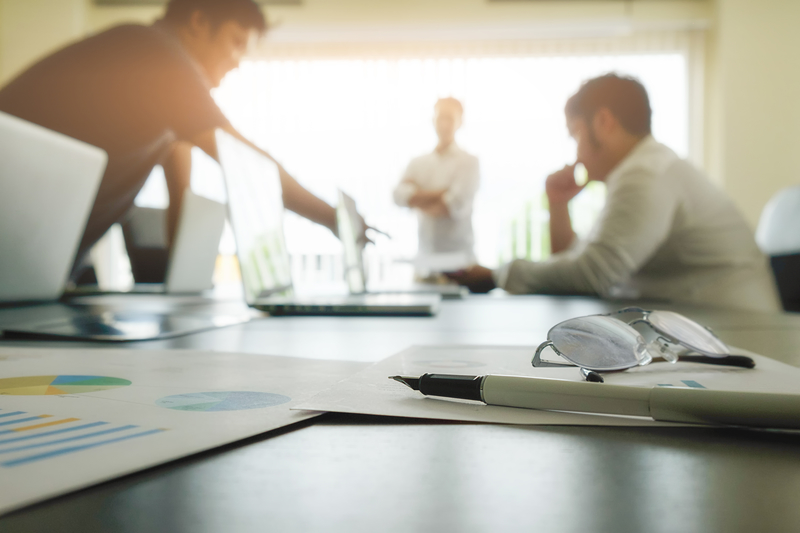 4. Hosting a local event
More and more businesses are starting to grasp the full significance of appealing to their local customer base, instead of pushing for a global campaign. Instead of tracking the location of your clients via an app and then targeting them with your ads, you could try hosting a local event and achieve a similar effect through different means.
Not only will this give you some strong favors with the local community but also demonstrate your values and your interest in local affairs. Apart from this, you also get to build brand recognition in an organic and non-invasive way, as well as the privilege of making face-to-face connections. The latter can also be great for your personal branding efforts.
5. Telemarketing
Finally, even though emails and IM contacting may seem as something more appropriate in 2017, keep in mind that when it comes to B2B outreach, telemarketing is quite strong even in this day and age. Contacting your potential partners and associates directly may leave a strong first impression and make both your company and yourself seem more professional. A personal investment of time and effort from the person at the other end of the line is a nice touch, which just might make them open up to your business proposal.
Conclusion
Even though digital marketing may seem as a predominant force in the marketing world at the moment, it doesn't mean that some of the traditional techniques can't be of use. In fact, you can use some of these traditional methods to endorse your digital marketing campaign. For example, you could add an email contact of your company on your business card or even a custom t-shirt and use telemarketing to encourage people to check out your website and see what's on offer. All is fair in love and war and make no mistake, the landscape of present-day business world is no short of a battlefield.
Dan Radak is a marketing professional with eleven years of experience. He is currently working with a number of companies in the field of digital marketing, closely collaborating with a couple of e-commerce companies. He is also a coauthor on several technology websites and regular contributor to Technivorz.
Blogging is one of the ways to receive money from your website. Popular, interesting and unique content provides authors with opportunities to earn money from a blog.
The blogger creates articles, tips, and reviews to share with readers and to receive feedback, comments, and opinions from other people. In a blog, the communication with an author is vital: readers want to share thoughts, receive useful pieces of advice and even help from a professional writer. One can say that earning money from the blog maintenance is easy and it's almost like a hobby, and he/she will be right. But when you look closely at this issue, you will see that a professional blogger spends a lot of time to make a profit on its work. A statement that nobody can make money blogging is false.
Most of the blogs start as nonprofit websites where the author shares ideas, tips, and thoughts with friends and interested people. Many bloggers strive to distribute their blog posts and become famous, while others decide to stay private and share their posts only with special people. Certainly, to earn money with blog, you need to stay open to feedbacks and comments. A private blog is mostly nonprofit. However, if you're a popular blogger, you can create a premium content for people who want to pay for reading your posts.
How to make money from a blog and receive a decent income?
So let's drill down the issue! We have prepared a few tips on how to make money as a blogger. If you follow them, the success will not keep you waiting.
1. Choose a prominent topic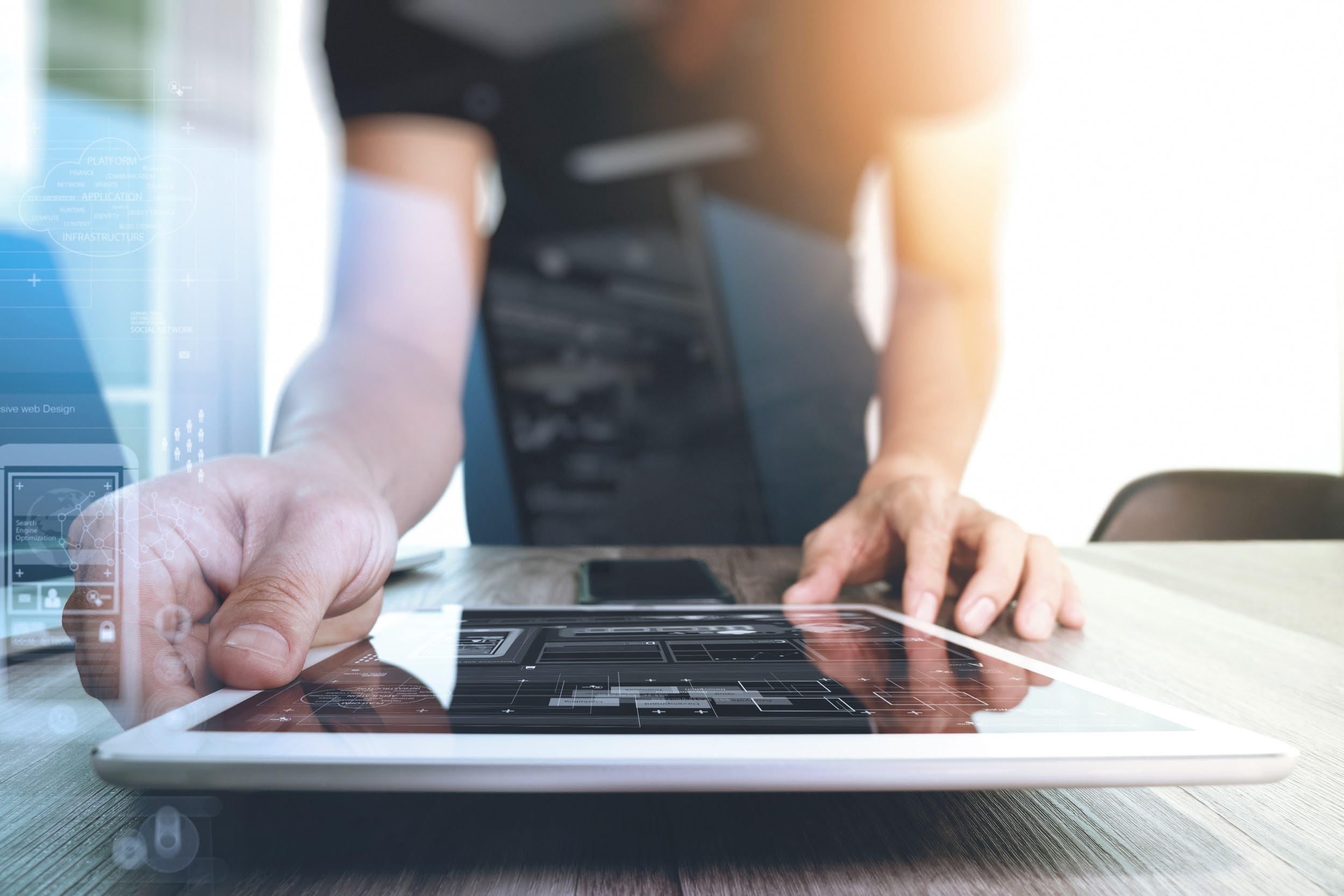 To become a well-known author and to get paid for your blog, it's necessary to stay in trend. So, choose a matter for discussion, which is valuable and will attract viewers' attention. It's better to look for a topic that you are interested in because it can be hard to concentrate on boring and useless issues. If you're an SEO expert, you can choose the corresponding topic. It will be easier to write quality articles and stay a reliable adviser. People are always trying to follow an expert's view, so if you have gained a relevant experience, why not to share it with others?
Some SEO tools can be useful while choosing a topic. A special tool can specify the most attractive subjects for an audience and provoke discussions on the Internet. However, if the selected topic is relevant, be aware that you'll have many competitors. If the subject is properly formed, then it should be followed by a high-quality content.
Talking about SEO and how to make money from a blog, it should be mentioned that you must pay attention to website optimization. It's important to add correct keywords, Meta Title, Meta Description, heading, and subheading. Proper search engine optimization will definitely help you gain more visitors and high rankings on Google.
2. Stay active
The topic is already chosen; the first post has appeared. Some people may be interested in your content and would like to read more about your personal views and ideas. It's not obligatory to place only advertising on blogs your blog. Firstly, it's essential to increase rates and website's authority. People must understand that you're a professional since the readers can receive helpful tips through your blog.
Publish blog posts regularly. Your readers have to see that you're active; you read their comments and, according to them, write articles they might be interested in. If you can't write every day, select the most suitable day. Everybody will notice that you post something interesting on this day and your audience will grow.
Be stable, be systematic. Your activity level and the quality of performance are necessary. Select one day when you can write a news report, on the second day – helpful, professional tips and the third day – create commercials. Keep in mind that a content plan for a blog is highly recommended.
3. Stay sociable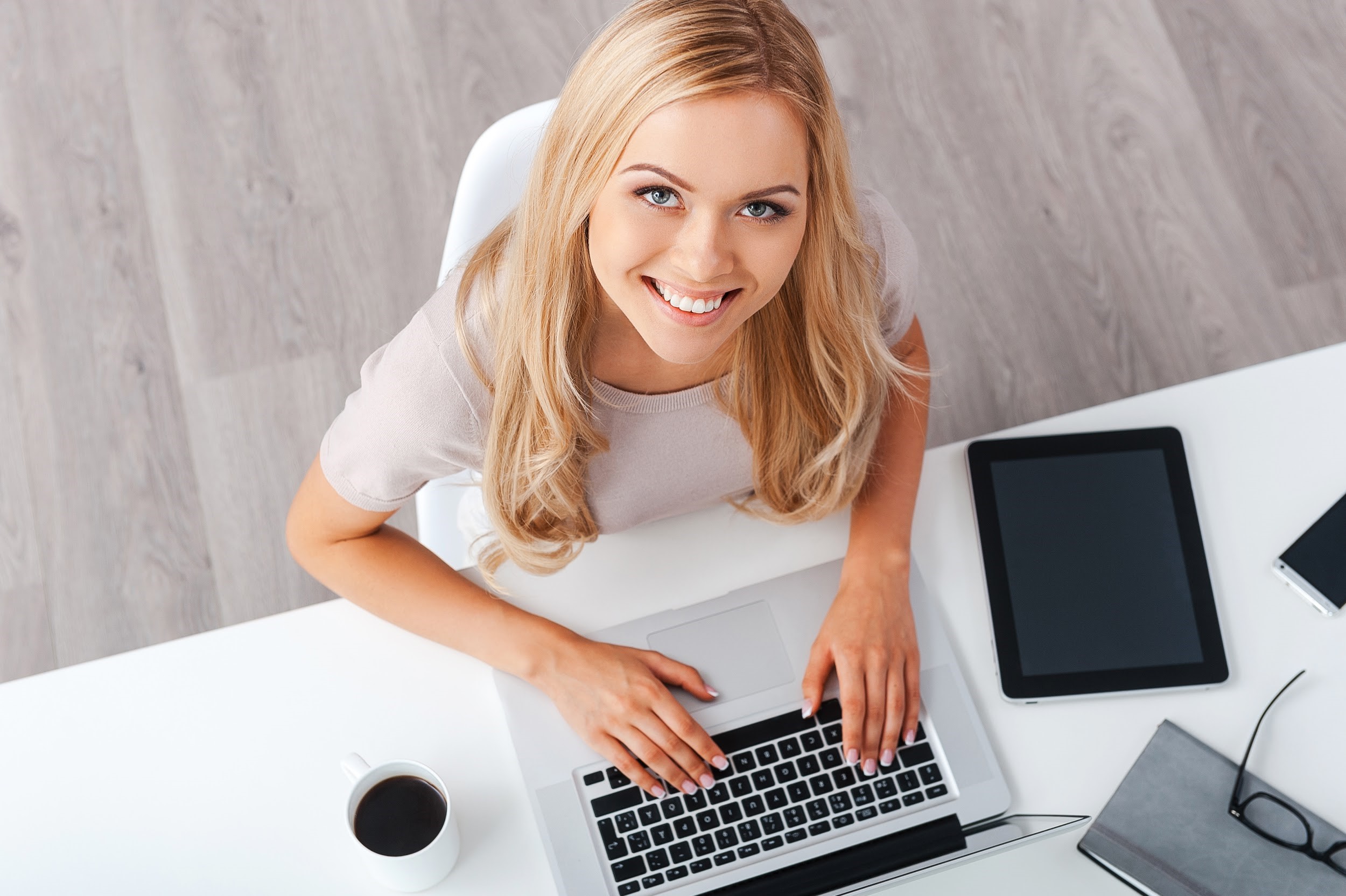 Bloggers are highly communicative people. They require comments, views, thoughts, and shares. So, the next thing about being popular and making money with a blog is about a relationship. Ask questions, answer readers' queries, read comments and react. People want to receive more information – it's natural. Be friendly and for a start try to respond to all the issues and remarks. It will provoke mass communication. Some people can be displeased with your opinion, so don't be rude. Try to respond in a delicate manner.
To be even more social, you can involve Social Media like Facebook and Twitter. Sometimes it's more convenient for people to ask questions there and stay private. Moreover, social media is one of the channels for promotion and monetization. Get more followers to increase your audience. Social media is a good way to distribute your blog posts and inform about new articles on your site.
4. Create high-quality content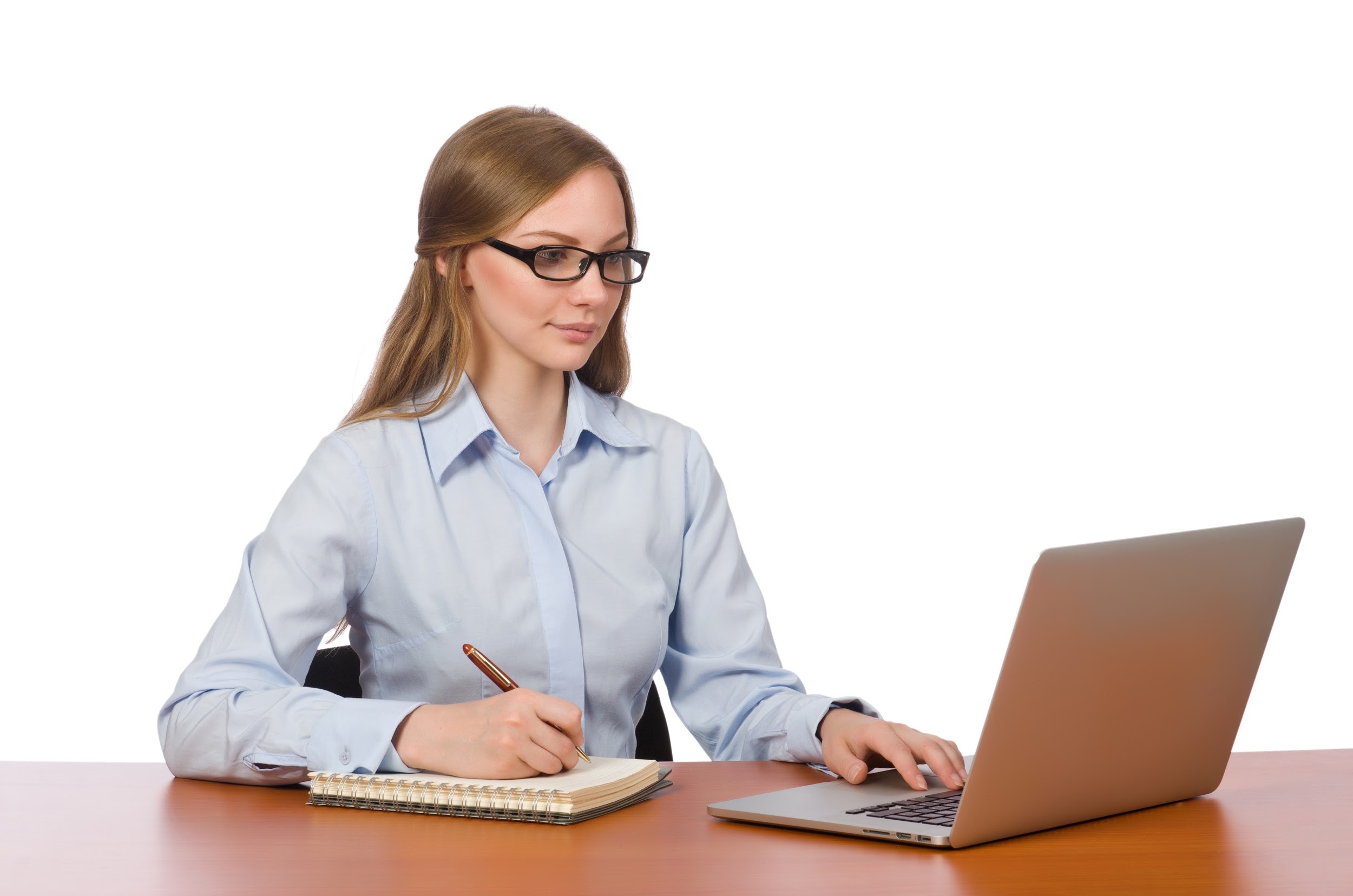 To make money with blog, you should be original. Show your professional expertise and write only original and high-quality articles that will engage your audience. Why should anybody read your blog, if you discuss everyday things and provide outdated information? Create unique content that will reveal your point of view and debate pressing issues. First of all, review the news, post interviews with interesting people, create appealing illustrations, videos, photos, and infographics. It will evoke a steady flow of new readers.
Then you'll feel that blogging can make money. Your popularity is a half of the battle. Now you can use such promotional methods on your site: pay per click, affiliate content, link sale, sponsored reviews, direct ad, premium content and even donations.
5. Premium content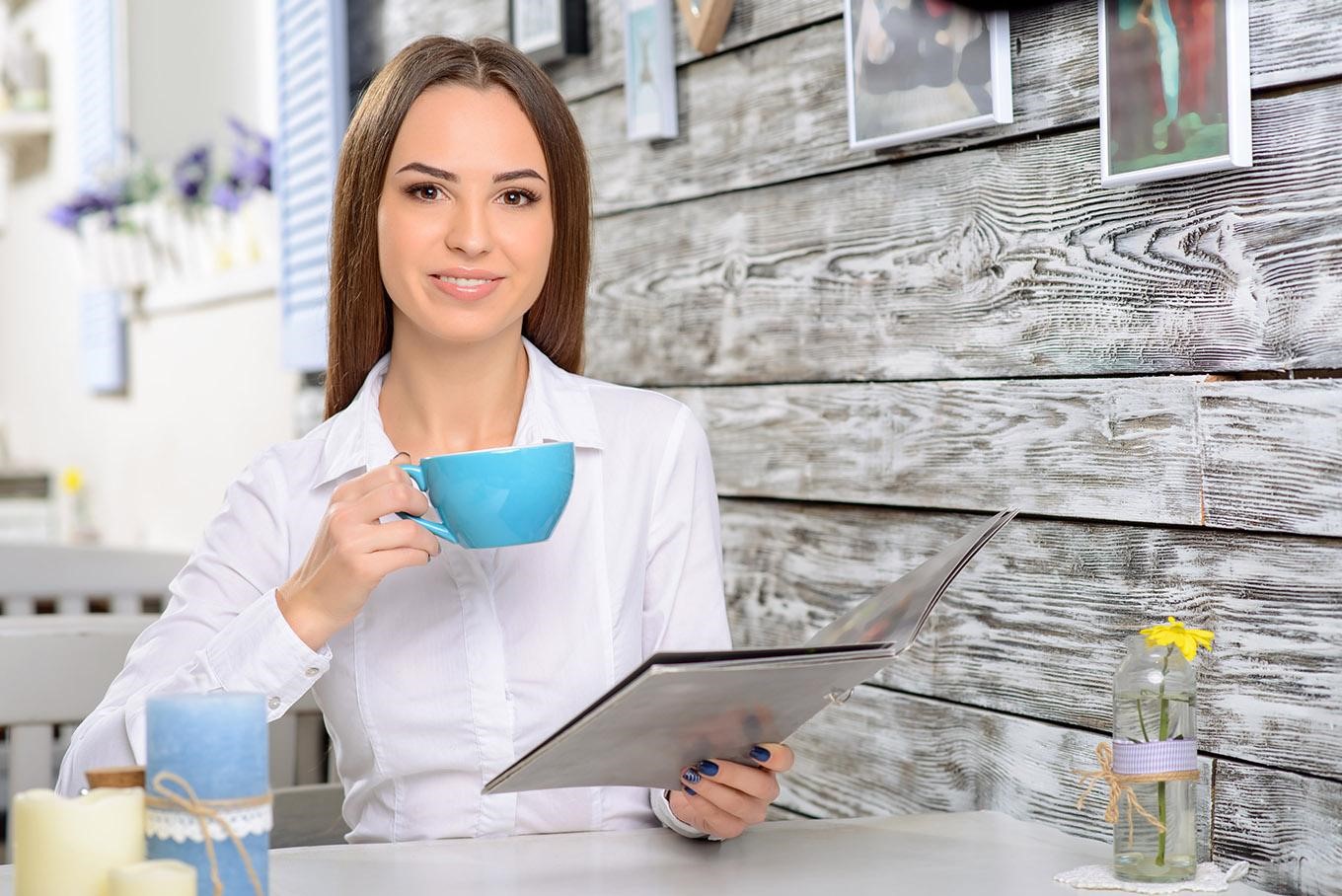 Premium Content is not advertising but can also bring you money. When your blog is specific and gives very useful information, you can ask your reader to pay for reading and using your advice. This way of monetization isn't very popular, but it still exists. Sometimes the money for Premium content can be a great bonus to your total earnings.
6. Simple Advertising Methods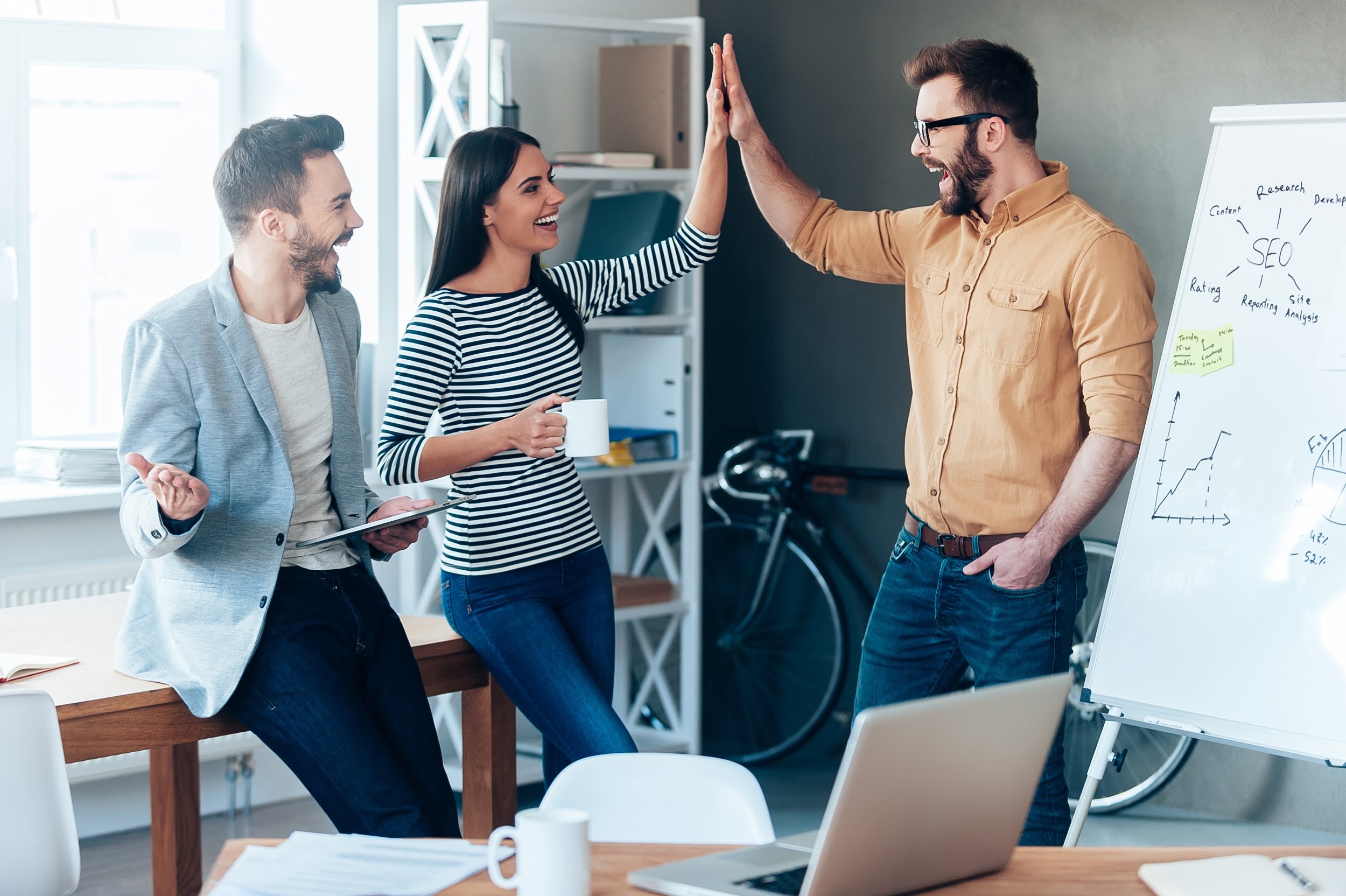 High-quality content, as well as the number of readers, will attract promoters. There are many ways how to get advertising on your blog. Let's look closely at different types of commercials.
This kind of ads is usually called PPC. It's typical, for example, for banners. An advertiser pays you every time someone clicks on the ad and follow to merchant's site. Thus, you receive a fee for every click on the ad. For business owners, it's an easy way to increase traffic on their website. PPC marketing is cheaper than increasing traffic organically, so this type of ad is very popular and well-practiced. The most common PPC ads are managed by Google's AdWords platform: when you see first 2-3 sites in a search and click, an advertiser pays Google for a click.
These programs are quite popular and well-paid. You must join the affiliate program, and every time someone refers to advertiser's site from your blog and, for example, buys something, you get an affiliate commission from the sale.
Sometimes people can pay you for a post in your blog. Usually, it happens when you have a certain number of active readers. People trust you, and they will certainly read your posts.
A sponsor gives you a subject to write about, and the task is to make people pay attention to this topic: you can describe the benefits, offers and express your opinions. In some cases, this issue isn't even related to your blog's' topic.
Link sales are a passive way for your website monetization. You need to install a particular Plugin, and it automatically places promos with links to your site pages. You can approve or disapprove offers from merchants. It is one of the easiest and subtle ways to advertise on your blog (website). MageNet includes services specially created for publishers and advertisers. You publish commercials and get payouts regularly and automatically. With MageNet, you don't need to spend a lot of time organizing the monetization process.
We hope you have understood how to be a blogger and make money at the same time. It's not an easy way to become popular and get thousands of followers, but if you follow our advice and add advertising on your blog, the monetization process will not take long. Just choose the right and most suitable way for your blog to make a profit, don't forget about optimization and compelling content. And, maybe, one day you will tell us how to make money from a blog! This business has never been as easy and profitable as now.
Are you ready to facilitate the making money process from your website?
MageNet Team goes forward to maximize your sales and engage new reliable partners for building a long-term partnership with them. To make it possible, we provide favorable opportunities to save your time that, in the long run, will increase sales revenue. For this reason, to improve the monetization process, we provide the best contextual ads, available for your business on the relevant websites. We have a huge list of advertisers willing to buy thousands of contextual ads from your sites on a regular basis.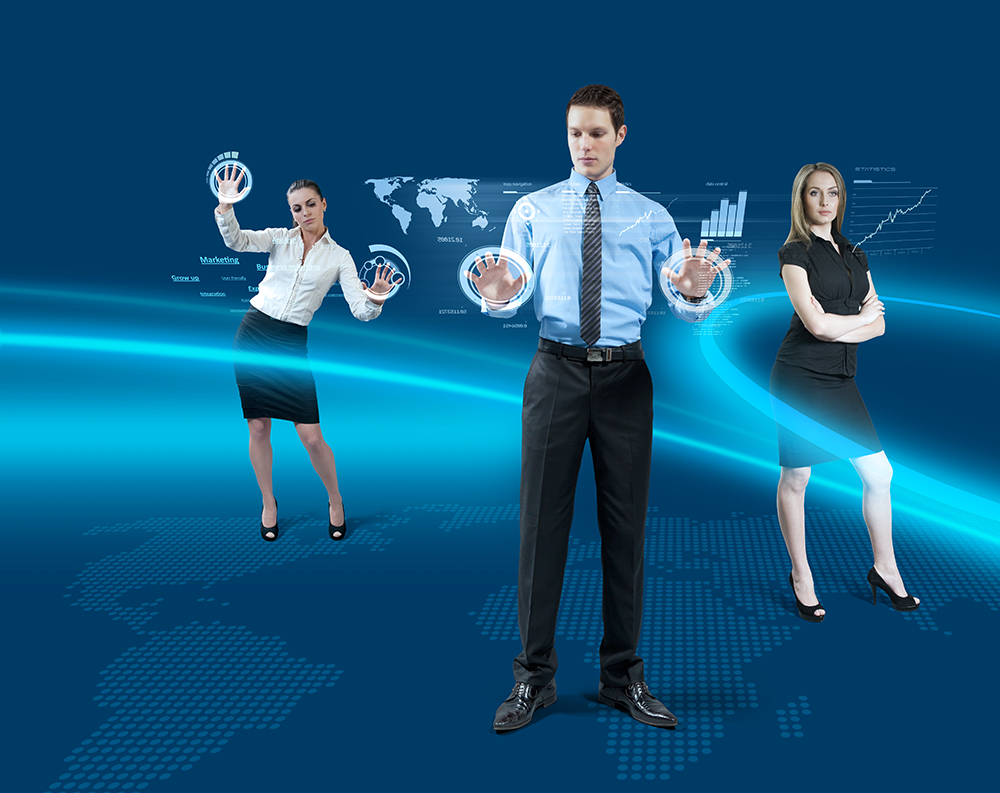 Feel free to set low-priced ads: it doesn't mean you provide a low-quality output, it means you establish long-term business relations and reliable approach to your monetization desires. We have deeply investigated the consumer behavior and various advertising channels and noticed such a sequence: customers are more likely to buy few reasonable ads and partly maintain a budget with a further extension than to buy one expensive ad without guaranteeing effective results. The more ads you place at affordable prices, the more loyal clients you engage. And in this way, you will win even more sales, as they last from month to month even for years. Algorithm is simple: prices fall, sales grow! Buyers are more willing to purchase inexpensive ads consistently, extend terms of collaboration,and as a result, achieve the desirable goals.
For instance, the ad for $3 with a low SB Rank (0-1) will not attract the advertiser. He would rather make a purchase for $0.5 with the same(or higher) SB rank and stay satisfied. What is more, it will get him to prolong the deal all over again and buy new ads on your website. As a result, you gain trust from the client and increase your sales. Currently, all MageNet ads fees are refreshed automatically in accordance to SB Rank. The higher the Rank is, the higher is the fee.
In order not to bother you with prices regulation, choose an automatic price control. Hence you don't need to determine the most profitable offers and set up prices manually – auto price adjustment takes full responsibility for that. Prices are configured and established in such a way that both parties will benefit from the deal by regulating a balance of revenues. Learn how our publisher Tom Mayer has created $1,000 monthly revenue flow.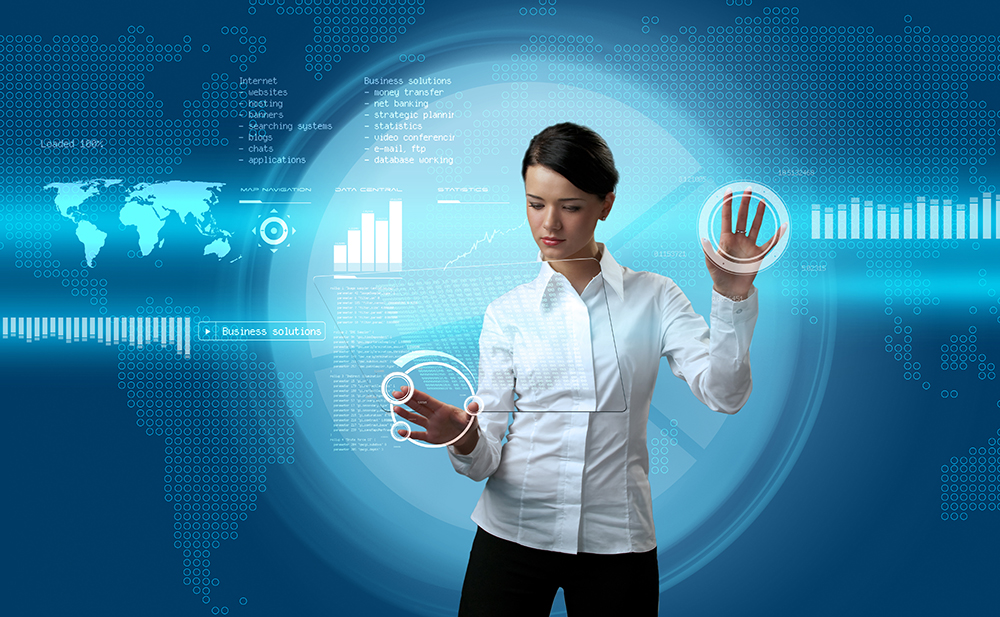 It would be a grave error if we did not provide you with a chance to sell contextual ads from web pages automatically. As a publisher, you want an easy-to-implement solution that allows you to maximize your site revenue without wasting too much time and efforts. By means of Website Monetization Plugin by MageNet, you will get an opportunity to save your time by placing new ads on your website automatically. It is a WordPress plugin, which mechanically installs ads on selected pages as well as helps to increase your Performance Rate. Note that the installation process goes through sites created only on WordPress and takes only a few minutes that allows you to dive fully into the monetization process.
Considering other benefits of using this plugin, you may also:
Get full control of pages that are available for advertising
View detailed statistics of your ads and pages
Remove the ads canceled by the buyer in order not to overwhelm web pages with contextual ads
Save your time and make more profit
In addition, if you wish to install a plugin, which is applicable for the websites constructed on diverse engines (not only WordPress), you may use a multipurpose Universal Plugin (UP).
Universal Plugin allows changing the anchor text or the hyperlink if some amendments are required. Through the UP, you can choose the location and amount of the ads to place on the web page. Consequently, these characteristics make the UP more flexible and reliable tool, but it takes more time to install it and organize the monetization process.
Furthermore, use our automatic fee adjustment option, so our system will check your website metrics and put the corresponding price. If you do not possess a sufficient level of technical knowledge, don't worry – get in touch with us and we will install a plugin for you. And it's up to you which one to choose.
By providing best management plugins and reliable solutions for monetization, we are trying to save you tons of time and hassle. You will not find an easier way to place ads on your website.
Pick up one of these plugins and start earning money today!
If you haven't learned about it on the Internet, we are informing you that blogging has long been essential for the successful promotion of any digital media business. And no wonder – a blog offers and conveys a lot of additional features to attract potential customers. But how to get started and what to do if your blog does not bring the expected traffic? Don't panic; now we are going to reveal relatively easy and important blogging tips that will save a lot of time and your valuable energy. It turns out that to achieve the desired aim, every blog post must include several key elements. To begin with, let's define the purpose of your "live diary."
In general, a good blog is capable of performing the following functions:
Serve as a communication channel, regularly providing relevant information;
Assist in increasing conversion of your website. Google, Yahoo! and Bing adore high-quality content;
Increase customer base and sales revenue;
Help in interacting with potential clients;
Earn money by launching an advertising campaign. Learn how to increase your online earning, monetize your websites via MageNet
Nevertheless, tips for writing blogs besides visibility and attractiveness involve three crucial "To Be" layers.
1) Be helpful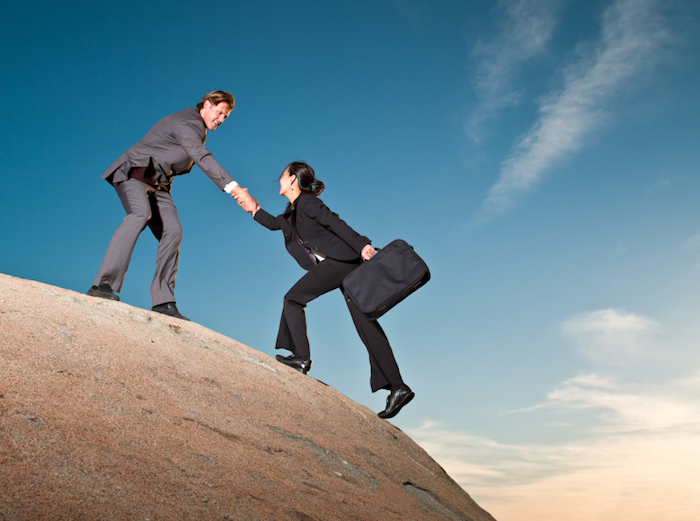 Comparing the number of successful blogs, you will notice a definite regularity: all of them carry some useful information. In today's fussy world, most people do not have time to read something that does not help somehow to improve their lives. It may seem difficult, but do not despair. It is not mandatory but strongly recommended to show something emphatic and one-of-a-kind. For example, it may be a lesson of professional medical ethics or a simple manual on the new online service usage. By providing your visitors with valuable information, you will increase the conversion and interaction between the material and reader.
2) Be honest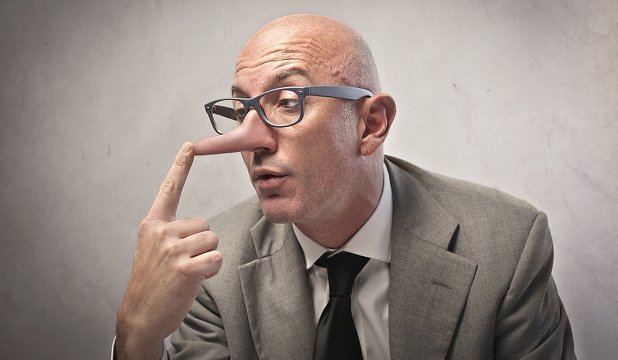 You take full control over your content, but do not abuse of power. It makes no sense (and zero profit for business) to distort facts or to invent new topics of discussions. In addition, it is obligatory to reserve the copyright. Write about what you believe will motivate your reader. If you are not well versed in some cases, study them properly and leave your review. The quality performance of your work will provide an evidence of the blog efficiency. Stay faithful and loyal to your craft and readers by publishing fresh and reliable material – and then your blog will be known as an authoritative and authentic source of information.
3) Be consistent
Naturally, a blog is a showcase of your individuality, readiness of being helpful and interesting. Therefore, every post you write has to reveal the purpose of your blog, show your values, messages and ideas.
Impressive Recommendations and Tips For Writing Blogs With Ease
If you want to improve the readability of your blog post, adhere to such pieces of advice:
Create Your Personal Brand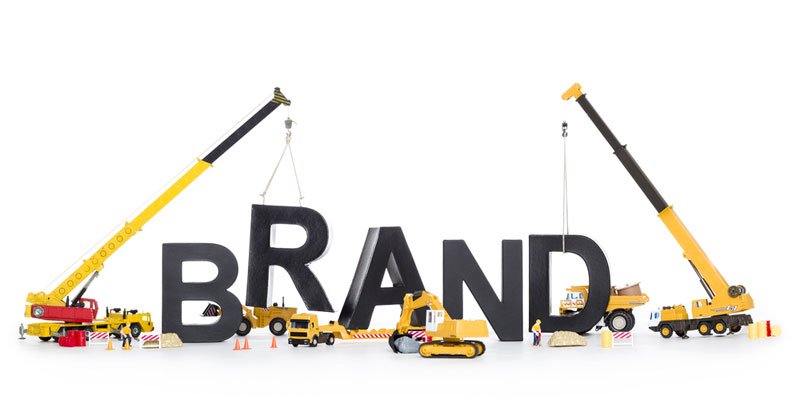 How can you start your blog without an opportunity to stand out from the crowd? It is a rhetorical question.
People tend to hide their talents because we are afraid of being ridiculed. Free yourself from the prison of your fears!
Set your photo on the front page of your website. As we have mentioned above, every blog ( a corporate blog is an exception) is a personal diary, and a person who is reading your posts wants to see who he/she communicates with. If you want to achieve success, show off your works! You have to come to light wherever it is possible – on forums, in comments, and so on.
Focus On Your Audience
Create a permanent audience of your blog. It is probably one of the best blogging tips on the performance evaluation. You need to create a constant audience of like-minded people.
Let us show how it's done.
Specifically, you need to create collection and distribution options. People should subscribe to blog updates in all possible ways. Visitors will choose how to read your blog on their own. Your task is to give them as many as possible tools to subscribe to updates. 
It is better to use RSS feeds and email newsletters. As a good option, you may launch the FeedBurner service to distribute daily news automatically through Twitter and Facebook.
Use Attractive Headlines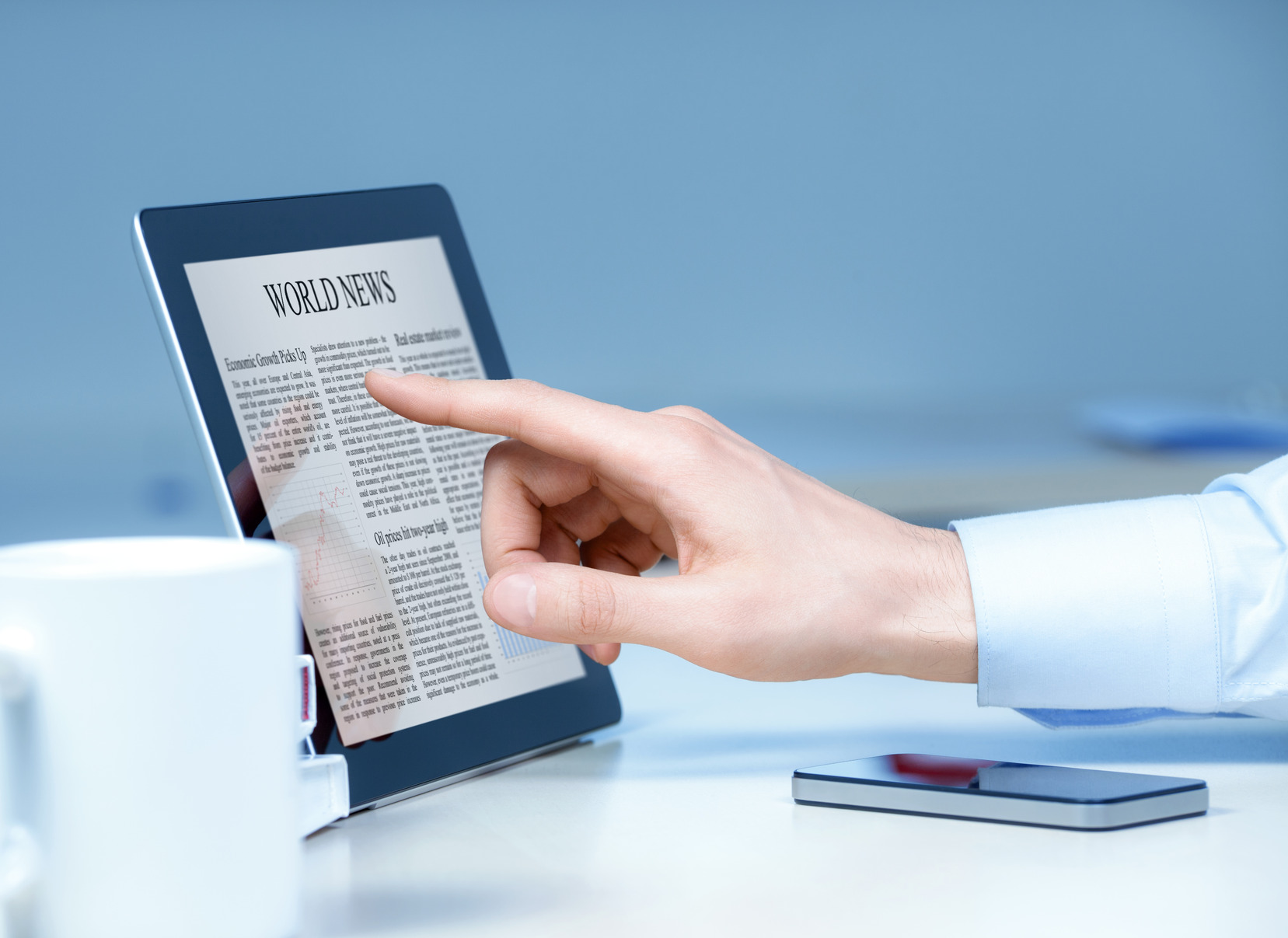 Each headline should serve as a bait and a reason why people want to visit your website. Choose headlines that will arouse interest but not completely reveal the topic of your post. You need to give a hint without disclosing all the secrets. Another good practice is to use numbers in headlines. Take as an example the title: "16 Rules of Blog Writing and Layout. Which Ones Are You Breaking?" Numbers help to attract attention and to live up to expectations, which is why they will long remain in trend.
Interaction With The Audience
1) Run contests on a blog
How can you maintain a blog without running online competitions?
This rule is highly recommended if you face troubles of website's attendance. It is vital to raise the behavioral factors on a blog, and therefore to increase the development and promotion in a search.
Launch the prize draw. The real cash prize is the best way to stimulate people.
Try to cooperate with other bloggers because the result of competition will be much greater.
2) Competent work with comments
It is necessary to understand that comment blog section shows the growth of behavioral factors directly and, therefore, its attendance.
Today search engines are focusing on how visitors behave on your blog, and if they take part in the project realization: write comments, discuss problems and leave feedbacks – it's great!
In addition, we should not forget that each comment is a great content generator. Some comments can be a source of the next topic and even outshine the content itself.
3) Use additional visual tools
Careful use of images, video presentations will engage readers into your blog posts. When people ask to specify best blog tips, we usually mark three rules: usability, simplicity, and visualization. Ideally, your images have to induce readers' attention and emphasize your message. 
Diligent and Careful Formatting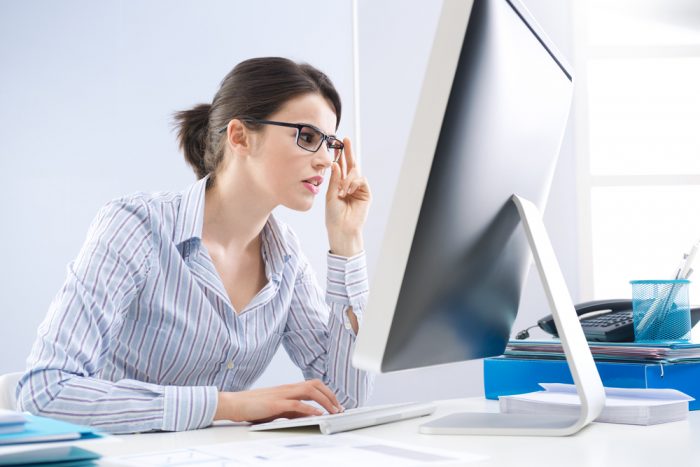 Proper formatting will make your blog posts easier for people to scan and understand.
Capital letters
Use capital letters if you want to emphasize or highlight the information. However, do not exaggerate; it may have the repulsive effect.
Short paragraphs and sentences
Texts online differ from printed works: it's better to break an article into well-structured sections. Paragraphs should be much shorter online than on paper. Try to limit the usage of lengthy sentences to avoid redundancy and wordiness.
White space
Make sure that your blog isn't too bothersome and allows visitors to avoid computer eye-strain.
Font type
As a rule, sans-serif fonts are supposed to be easier to read on-screen, in particular, Verdana. You may also use the sans-serif font Roboto (without the squiggly bits) which is designed for easy reading on-screen and will give your design a modern touch.
Font size
Large fonts are better. Explore some of your favorite writing platforms, compare the font size they apply and decide what works better.
Conclusion
You may find plenty of blogging tips on how to maintain your "live diary" properly, but the most reliable option is to share free and useful information with readers.
Since blogging combines several professions, your active steps play a significant role in a website development. Eventually, it will help you understand what direction you like to move in. Therefore, in the process of creating your project, you will face a big amount of information and can become a specialist in a particular area. What if you are a natural born SEO guru or a sort of god of copywriting? Or perhaps you are the best expert on wild animals? Then it might be worth tremendous efforts to transform your sphere of interest into your profit. In addition, an active rotation of the blogosphere will provide you with new ideas and bring new people, who could become your partners or customers.
Search engines are wary of websites with age fewer than six months. Learn How To Get Indexed By Google Properly.
Do not give up; do not rush to participate in a race for possibilities and lures that promise rapid earnings. Moreover, taking into account all tips for blogging, try to develop unique topics, generate ideas for posts and transform your audience into grateful readers. And, of course, be patient, and do not be discouraged! If someone has achieved high results in a short time, and you do not, it means that your time has not come yet, and you're just on the way to success.
It's widely known, that WordPress CMS is one of the easiest to use and, at the same time, the least secure. As a rule, many WordPress users install average level of protection and assume that a few installed plugins will ensure high level of security. This is far from being the case.
If your blog or website is hacked, it becomes one of the numerous spreaders of malicious code. Below you'll find the most crucial tips that can save you website or blog from being hacked.
If you use WordPress, then:
Do not use default username "admin".
Strengthen your password – make it unique and complex.
Protect your .htaccess and Secure wp-config.php
Limit login attempts.
Choose a high quality hosting.
Download themes and plugins only from official WordPress repository.
Backup your website.
Protect WordPress Admin files.
Limit access to the WP-content directory.
Be careful and stay safe. Do your best to prevent your WordPress website from hackers' attacks.