How to Choose a Site Category That Brings You Money?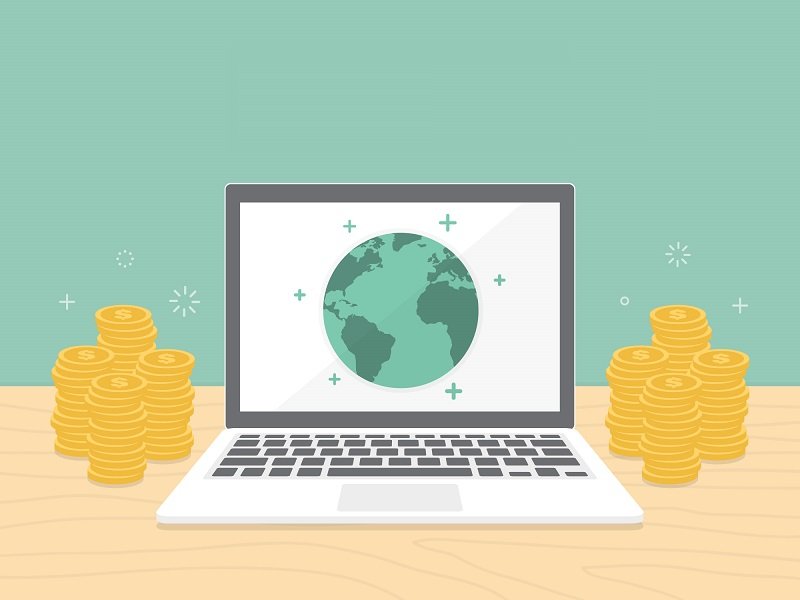 Choosing a site category or niche is one of the first things you would want to consider if you have monetization in your future plans. The first idea could be to create a website or blog with a range of topics to attract a bigger audience. Well, the practice shows, this is not a good choice.
According to ShoutMeLoud, blogs that try to cover multiple topics perform worse than those concentrating on one single niche and digging deep in it. Of course, there are different definitions to "perform good/bad", we'll take monetization as a main determining factor.
Why do you need a site category?
What affects monetization of a website in the first place? Correct, it's traffic! The more traffic comes to your site, the more money you'll be able to earn. Now come two reasons that prove that a specialized site is going to be more profitable than a generalized one.
A too general subject of a site makes it difficult for you to get a loyal audience. As the readers don't know what to expect from following your site, they may hesitate while subscribing to your news. In the modern world, we don't have time to read all the information that's coming to us, and prefer to get the most relevant and interesting features on the most needed topics.
Acquiring organic traffic by search-engine optimization gets extremely hard if you target a huge variety of keywords. Moreover, if you follow SEO-changes that are happening in the online world at the moment, you know that search engines, namely Google, value authority, and competence. It's hard to demonstrate a high level of proficiency on different topics and be a valuable source of information in the eyes of Google. On the contrary, extremely specific blogs tend to demonstrate impressive results in search engines even with basic SEO.
In addition to these factors, there is also a fact that targeted traffic is more useful in terms of online earnings. 1000 perfectly targeted visitors will bring more money from the ads than 5000 visitors who see the ads of the products they are not interested in.
Luckily, this particular example is not an issue for MageNet, as our publishers get paid for placement, not for clicks. Nonetheless, if you choose multiple monetization options, this is something worth paying attention to.
Questions to ask yourself when choosing a category
Now when you understand the idea that one single niche is worth investing your efforts, you should start considering the one and only you're going to stick to. Surely, you are free to take up several subjects and dedicate several blogs to them, if you feel like it. Or, put all your drive and passion into this one to make the most out of it.
So what exactly matters in the niche-picking process?
Do you like it?
The first question most successful bloggers suggest you ask. The easiest for some and the toughest for others. We all tend to show better results when doing something we enjoy and have a strong interest in. There is a pretty good chance that if your blog succeeds, you will spend years of your life working in the niche of your choice, so try to be honest with yourself when answering the question.
Do you have enough knowledge about the topic?
If you want to create an authoritative source of information, you almost absolutely need to have a good base of theoretical and practical knowledge of the topic.
You can, of course, take up a kind of project where you start learning or doing something from a scratch, and share your insights with the readers at every step of your work.
However, if we're talking about other cases, you want to show your readers that you are the right person to read and to take advice from. That's why make sure your level of understanding helps you provide the most up-to-date, deep and useful information.
What's more, spend some quality time improving your skills, reading fresh news, participating in workshops or conferences to share the knowledge and opinions with experts in the field.
Is the niche profitable enough?
Yes, unfortunately, not all the niches are of the same level of profitability, and not all site categories provide the same level of income when you decide to monetize your site. We're not saying that there are niches where you can't make any money at all, but there are surely some that are very competitive or too narrow to attract the required amount of visitors.
What to look at when determining the potential effectiveness and of a site category? Well, you could start with looking at how your competitors are doing. What monetization methods do they use? How much traffic do they normally get? Do they have any profit at all?
After that, you can determine the resources you have available for promotion and all possible monetization options that appeal to you. This will give you a general understanding of your assets, opportunities, and prospects with a particular category.
To help you orientate yourself in the market, we'll give you some info on the most profitable niches from the point of view of site monetization.
The most profitable categories on the Internet
We'll talk about broad niches, so keep in mind that there are plenty of sub-categories you can use to create a site on.
Money-making
The most obvious choice for bloggers who are beginners in monetization, as making money is always in trend and monetization options are countless in the field. However, it only makes sense to expect a high level of revenue if you are very knowledgeable and experienced and have something truly valuable to share.
If on the other hand, you start your blog for the sake of earning money within a profitable niche, chances are, you'll waste your time and effort. For your audience may not know about your expertise from the very beginning, but they will guess very soon whether you're incompetent.
You can always employ the method we've described above – where you start a journey as a beginner and share your way with your audience. But don't pretend to have the know-how you don't possess.
Finances
Specifically, the field of personal finances, where you can give the information on money saving, budget cuts or investments to make. Once you've got your audience created, you can monetize your site by placing ads on it or turn it into a proper business by creating some courses or organizing workshops on the topic.
Nutrition and food
Relevant ads are a good way to monetize a site or a blog about food or cooking. Additionally, if you're looking for monetization options besides ads, you could try writing a recipe book on a particular topic and make an e-book out of it.
News websites
Sites with breaking news or gossips about celebrities present an opportunity for monetization through ads and have one of the highest earning rates.
Lifestyle
This is a very broad term that can include lots of sub-categories like traveling, decor, gardening, etc. For lifestyle blogs, ads are the most appropriate monetization method together with writing and selling e-books, just like in food blogs.
Some other popular and profitable categories according to Google Adwords include employment and legal spheres, as they are quite expensive services by themselves.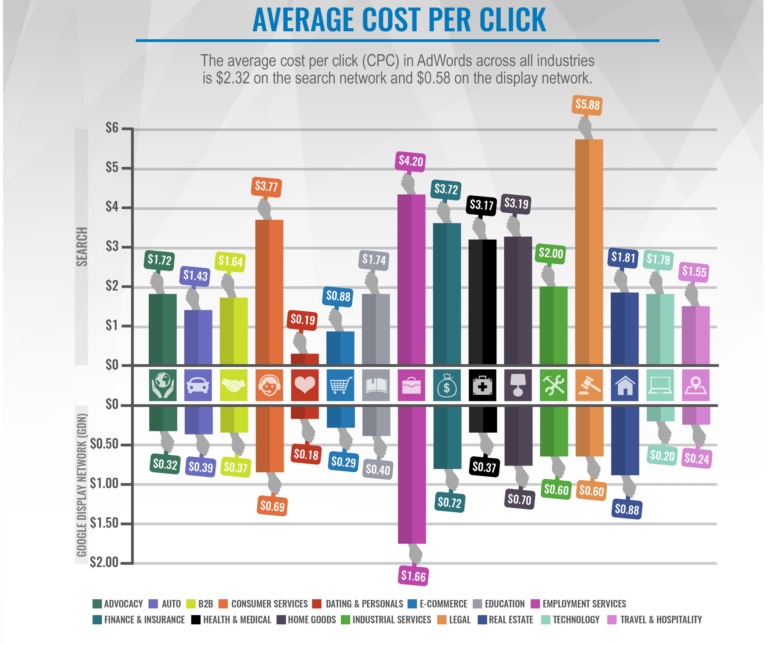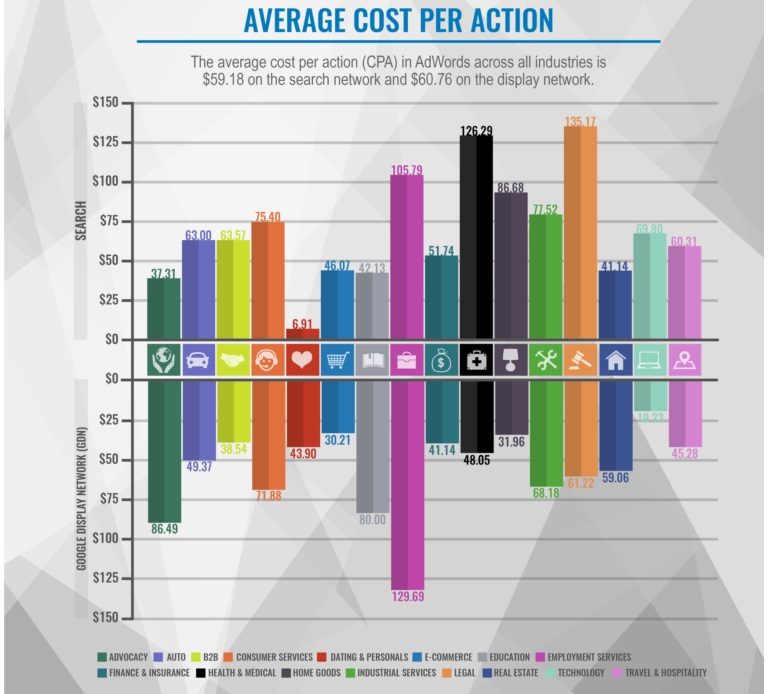 The most profitable categories on MageNet
As we mentioned above, MageNet makes payment to the publishers on cost-per-placement terms. This means that you don't need to worry about the number of visitors who see the ads, as you get paid once a month irrespective of views or clicks.
However, there are still some niches that are more popular than others and we suggest you find out about them to make the best decision about your blog's category.
The most popular categories with the advertisers on MageNet are Business, Recreation & Entertainment, and Health. The websites of these categories bring more incomes to their owners than others.
While as for the ads cost, the most expensive ones belong to the Animals, Shopping and Finance categories. The advertisers are inclined to pay a higher price for the ads on such websites.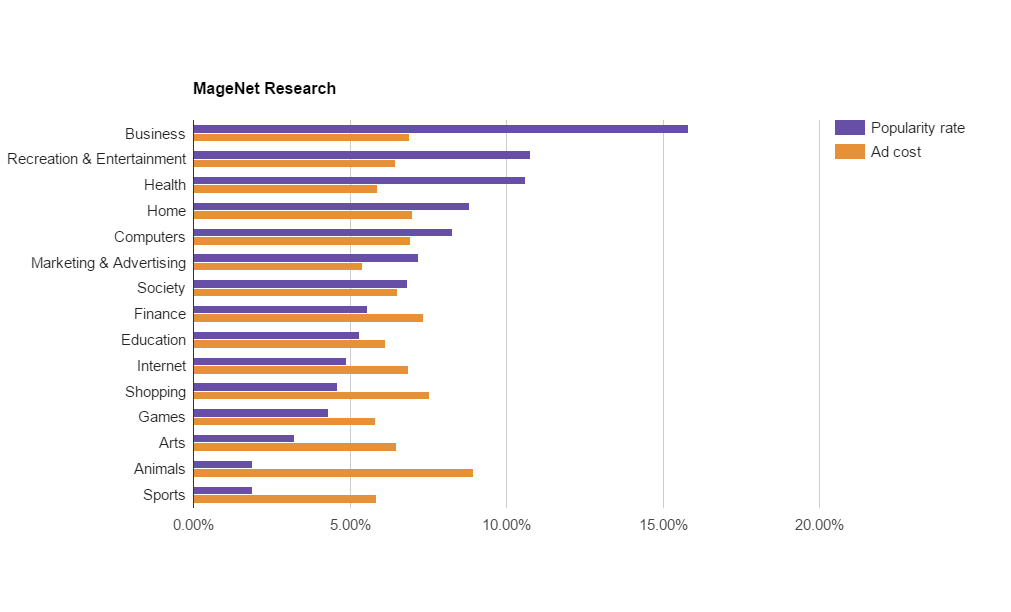 When a client is seeking an ad to buy, he chooses the certain category through our filters. If the website doesn't match the required category, you won't get the offer.
It is also important not to choose the category you think is gainful or in-demand just because of its profitability. In this case, you may get the reverse effect and disappoint expectations of the potential buyer if the content of your site doesn't have the desired quality.