Money for adding a site? MageNet makes it possible!
We couldn't miss the opportunity to treat you with a Black Friday Offer, so here you go. From 11/22/2017 to 11/30/2017 you have a chance to get up to $40* to your account for newly added websites.
Add websites that weren't used on other accounts previously, and get $1 for each one that corresponds to the requirements set. Start monetizing your website with MageNet, and receive a bonus before the first ad appears on it.
For you to get the bonus, your site needs to meet AT LEAST ONE of these requirements:
Have DA=70, or more,

Have a generic top-level domain .edu

or

.gov

or

.org,

Be in one of the following domain zones (or have an IP registered there): Australia, Mexico, Sweden, Norway, Denmark, Netherlands, Spain
After you've added your site, it takes around 14 days to have it indexed. As soon as this process is over, you'll get your bonus. All the website owners will receive their bonus by 12/15/2017.
Add sites now to get your Black Friday Bonus. Earn before even placing ads on your site.
* $40 is the maximum payout you can get. The deal is only valid for those users who have earned <=$5 with MageNet.
If you run a blog, you might follow several proper aims. Of course, you want to share some valuable information and engage as many readers as possible. Because you know that the more readers you have, the higher income you'll get. MageNet provides you with a perfect opportunity to earn more with your website.
You can safely monetize your site and get easy money for placing contextual ads within your content. All you need to do is create an account with MageNet, accomplish a few steps and voilà – the first profit is here for you. Sounds great, doesn't it? But let's start at the beginning and get to the bottom of how to get started with MageNet. In this article, we are going to provide detailed instructions on MageNet platform.
How To Get In Our Inventory?
The very first step on the way to getting money from your site is creating an account with MageNet if you're not an active publisher yet.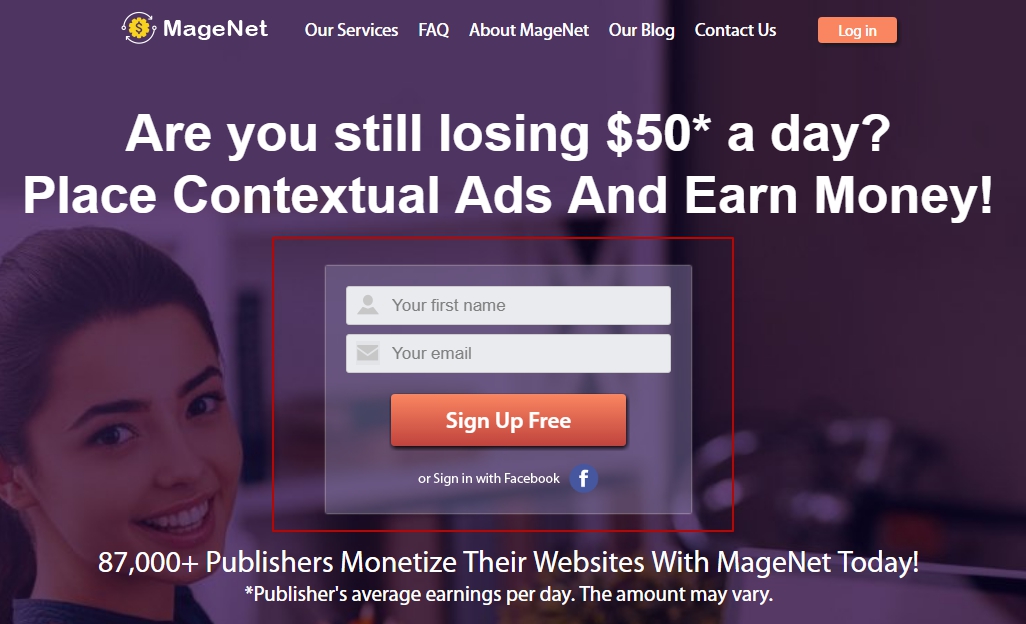 In case you have an account with MageNet, log in by clicking the button in the upper right corner.

After logging in, you will get on the main page of MageNet inventory. Here you will find the detailed recommendations on your further steps along with an introductory video.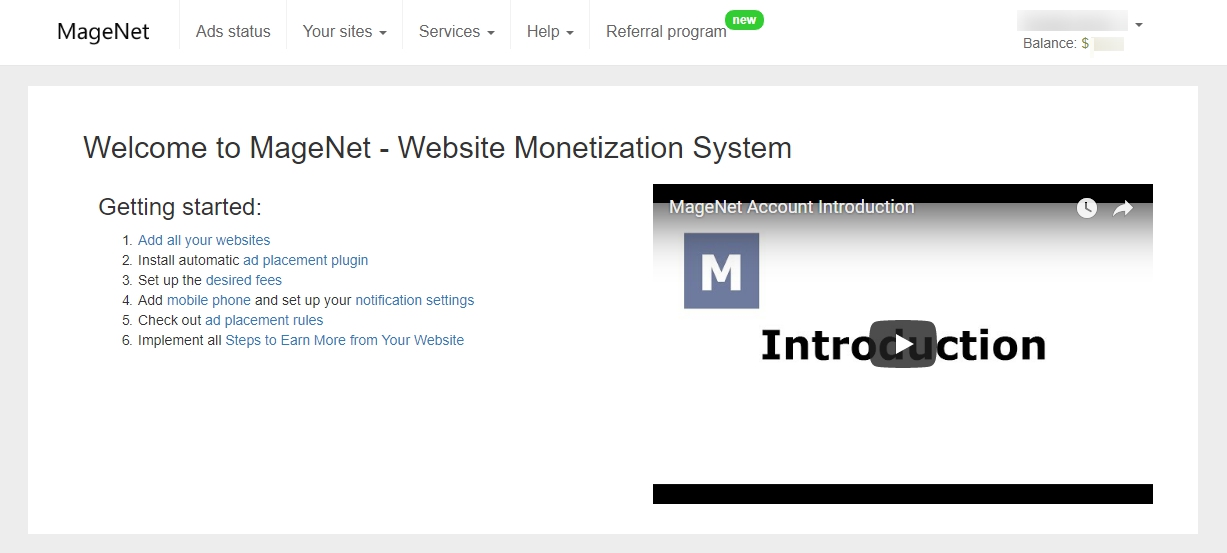 To get profit with MageNet, add your website or websites in our inventory by clicking Your sites tab and thereafter choose the Add new website line.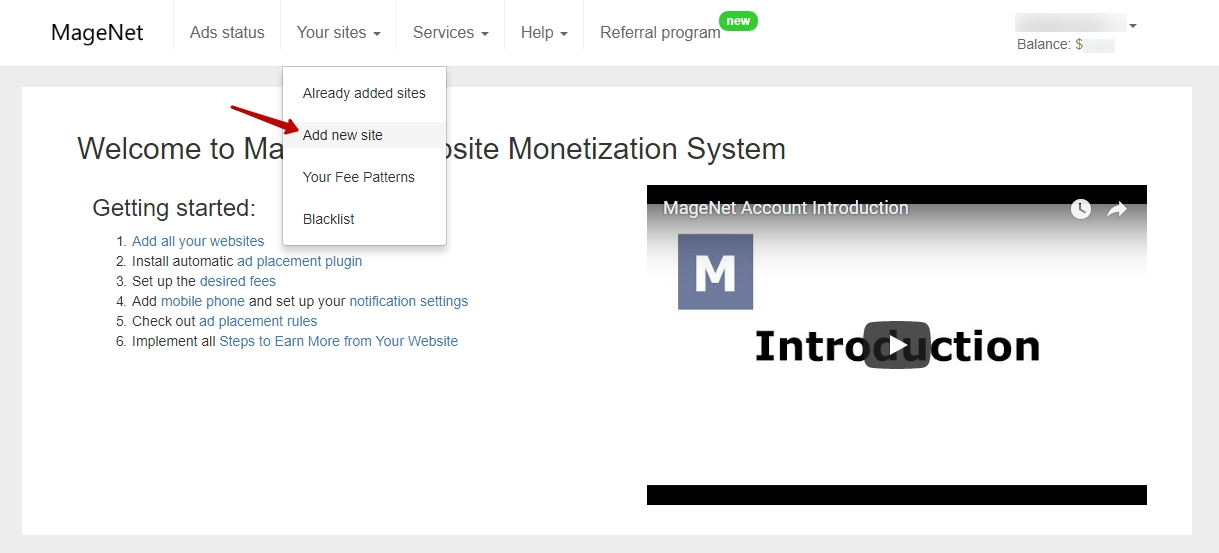 After clicking Add new site line, you'll get the following popup window. Here you need to indicate your website's URL, the platform it works on, and relevant category so marketers could easily find and choose your website for ads placement.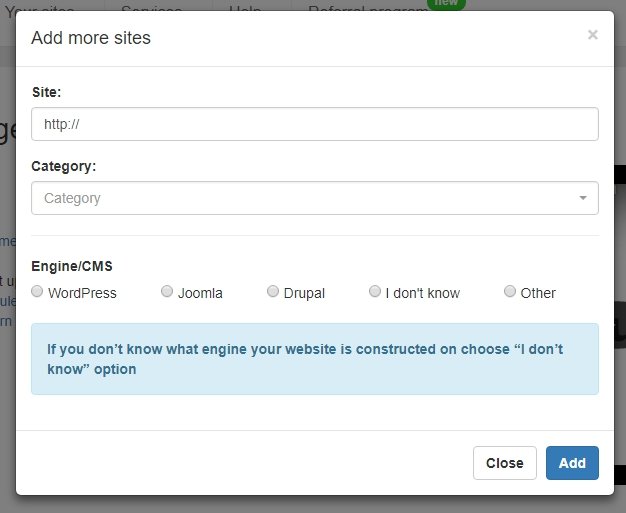 Once you fill in all the necessary data, click Add button to confirm your ownership rights. You can do it in two ways: manually or automatically with the help of plugins. After all these done, you need to wait 48 hours for us to index your website. Please note that MageNet doesn't accept websites that promote escort services, pornography, adult, or other harmful content.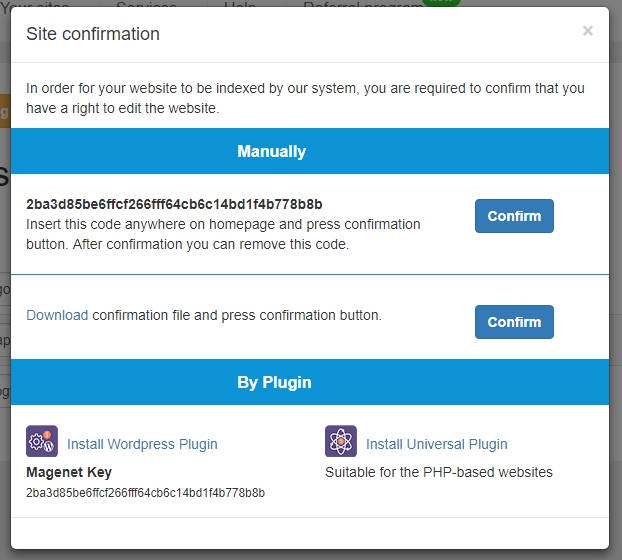 As soon as your website pages are indexed, you'll see them listed in the inventory. (Your sites – Already added sites)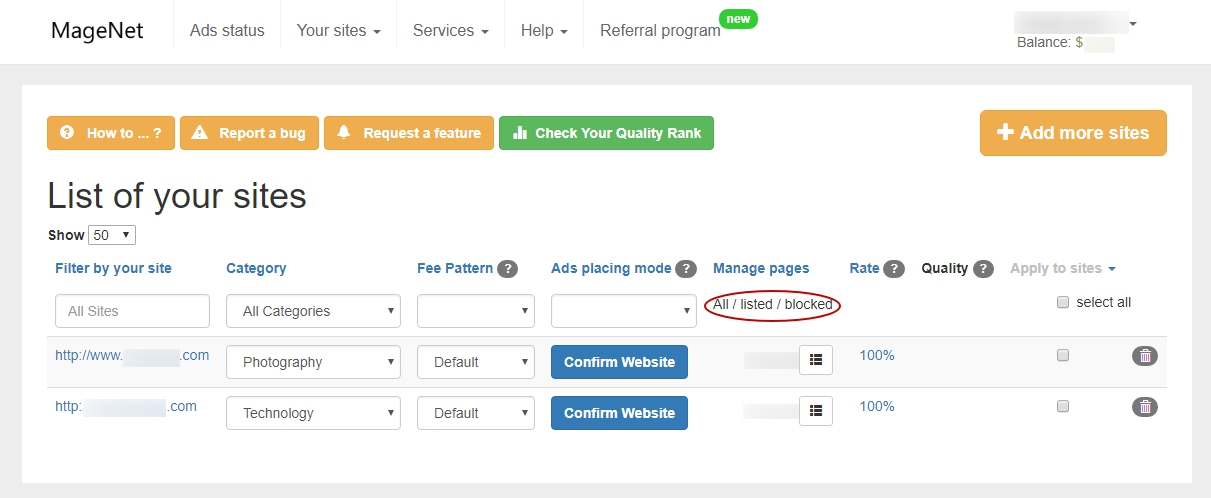 This interface provides you with the comprehensive data on your added websites:
In the first column, you'll find the URL of your added website and the category of this site in the side-by-side column

A fee pattern is a customized or default price for your services. Default fee is a standard tariff proposed by MageNet for your website services. This price is based on

SB Rank

of your website and the number of outbound links. The better rankings you have, the higher prices you'll get for your services. Still, you can set your own prices as well.

Ads placement mode means the way you install ads on your website. MageNet offers you to enjoy three ways of ads placement: manual, and automatic, with the help of

plugins

– WordPress Monetization Plugin or Universal Ads Placing Plugin.

Rate column indicates the number of placements that failed. Note that the higher rate you get, the most attractive you'll be to your customers.

Quality column tells you how quality your website is and what

commission you are going to get

.
Ads Statuses & Why They Should Be Active

This interface gives you the crucial information on statuses of ads placed on your website. Namely, you can check:
The page of your website with ad placed

Clickable text for your users

Type of backlink placement: manual when you take care of all ads by your own, and automatic with the help of

MageNet plugins

that save your time and place ads without bothering you.

SB rank of your page

Your monthly fee for the ad placed

Whether your links are permanent

Status of the ad. This is the column you should pay careful attention. Because you can get money only if the placed ad is active.

Start/end date of ad placement
Quality Matters
MageNet rewards publishers for good page quality. In figures it means that you get additional sales bonus in such cases:
60% bonus for 31-49 Quality Rank

80% bonus for 50+ Quality Rank
You get your bonus on the 1st day of the following calendar month. For instance, if you've managed to earn $1000 from any page of your website with Quality Rank 40 in March, you would receive extra $600 for this page quality in April. Read our article to know how quality website helps you earn more on MageNet.
MageNet Benefits For Publishers
To sum up, take a look at the advantages you can get by using MageNet:
Safe and easy passive income just for placing ads.

All you need to do is just add your website, pass our moderation and wait until the marketer will choose your website for their ads placement. Please note that MageNet has no influence on the choice of marketers. That is why the amount of money you can earn with MageNet may vary depending on your website niche, page quality,

SB Rank

, and many other factors.

Rich statistics of your earnings progress.

MageNet platform offers you convenient and all-sided information concerning your income. You can evaluate the dynamics and popularity of your website by your own. On the basis of this information, you'll decide which steps should be taken to gain popularity with the marketers.

Total control over placed ads.

All you need to know about placed ads on your website is just at your fingertips. Status, price, duration, and placement of every ad is clearly pointed out in the interface of our inventory.

Get paid regularly.

You'll get an opportunity to receive additional regular payments. The more attractive your website for marketers is, the more money you will get. Every 1

st

day of the next month you get paid for the previous one.

Fool-proof and transparent interface.

MageNet serves you handy and informative interfaces that provide you with all the necessary information so you can have a clear vision of your further steps towards income increase.

Website Value Calculator.

Make use of this

free tool to reveal how much you can earn with your website

after joining MageNet.

Quality Rank allows you to earn more.

Check how much you can

additionally earn

just for adding a quality website to our inventory.

Join MageNet Referral Program.

You may boost your profit when

referring friends to MageNet

.

Add as many websites as you wish for FREE.

The last but not the least benefit of using MageNet is that if you run more than 1 website, you can monetize them all! More websites on various topics increase your chances to boost profit.
Remember that a good beginning makes a good ending. So start enjoying the benefits of using MageNet right away!
Reading some theoretical information about any piece of the topic can be useful at some point. But soon learning the endless rules of what to do and what not to do gets exhausting.
In many cases, you learn the best working things the hard way – having spent a couple of sleepless nights and a few hundred dollars on some baloney that didn't work.
By this blog post, we're trying to make your life easier and gathering opinions of people who've already succeeded in monetization. Tips, tricks, secrets that helped them get to the top. Predictions for the near future of monetization.
"Feel free to experiment,"
Neil Patel
Neil Patel, a guru of content marketing, monetization and online business, insists on making the wise choice of the topic for your blog. We've actually made an article to help you decide on the blog niche that will bring you money. Patel is among those who're saying that only the subject that evokes strong interest in you, will make you popular and successful: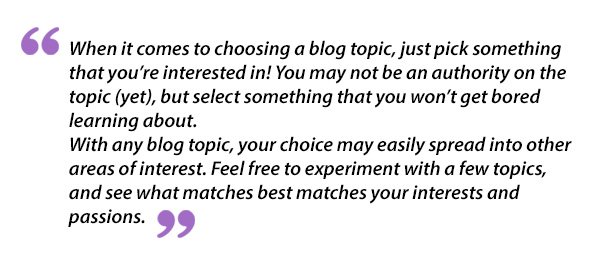 As for other Patel's tips on blogging, he's got plenty simple, but effective ideas, like using the vocabulary that is as simple as possible, or writing more posts on how to do some things, and creating them detailed and to the point.
"Repeat visitors help you earn more,"
Ankit Oberoi
The name of Ankit Oberoi is known to many who are reading and learning about monetization. He's a Web Entrepreneur & Co-Founder of AdPushup – a platform that helps publishers optimize their online ads earnings. Ankit is convinced that the audience is the most valuable asset you possess. So the first step according to him is founding a base of readers and subscribers. The users that are regularly visiting your blog will bring you more money in the long run.
Additionally, Ankit thinks very highly of modern advertising networks, as they allow website owners minimize the efforts of revenue acquisition. Nonetheless, there are some elements that none of the ad system or networks can help you with. With them, you'll have to make up your mind and do the testing by yourself, says Oberoi.

"You need to be testing everything,"
Jim Wang
Another monetization pro, Jim Wang, founder of Bargaineering, is also crazy about testing.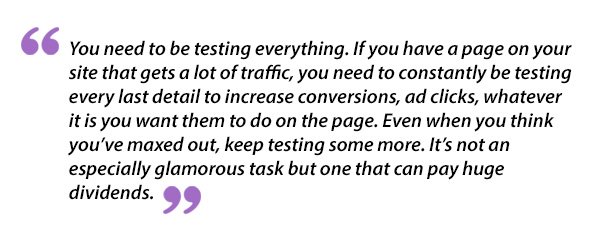 Split testing is not the only way to measure content and its separate parts, according to Wang. Notice the results of changes in every headline, call-to-action or significant sections of your texts. Use new testing methods to get new results, don't just do the stuff that was working in the past and hope to outperform yourself and competitors.
Just like Ankit Oberoi, Wang values the audience. He advises thinking about the users and readers before all and placing monetization as the end goal. This way of thinking allows you to release the stress when your site doesn't bring money momentarily. You spend more time and efforts in present and don't worry constantly about the future. One step at a time.
Another tip that Jim shares on the matter is not to think way too far in the future. The internet develops extremely fast, and it doesn't make sense to create plans for 5-10 years only to realize that your business field and the world, in general, are moving in another direction.
"Augmented reality is going to be huge,"
Jeff Cordeiro 
Cordeiro is a COO of MUNDOmedia Ltd. – an online agency that works out methods of users attraction and retention with the help of paid media. The company mainly works with game and app developers. Monetization is a big challenge for those businesses, he admits. Getting traffic to increase rankings in AppStore or Google Play requires an approach a bit different from traditional SEO.
With games, just like with blogs, the topic is important. Many games that don't require a lot of thinking tend to go viral. The same is true for battle and strategic games. However, Cordeiro admits that very few new approaches to games industry appear now:

What do you think about the tips given? Do you agree with Jim Wang and Ankit Oberoi, and do the testing for each and every part of your blog? Or, maybe, prefer to experiment with the topics for your blogs to see what satisfies you most, like Niel Patel advises? Have you ever monetized an app or an online game? Share in the comments below!
14% of bloggers earn their salary via blogging. Not so many, right? And it's good news, as it means you have a chance to take your place at the market and leave you nine-to-five job.
This time we will be talking specifics, numbers and real examples trying to present the real picture, without myths about billions of dollars and belittling that says it's impossible to make money online.
How much you can earn from a blog
It may be hard to believe, but several years ago the situation on blog market looked somewhat like this: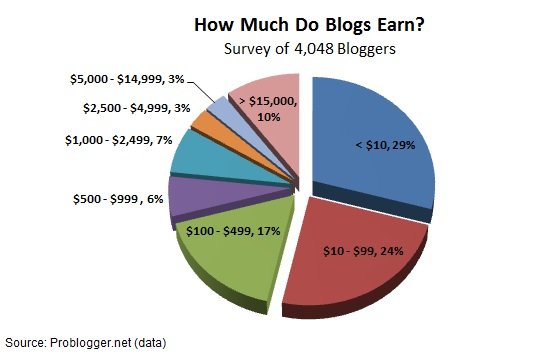 Not very optimistic, as more than a half of all bloggers who took part in the survey didn't make it up to $100.
The data from 2016 shows a more promising picture: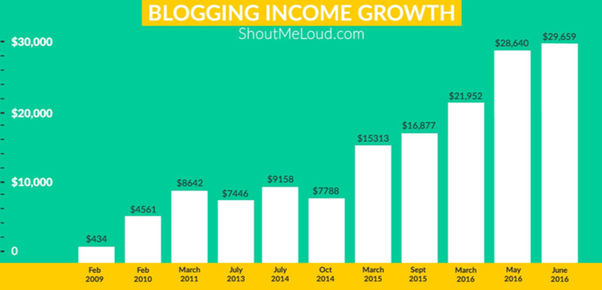 As you can see, the situation improved significantly, and it looks like the question of How to make extra money online? is no longer that complicated. But, why?
The era of paid advertisements started way back in 1994 when the first ad banner appeared, but it only with the rise of social media platforms, that we got to understand what's there valuable for us, simple Internet users.
Starting with 2010, companies like Mashable and BuzzFeed began to provide new opportunities to connect advertisers and their audience through paid ads. A couple of years before that MageNet started to grow as a platform that allows users to monetize their websites using contextual ads.
Is it already late to join this club? No, definitely not! Marketing is moving to its pique, and it's a perfect time to learn how to make money online and grow as a successful blogger.
Factors of success when making money online in 2017
We could make an endless list here, as, really, there is no limit to perfection, but the main three would be the following:
Content and its topic;

Number of blog visitors;

SB Rank of the blog;
You may already be tired of this, but content stays number one in your priority list. Good content on relevant subjects not only draws visitors and forms a devoted audience, but eventually, makes the blog attractive to search engines and advertisers.
This makes the second factor logical – the more people like your blog, the more they will choose to come back to it or share it with friends.
SB Rank here serves not to promote your blog on Google, as this goes without saying, but to prove your reputation to the advertisers.
Strategies to earn money from the blog
Okay, so it's not a lie – you can, in fact, make money on your blog, but how not to get lost in the variety of monetization options? Some strategies that can help in making choice are below. However, we covered many of these and others in previous articles about blog monetization and ways to make money by writing blogs.
Cost Per Click Advertising. As simple as it can be: you agree to place ads on your blogs' pages, and when someone clicks on them you get the money. It's very easy to start getting money from this type of advertising if you have high regular traffic to the blog.

Cost Per Mille. This one is very similar to CPC, however, you get the money for every thousand impressions viewed by users.

Google Adsense is a popular choice for both CPC and CPM. At 

MageNet

we have developed another system that helps you get money for ad placement once every month no matter how many clicks it gets. There are two plugins that will help you here:  

WordPress Plugin and

 

Universal Plugin

. If you haven't tried them yet, or you are concerned it will be difficult, make sure to read our

Installation Guide for Universal Plugin

and check

Installation tab for WordPress Plugin

.

Affiliate Program. If you join one of them, then you'll get the money for every purchase made after your recommendation. The wisest thing when participating in any affiliate program is to care about your readers' needs and wishes and promote the products that are relevant and useful. This way you'll be sure not to lose your audience in search for money.
MageNet Referral Program. You can actually earn more on a regular basis without searching for new monetization programs and systems. Our Referral Program allows you to get money easily by simply referring your friends to MageNet. When they start earning with us, you will get 10% commission for each dollar they make. Every month. Just like that.
Sponsored posts. When your readers trust you, you both can benefit from such monetization type: readers will get some useful advice about a product, and you will get paid for that. Always try to make it win-win for all of you, don't promote a product of bad quality, remember that your success has a lot to do with your visitors and, eventually, with their satisfaction. 

You can search for brands yourself, use freelance sites or some platforms designed specifically for these needs. The latter ones usually simplify the process of search for advertisers. Adsy is, probably, the easiest one to use – you add your site, choose a category for it, and get orders for sponsored posts with the price you name yourself.

Premium Content. Of course, you will start with free content for everyone, but as you become a real professional in a field or gain some valuable experience or skills, sell them, there's nothing bad about that. Another good thing here is that when you write premium content, there is no need for you to collaborate with advertisers or place ads on your blog.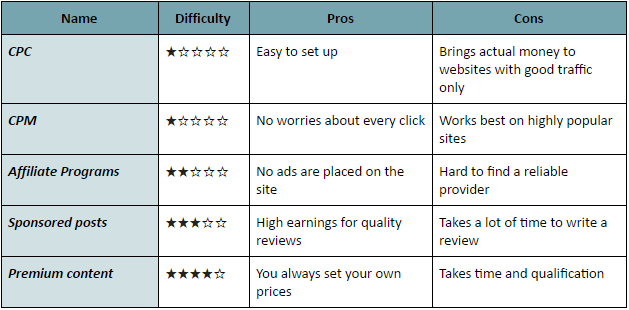 Lastly, when you get sick of your blog or decide to do something new, you have a chance to sell it and get money to follow your new dream. Weigh your achievements wisely, do some calculations and set a reasonable price. For example, if your blog makes about $10,000 a month, you could expect to get $200,000-300,000. However, it will depend a lot on you dealing with a professional broker who can get you such price.
What Ad Formats to Use to Earn money?
In general ad formats can be presented this way and you can keep it in mind when you set a place for ads using MageNet Plugins.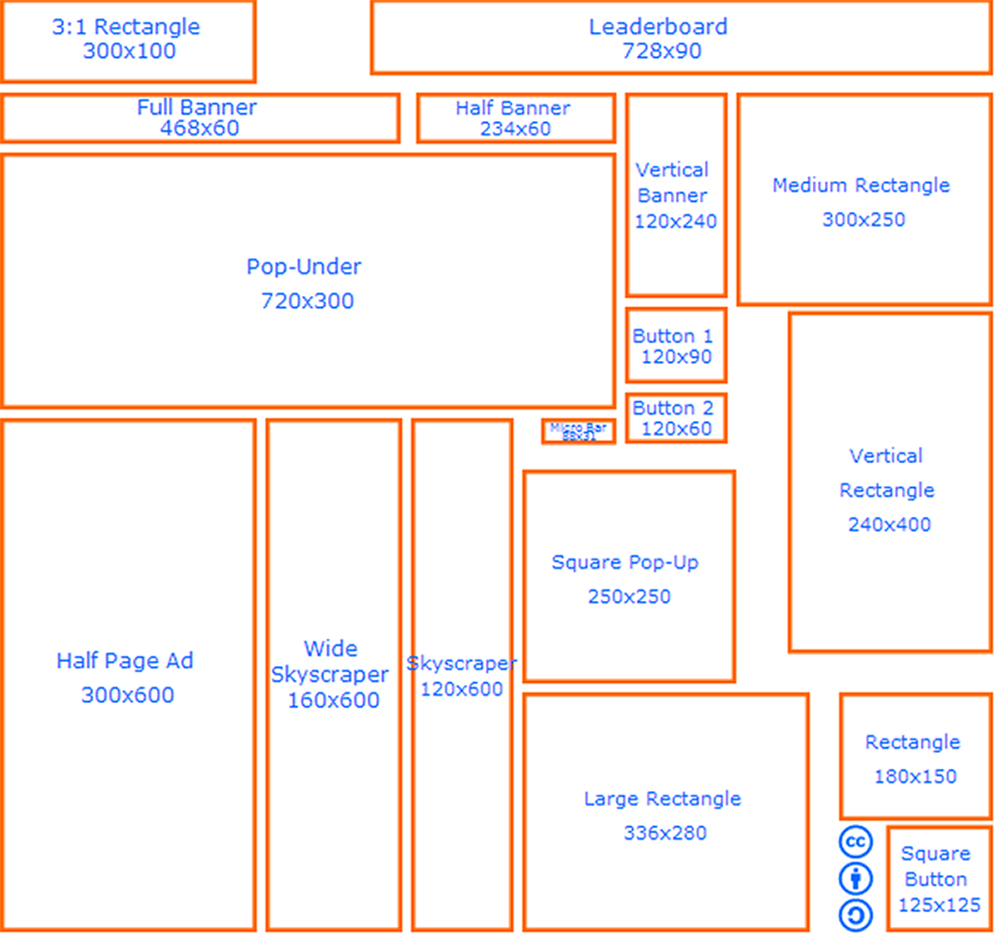 There are actually tons of horror stories about ad formats that will scare away the visitors of your site, but which of them are really true?
Let's take pop-up and pop-unders, for instance. Though many say that their presence affects the popularity of a site, tests like this show that there isn't much correlation there:

It doesn't mean that pop-ups and pop-unders must appear everywhere on the site, of course, but such info gives you more freedom when choosing options to monetize your site.
Another survey gave a curious result showing that the majority of users prefer banner ads to sponsored posts – another thing to consider before committing to these monetization ways.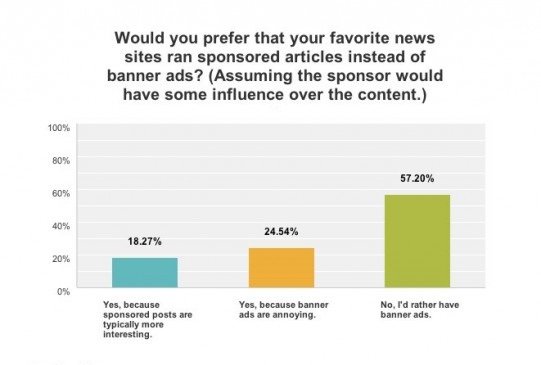 When we examine the way users treat different types of ads, overall Interaction Rate makes Large Rectangle the obvious winner. By interaction, in this case, we mean expanding the ad, making it full screen, moving a mouse over it for longer than a second and clicking the 'Close' link.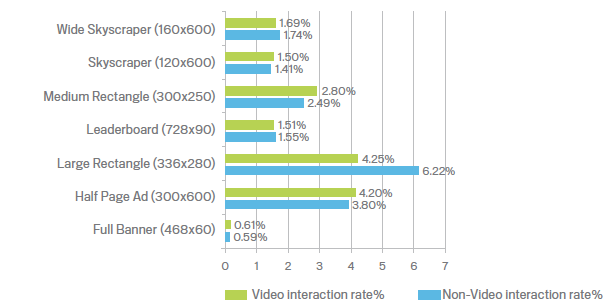 It's possible to earn real money from your blog
It really is! The numbers will differ from one niche to another as you can see below, but any well-though monetizing campaign will be fruitful.


If you want to see more numbers, check real-life examples of people who chose MageNet to monetize their blogs in our Success Stories section. Some of them give their practical advice, and it's a valuable information from people, who have already achieved good results in monetization.  
Your blog can help you make money online starting this month, use MageNet Website Value Calculator to see the exact amount of money you can earn and the most appropriate monetization methods for your particular case.
To continue our conversation about factors affecting your income from blogging, we'd like to have a talk about quality.
Can poor quality of the site decrease your earnings? Are there any additional benefits when you maintain a top-quality website? The answer is, yes!
Quality Reward Program
All MageNet publishers get rewards for quality websites. We're using an algorithm that calculates a Quality Rank for your websites based on a number of parameters, that we'll talk about a bit later.
If your site's Quality Rank is between 31 and 49, you get 30% commission. If it's more than 50 than your commission is going to be 60%. In case of Quality Rank=100, write us to get your bonus. We'll manually check your website to ensure it meets our quality standards and we'll give you the highest bonus possible! At the end of every month, MageNet calculates your earnings and commission, and you get the money on your account under the usual terms (on the first day of the following month). You can see the formula in our FAQ section.
For example,
If one of your pages gave you $200 this month, and its Quality Rank is 45, then you'll get $60 extra on the first day of the next month. Similarly, if its rank is 55, you'll get $120 extra.
As you can see, it really pays off to have a quality website when you have monetization on your mind. Moreover, you may guess that advertisers always seek for the best sites to place their ads on. They often use filters when searching for publishers and if your site doesn't have the required level of relevance and quality, the system will not display it.
You can always check your pages' Quality Rank in your account. Log into your MageNet account, and go to "Your Sites" – "Already added sites". The quality rank is displayed next to each site. If you can't see a number in the corresponding column, then your site must have a very low quality rank, and our recommendation is to start working on it.

Hopefully, by now you are motivated enough to make some practical improvements to your site.
Improving your site's quality
What to do if your site isn't yet of a good quality? As we mentioned above, there are some aspects of your site you can influence to rank better within the Quality reward program.
You can start with optimizing your on-page SEO. It's not about all those tags you have to work with on every page of your site. They are undoubtedly important, but what matters in terms of quality improvement are the signals that your site values its existing and potential readers.
Make sure you provide privacy policy to the users and tell them what information you're gathering about them, if any.
Keep an eye on the bounce rate and do your best to decrease it by having a user-friendly layout and design, and by creating relevant content.
Have your contacts presented on the site, this will enhance your credibility in the eyes of Google and our system as well.
Work on your branding even if you're a small business of two people. Create a brand name and start using it consistently, be present on social media and have links to your profiles on your About Us page. Haven't got an About Us page yet? It's high time to create it!
Take control of your links. Both inbound and outbound links are a signal of your site's quality. Or its absence. That's why don't include links to sites of poor quality, as they will take you down. What's equally important, don't allow low-quality sites place backlinks pointing to you.
Have a look at your domain. You may already know that a domain that has been registered quite some time ago is a good sign for a website, and "fresh" domain may have a harmful impact on your site's credibility.
In addition, it makes a very big difference when you own a paid version of a site. For instance, MageNet's plugins don't work on free versions under WordPress or Blogspot. Don't be cheap, make your website run on a quality domain, as you'll be able to get your money back soon.
These are the essential factors that you can definitely optimize by yourself and profit not only from ads placement but from quality improvement as well. We value our users and make sure they get a proper reward for all the work they put into their websites.
As always, MageNet is devoted to your success and helps you earn more when monetizing your websites.
Choosing a site category or niche is one of the first things you would want to consider if you have monetization in your future plans. The first idea could be to create a website or blog with a range of topics to attract a bigger audience. Well, the practice shows, this is not a good choice.
According to ShoutMeLoud, blogs that try to cover multiple topics perform worse than those concentrating on one single niche and digging deep in it. Of course, there are different definitions to "perform good/bad", we'll take monetization as a main determining factor.
Why do you need a site category?
What affects monetization of a website in the first place? Correct, it's traffic! The more traffic comes to your site, the more money you'll be able to earn. Now come two reasons that prove that a specialized site is going to be more profitable than a generalized one.
A too general subject of a site makes it difficult for you to get a loyal audience. As the readers don't know what to expect from following your site, they may hesitate while subscribing to your news. In the modern world, we don't have time to read all the information that's coming to us, and prefer to get the most relevant and interesting features on the most needed topics.
Acquiring organic traffic by search-engine optimization gets extremely hard if you target a huge variety of keywords. Moreover, if you follow SEO-changes that are happening in the online world at the moment, you know that search engines, namely Google, value authority, and competence. It's hard to demonstrate a high level of proficiency on different topics and be a valuable source of information in the eyes of Google. On the contrary, extremely specific blogs tend to demonstrate impressive results in search engines even with basic SEO.
In addition to these factors, there is also a fact that targeted traffic is more useful in terms of online earnings. 1000 perfectly targeted visitors will bring more money from the ads than 5000 visitors who see the ads of the products they are not interested in.
Luckily, this particular example is not an issue for MageNet, as our publishers get paid for placement, not for clicks. Nonetheless, if you choose multiple monetization options, this is something worth paying attention to.
Questions to ask yourself when choosing a category
Now when you understand the idea that one single niche is worth investing your efforts, you should start considering the one and only you're going to stick to. Surely, you are free to take up several subjects and dedicate several blogs to them, if you feel like it. Or, put all your drive and passion into this one to make the most out of it.
So what exactly matters in the niche-picking process?
Do you like it?
The first question most successful bloggers suggest you ask. The easiest for some and the toughest for others. We all tend to show better results when doing something we enjoy and have a strong interest in. There is a pretty good chance that if your blog succeeds, you will spend years of your life working in the niche of your choice, so try to be honest with yourself when answering the question.
Do you have enough knowledge about the topic?
If you want to create an authoritative source of information, you almost absolutely need to have a good base of theoretical and practical knowledge of the topic.
You can, of course, take up a kind of project where you start learning or doing something from a scratch, and share your insights with the readers at every step of your work.
However, if we're talking about other cases, you want to show your readers that you are the right person to read and to take advice from. That's why make sure your level of understanding helps you provide the most up-to-date, deep and useful information.
What's more, spend some quality time improving your skills, reading fresh news, participating in workshops or conferences to share the knowledge and opinions with experts in the field.
Is the niche profitable enough?
Yes, unfortunately, not all the niches are of the same level of profitability, and not all site categories provide the same level of income when you decide to monetize your site. We're not saying that there are niches where you can't make any money at all, but there are surely some that are very competitive or too narrow to attract the required amount of visitors.
What to look at when determining the potential effectiveness and of a site category? Well, you could start with looking at how your competitors are doing. What monetization methods do they use? How much traffic do they normally get? Do they have any profit at all?
After that, you can determine the resources you have available for promotion and all possible monetization options that appeal to you. This will give you a general understanding of your assets, opportunities, and prospects with a particular category.
To help you orientate yourself in the market, we'll give you some info on the most profitable niches from the point of view of site monetization.
The most profitable categories on the Internet
We'll talk about broad niches, so keep in mind that there are plenty of sub-categories you can use to create a site on.
Money-making
The most obvious choice for bloggers who are beginners in monetization, as making money is always in trend and monetization options are countless in the field. However, it only makes sense to expect a high level of revenue if you are very knowledgeable and experienced and have something truly valuable to share.
If on the other hand, you start your blog for the sake of earning money within a profitable niche, chances are, you'll waste your time and effort. For your audience may not know about your expertise from the very beginning, but they will guess very soon whether you're incompetent.
You can always employ the method we've described above – where you start a journey as a beginner and share your way with your audience. But don't pretend to have the know-how you don't possess.
Finances
Specifically, the field of personal finances, where you can give the information on money saving, budget cuts or investments to make. Once you've got your audience created, you can monetize your site by placing ads on it or turn it into a proper business by creating some courses or organizing workshops on the topic.
Nutrition and food
Relevant ads are a good way to monetize a site or a blog about food or cooking. Additionally, if you're looking for monetization options besides ads, you could try writing a recipe book on a particular topic and make an e-book out of it.
News websites
Sites with breaking news or gossips about celebrities present an opportunity for monetization through ads and have one of the highest earning rates.
Lifestyle
This is a very broad term that can include lots of sub-categories like traveling, decor, gardening, etc. For lifestyle blogs, ads are the most appropriate monetization method together with writing and selling e-books, just like in food blogs.
Some other popular and profitable categories according to Google Adwords include employment and legal spheres, as they are quite expensive services by themselves.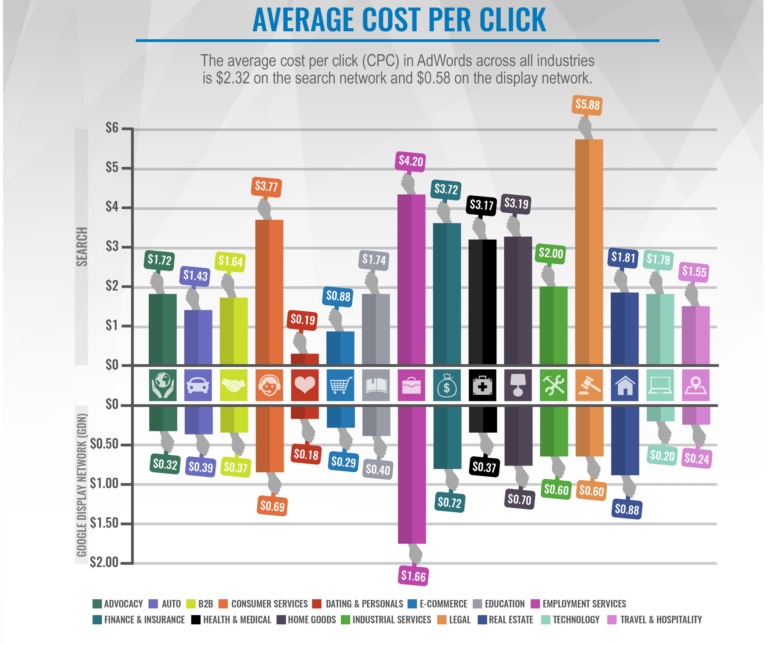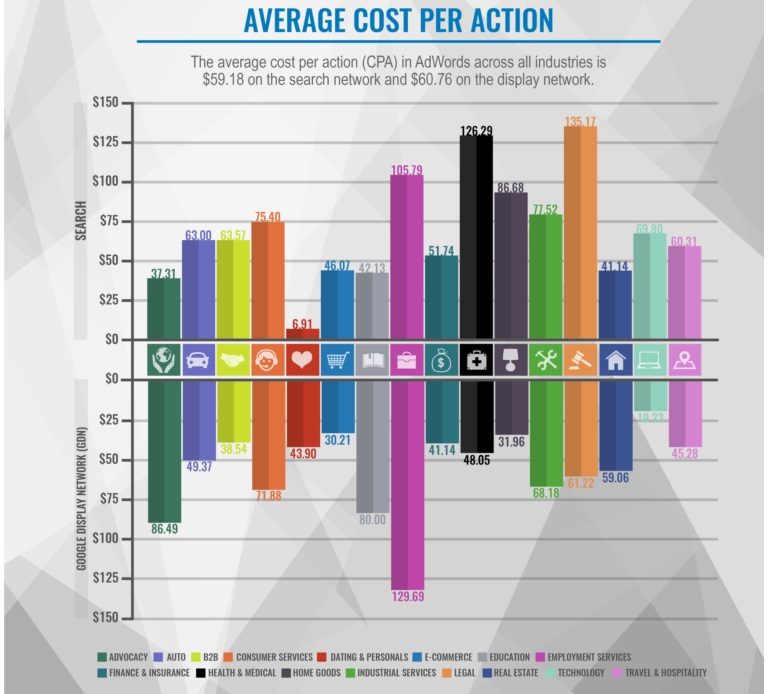 The most profitable categories on MageNet
As we mentioned above, MageNet makes payment to the publishers on cost-per-placement terms. This means that you don't need to worry about the number of visitors who see the ads, as you get paid once a month irrespective of views or clicks.
However, there are still some niches that are more popular than others and we suggest you find out about them to make the best decision about your blog's category.
The most popular categories with the advertisers on MageNet are Business, Recreation & Entertainment, and Health. The websites of these categories bring more incomes to their owners than others.
While as for the ads cost, the most expensive ones belong to the Animals, Shopping and Finance categories. The advertisers are inclined to pay a higher price for the ads on such websites.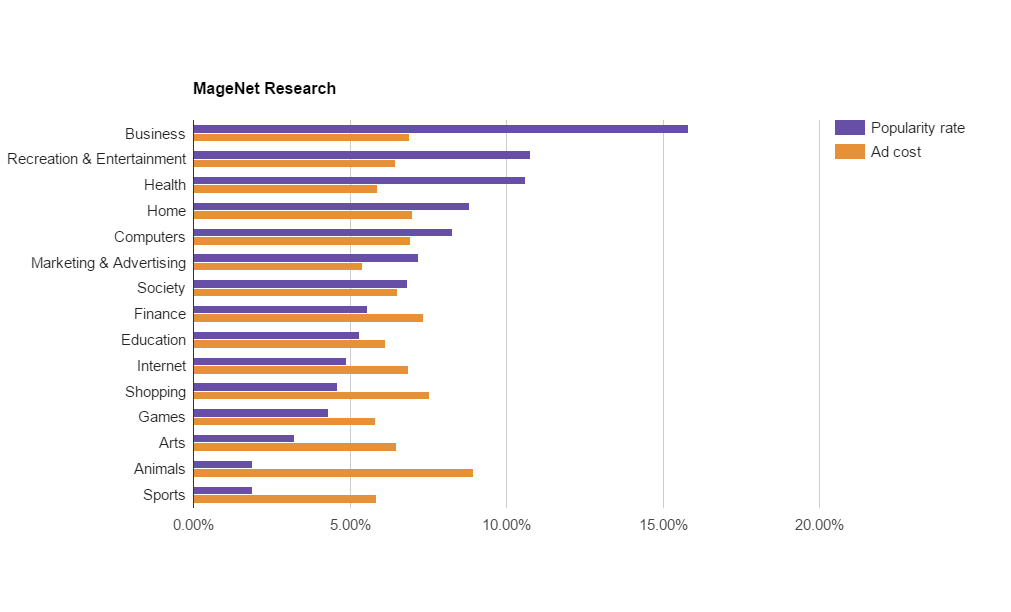 When a client is seeking an ad to buy, he chooses the certain category through our filters. If the website doesn't match the required category, you won't get the offer.
It is also important not to choose the category you think is gainful or in-demand just because of its profitability. In this case, you may get the reverse effect and disappoint expectations of the potential buyer if the content of your site doesn't have the desired quality.
The prospect of an online business is quite alluring. A digital business venture offers the opportunity to set your own goals and take charge of your own destiny. While the dream of online business success is promising, the reality can be a bit different.
Reports state that 90 percent of online businesses fail. That's a massive number of entrepreneurs that launch their online venture only to see if falter. If you find yourself among these floundering online business people, you may be saying aloud, "My business is failing. What do I do?"
More than likely, the pitfalls of your digital business aren't directly related to just one issue. Most e-businesses suffer from multiple factors that result in failure. The uncertainty that surrounds the root cause of failure can be frustrating and often leads many entrepreneurs to call it quits and give up on their goals.
Instead of trying to pinpoint exactly what one action can or did lead to your online business's failure, it can be helpful to consider general practices that you should avoid. These shortcomings point down the road toward failure when left unchecked. However, if you understand them, you can right the ship and steer it toward success.
Remember these inadequacies when asking yourself what to do when your business is failing.
Bad Habit #1: Don't Study Up 
The accessibility of digital platforms and the internet have lowered barriers to starting your own business. It's now extremely simple to set up an e-commerce store online and sell a number of items. However, just because there are low barriers to entry doesn't mean that success is a sure thing. An online business is still a business at the end of the day.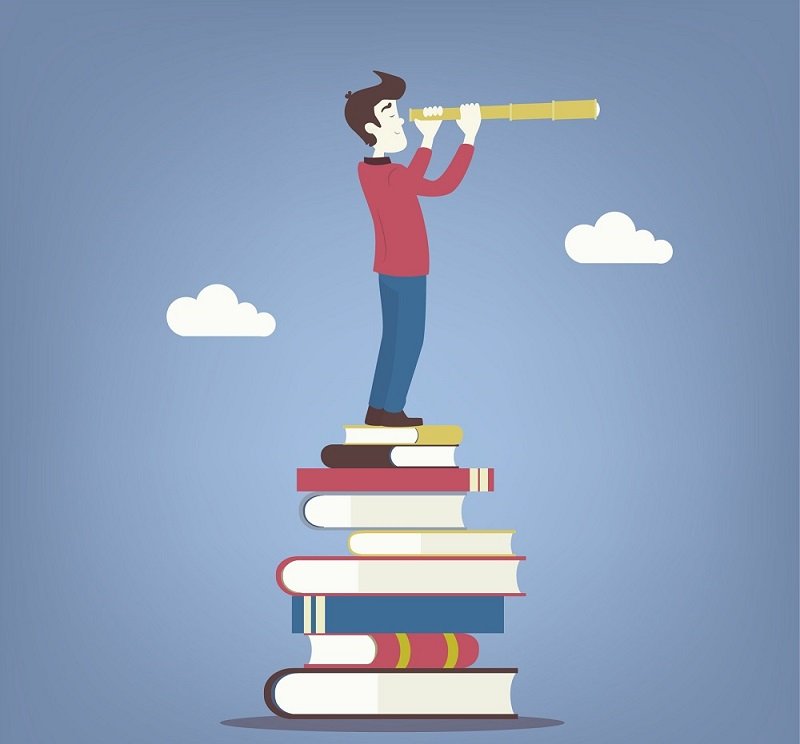 Many online business owners don't take the time to study the basic principles of business. They often have very little knowledge about business best practices or terminology, much less how to do business in the digital commerce world. Not obtaining the basic business skills and knowledge required to make a venture profitable can spell disaster.
Luckily, the same accessibility that allows you to start your own digital business can also be a tool for self-education. The web is flooded with all the information you need to know to be successful.
There are certain critical skills and concepts that are directly related to online business. Digital entrepreneurs should be at least familiar with:
Technical Digital Skills, like Registering Domains or Basic HTML Knowledge

Search Engine Optimization

Paid Advertising
While you definitely don't have to be an expert in any of these skillsets, a general understanding of each will help lay a solid foundation for online business success.
Bad Habit #2: Develop an Incoherent Strategy
Many online entrepreneurs treat their marketing strategy as if it's a cafeteria-style affair. They pick and choose tactics from things they read in this article or blurbs they heard from this expert. While in theory, it may seem that cherry picking the best tidbits from various strategies and tips from different experts may create one super-strategy, it often has quite the opposite effect.
If you throw too many goals into your strategy at once, you're more likely to spin your wheels than actually accomplish anything. Targeted and zoned-in strategies work best to systematically achieve organizational goals.
Don't set out to reinvent the wheel here. Find a developed strategy that fits your needs. Once you do that and see that it works for your business, then and only then should you begin to tailor and tweak it. Leave the experimental strategies to the pros.
Bad Habit #3: Don't Ask for Help
Entrepreneurs are by their very nature self-reliant people. They're the type that goes left when many others go right. They don't always follow the pack, which is evident in their decision to step out on their own in business. While this independent nature has a lot of redeeming qualities, it can also lead to personalities that believe they can handle everything by themselves.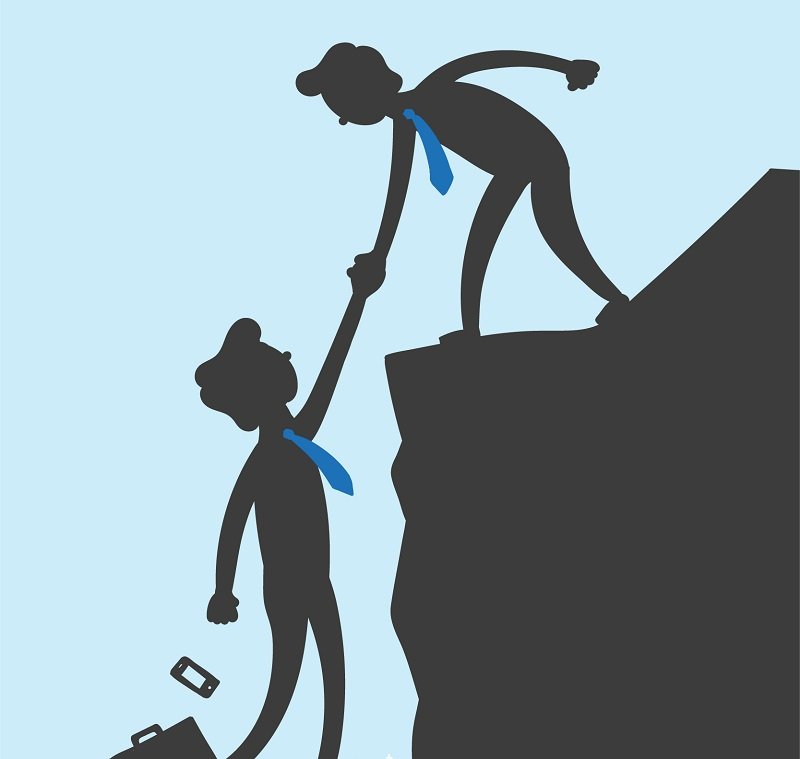 There are many reasons that the average digital entrepreneur has trouble with seeking out help. Many online business owners are very particular about how things are done and prefer their way of doing things. Many see delegating duties to other people leaves too much room for risk.
Some digital entrepreneurs are in the early stages of their online business and may find it hard to budget for outside help. Even online businesses, with their low entry barriers, have some upfront cost, but asking for help doesn't have to bust your budget.
The web is full of freelance sites with digital professionals looking for work. These outlets are great places to find affordable talent that can help you tackle tasks on a project-by-project basis as your budget allows.
Understanding that you can't do everything and that you will absolutely need help and guidance along the way is crucial in securing online business success. You will inevitably have to scale up your online business plan. This is nearly impossible to accomplish if you don't let go of the steering wheel and let someone else drive every now and again.
Bad Habit #4: Don't Commit
Sometimes the non-tangibles get the most neglect. Sure, business acumen, strategy, and delegation skills are all important factors, but sheer can push an online business down the path to success.
You already know that 90 percent of online businesses fail. Running a successful online business is no easy task. So many of the 90 percent of failed businesses are simply entrepreneurs that gave up on trying. You will need uncanny amounts of motivation and commitment to make your online venture grow and flourish.
The ups and downs of online entrepreneurship can prey on those that are weak in willpower. So what do you do when your business fails? You reaffirm your commitment, make adjustments, and push forward. Failure is only an outcome for those who call it quits. If your commitment to success is strong enough, you'll weather the pitfalls and setbacks and live to fight another day.
The world of online entrepreneurship is not for the weak of spirit. It can be a nonstop roller coaster ride of wins and losses. When times get tough in your online business and you're left wondering, "What to do if my business is failing?" remember these pitfalls. Use them to map out your strategy and clear the way for success.
"Index? I think it has something to do with SEO. But my website is optimized…I guess. I'd prefer to find out how to increase my earnings with the ads!"
Do you know that the number of indexed pages can actually influence the amount of money you can earn by placing ads? And do you know how MageNet can help you add your pages to the index faster?
First of all,
What is index?
To put it shortly, index is a huge database Google uses to store the information about every web page it has analyzed. The process of this analysis is called "crawling", you must have heard this word.
Why is it important to be indexed?
If a website hasn't been crawled and is not presented in the index, it simply doesn't exist to the search engine.
This means that the next time someone searches for the information that you have on your site, it won't be returned to the user in the SERP. Because, once again, to the search engine your website (or some of its pages) simply doesn't exist.
Number of indexed pages
and ads placement
As you become a publisher the importance of crawled pages increases because your income depends on them. How?
When someone orders an ad to be placed on your website's page, they may ask it to be placed on a particular page. Usually, it's the page which is the most relevant to the subject of the ad.
If your site hasn't been properly indexed, there are two options, both equally unfavorable for you.
You have a highly relevant web page that could be the home for the ad. It could be a good source of profit, but for the search engine and our database, it's invisible. So we can't suggest it to the advertiser.

You had a page relevant for the ad and it was properly indexed. However, you deleted it for some reason, and the crawlers haven't updated the index yet. 

They think that you still have the page and we display this page to the advertiser as relevant. When an advertiser wants to place an ad on this page, you may realize that the page no longer exists and lose potential income.
In both ways, the situation is quite inconvenient for you and the advertisers. To avoid this, we advise you to regularly check how many pages Google has indexed on your site.
How to check if my site is indexed by Google?
It's hard to say the exact amount of time that takes Google to index a website. The general idea is that it's usually 4 days to 4 weeks, but the exceptions happen and there were a couple of examples when it took less than 4 days for a new site to be indexed.
Checking the overall number of indexed pages on your site is quite easy. Go to Google and type "site:url", where "url" is your website address. For example, you can check the number of pages Google has indexed on CNN by typing in "site:cnn.com"

"Okay, now I know where to see the number of my indexed pages. But how do I make sure my site is indexed in the right way?" – you ask.
Previously we put together several articles about each of the tools you can use to help your site get indexed properly.
Creating a sitemap is the first step. Sitemap is a document containing all the info about your website structure and its pages. It comes really handy if you want crawlers to have an easy access to the data about your site. It also improves overall indexation of your site. There are two types of sitemaps that you can create, you can read about both of them and

learn how to create a sitemap in our article

on the topic.

Next thing to make is robots.txt file. This one will guide the search engine crawlers within your site's structure. It will tell the crawlers not to pay attention to some parts of the site if you want them to be "unseen". Setting up a robots.txt file may take some time, and we have some help for you in a

related article

describing essential syntax you may need to use and some other tips.

Additionally, you can make general improvements to your website which will help Google better crawl it and possibly rank it higher. It doesn't influence

the number of pages indexed by Google but can provide better results for your SERP position and, eventually, your income.
Post unique content. Use plagiarism checkers, spend more time looking for cutting edge stories. Avoid duplicates by setting your robots.txt correctly if you need to.

Beware of keyword spam

Control crawlers' access to the site
You can read more about each of these in MageNet blog post concerning Google index and make necessary changes.
It can happen, though, that some of your pages are not available for ads placement. It can be for different reasons, and we suggest you reading this article to find out the reasons for "Not listed" or "Blocked" status of your pages.
Use MageNet to manually update
the number of indexed pages
And, finally, some practical tip you can try straight away. On MageNet we have a reindexing option, which you can use once every 2 weeks. 
It allows you not to wait until our system automatically indexes all of your pages, but do it manually and be sure your site listing is up-to-date.
To update the number of indexed pages, go to "Your sites" – "Already added sites" and use the necessary button:

Check it out right now! Go to your account and update the number of your indexed pages
⇓
We hope, this information will be helpful, and indexing won't be in the way of your earning with MageNet.
Google reshaped the landscape of the web when it first introduced its core search algorithm system. Straight out of the gate, this algorithm produced the most relevant and valuable search results and made them easily accessible for millions of web users. This cutting-edge search formula ingeniously cataloged the insane amount of pages spread across the World Wide Web and determined the value and quality of links to each site.
From the start, Google's method for ranking and displaying search results returned the highest-quality links, the likes of which were unmatched by any competing search engine. The algorithm was so good at quickly providing relevant links that the company's name became synonymous with the act of performing a web search.
As the success of Google's search algorithm transformed the web search engine into a giant tech business, web users began to take note of how valuable real estate was on the engine's first results page.
As soon as businesses and online entrepreneurs began to see dollar signs in the search results, hordes of users began to game the system. Content farms began churning out loads of keyword-stuffed content with little to no actual value. Low-quality links were mass produced and directed at sites hoping to top the search engine results page.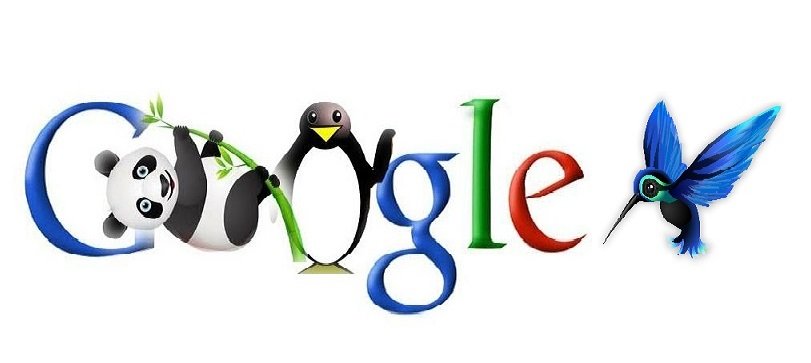 These shady SEO tactics pushed Google to make some changes in the search algorithm. These shifts in the search results formula went by such names as Panda, Hummingbird, and Penguin. With each algorithm change, Google maneuvered to outsmart SEO businesses that employed unscrupulous tactics to reach the top of search results.
Even today, Google consistently molds its search formula to make results as organic and relevant as possible. In the early days of Google, algorithm changes seldom came about. Today, search formula shifts happen hundreds of times each year. This creates a unique climate for content creation. In its attempt to fight low-quality content, Google algorithm updates have increasingly given weight to valuable content. You should keep in mind a few algorithm penalties when crafting your content so that you can avoid a drop in your search rankings.
Manual Action Penalty
A manual Google penalty is action taken by Google to demote or completely remove pages and sites from search engine results pages. Google takes manual action when it sees a violation of quality guidelines. Typically, sites will experience a downgrade for minor violations of the guidelines and a removal for particularly malicious infractions.
A manual penalty happens outside of the algorithmic world of Panda, Penguin, Hummingbird, and the like. Googlers carry out these downgrades and removals as opposed to the algorithms.
These penalties can be assessed for things like user-generated spam, deceptive back linking, or outright spamming in content and throughout the site.
Google Panda Penalty
Google launched its Panda update in 2011. This shift to the engine's core search algorithm was designed with the aim of pushing sites with high-quality content higher in the search results and demoting those sites with lesser quality.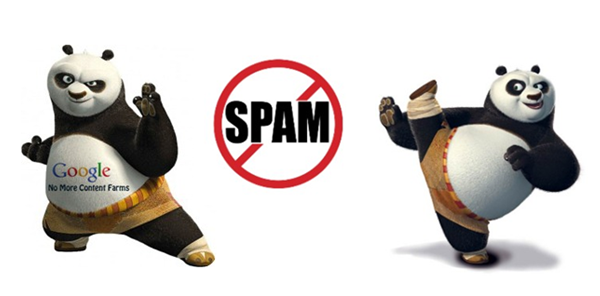 While it's not widely known exactly what elements the Google Panda algorithm uses to decide the ranking of a site, it's well accepted that Panda focuses on the quality of a site rather than links directed toward a page. When the algorithm views a site as low in quality, the URL can be hit by a Google Panda penalty.
A Panda penalty can have drastic consequences on your ranking, causing it to drop dramatically in the search results practically overnight. There are a few signals that indicate you likely have been dealt a blow by Panda.
Abrupt drops in your site traffic are a strong sign that you may have a problem with Panda. You may have an issue if your SEO efforts appear to be having no effect on raising your lowered ranking. You can also take a look at the Webmaster tools menus to ensure there is nothing noted under manual actions. Panda penalties are algorithmic and, therefore, will not show up here. If you see a notice under this field, you likely have issues unrelated to Panda.
While the exact elements that help Panda decide on quality are not known, it's clear that quality is the main aim of the algorithm shift, so it's a safe bet to focus on creating the best possible page for your visitors. There are a few known areas to focus on where obtaining a Panda penalty is most likely.
1. Google Penalty for Duplicate Content
Duplicate content can be a quality killer in the eyes of Panda in multiple ways. If your site is packed with content that is carbon copied from outside sources, your quality will take a major hit. Google's algorithm is decent at sniffing out copied content. If your site and blog are filled with content that you've found elsewhere on the web, your URL will likely be hit with a Google Panda penalty for low quality.
The silver bullet to this problem is simply creating great original content. You can keep Panda happy by posting creative and new pieces that deliver real value to readers that they can't find anywhere else on the web.
Duplicate content can also be an issue from page to page within a site. This is a common occurrence on e-commerce sites with large amounts of product listings. If each product has multiple pages for color or size variations, this can cause some quality issues. Each product page will practically be the same. Panda will view this as duplicate content.
One way to keep on-site duplicate content from harming your site quality is by using the canonical tag. By placing the canonical tag in the HTML code of a page, you will essentially tell Google that two URLs are equivalent to one another.
It's inevitable that some duplicate content is going to end up on your site. The key is minimizing this content and keeping any remaining duplicates out of the Google index by utilizing the correct tags in your HTML. You can check for duplicate content in the Google Webmaster tools and take the steps to avoid a duplicate content Google penalty.
2. Irrelevant Content  
Irrelevant content can also be an issue that results in a Panda penalty. When a page doesn't offer the content that users expect to find when they click a link, they often leave the site. In these cases, a site does not deliver the promised solution or answer to a searcher's problem. Outdated content on certain topics can also be irrelevant and leave readers feeling unsatisfied.
3. Negative User Signal Penalty
User signals are a big indicator for Google in determining a site's quality. Negative signals can mark a site as low quality in the eyes of Panda and result in a penalty. There are a few main negative user indicators to watch out for if you want to avoid upsetting Panda.
A lower click-through rate can signal trouble as far as Panda is concerned. This issue can indicate that your link doesn't deliver what the searcher is on the hunt for. Properly written meta descriptions can convince searchers that your link offers just the content they're looking for.
It could spell trouble with Panda if your site has a high number of users clicking through to your page and then returning immediately to the results page. This can indicate that users immediately realized your site didn't offer the content they were looking for and can cause you to take a hit in quality points.
How to Bounce Back from a Panda Penalty
A Panda penalty can be devastating to your site's SEO efforts and can set you back for months. Luckily, there are steps you can take to get back on the path toward the top of the results page. Panda goes through a refresh about each month. In the past, these refreshes were made public. However, that only happens today if a major shift in Panda is occurring.
When Google refreshes Panda, it goes through every site on the web and reevaluates the quality levels. Under a refresh, the same quality criteria to downgrade your site's search positioning are used. Any changes you've made to improve the quality of your site through the removal of things like duplicate and irrelevant content should result in an improvement after a refresh.
A full improvement in ranking after a Panda hit can take more than one refresh for larger sites with massive amounts of pages. Because of the size of the site, it may take Google quite some time to recrawl all of your pages and take note of the improvements to your content.
Periodically, Google will implement a full update instead of simply refreshing the Panda algorithm.
During a full update, Google makes improvements and alterations in the quality criteria. This means that when Panda is updated, it may shift its views on what it sees as high quality and what it doesn't. Staying abreast of the algorithm changes is essential to ensure your content still delivers value.
Running a blog that drives more and more readers has always been a stiff task. You've probably read a pile of guides on writing compelling content and you've heard that 50% of your success depends on a catchy, attractive, intriguing, and appealing headline.
You carefully follow all the recommendations given by content-gurus:
Your blog posts are simply flawless. Still, the bounce rate statistics is not as rose-colored as you wish. There is one more thing that keeps your readers on your website and you may overlook it. We are talking about subheads.
What Should You Know About Successful Subheads
The only thing you should bear in mind while creating subheads is that they should be as crafty and engaging as your headlines. What is the point? Your major goal is not to bore your readers to death or disappoint them with poorly assembled content. Subheads help to keep your audience with you.
It means that you can make liberal use of all those rules for creating killer headlines for your subheads as well. But first, let's talk about subheads that generate a lot of bounces.
Know Your Enemy: Subheads That Increase Bounce Rate
We have noticed that many bloggers don't use subheads in their articles at all. This is a grave mistake. Still, there are some cases when subheads don't save the situation but rather degrade it. Check out three kinds of subheads that do nothing good to your audience engagement.
1. Simple Subheads For Structuring Content
Structuring content is a good idea. The question is – do subheads that are used for content structuring grab your readers' attention? Are they interesting and engaging?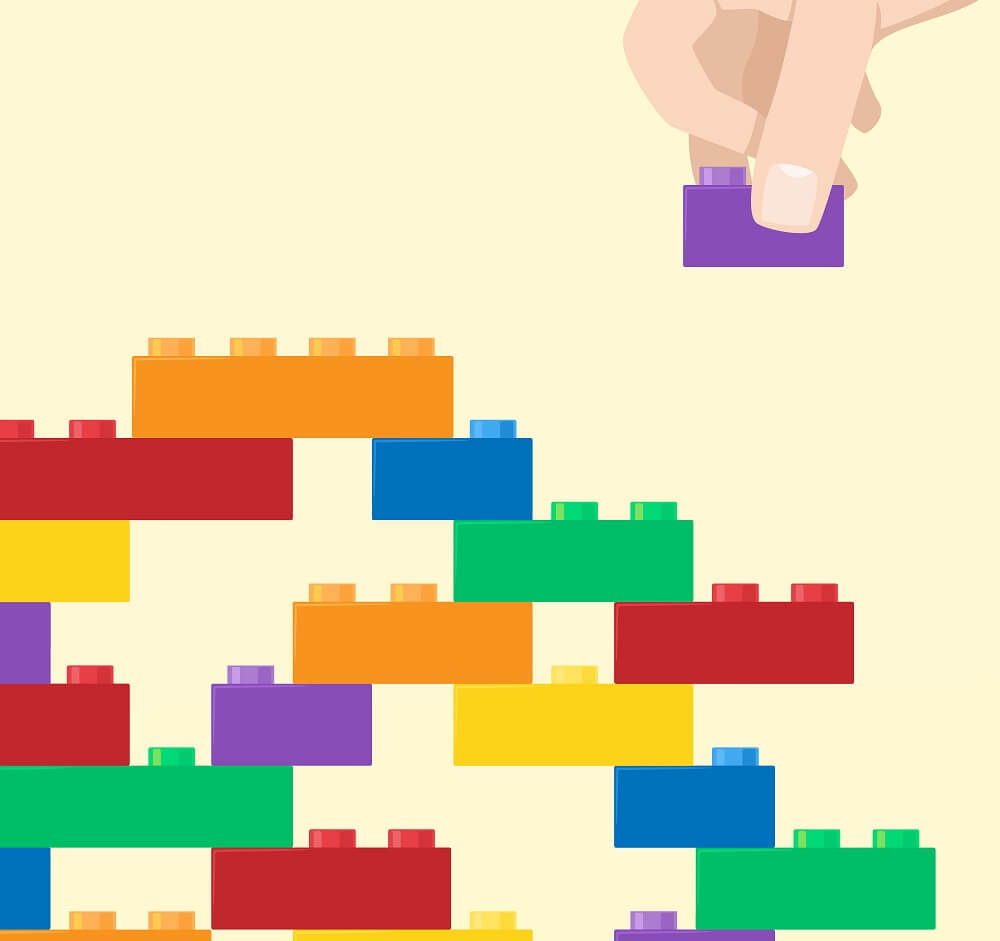 If not, you'll end up with bounce. That's it. There is no simpler way for your reader to make away with a dull article but just close your page.
Let's compare these two subheads: The Role of Subheads vs Enchanting Subheads to Make Your Content Shine. The first subhead sounds too factual and conventional. It provokes no desire to read on. Whereas the second one sounds cooly.
2. All The Essence in the Subhead
Once again – if you want to get more readers, you ought to make them go on reading your posts. Otherwise, they will be just looking through your pages and skip a lot of valuable information.
Don't tell your readers the whole story with subheads. Tease and interest them throughout your article.
3. Ambiguous Subheads
Oftentimes authors may try so hard to impress the readers that they end up with rather confusing subheads. And instead of attention-grabbing, they put off readers. Remember: people don't like to solve riddles. They like to reveal something new and important.
Keep your subheads tempting, but not overcomplicate them. Word-play, idioms, quotations usually entail comprehension hurdles. If you're not sure that your readers will get you, avoid using witty words and phrases. This is not the case when you need to astonish someone with your linguistics brilliance.
3 Features of Hooking Subheads
Successful subheads have some similar characteristics:
They spark interest

They speak easily

They swing with emotions
Theoretically, a perfect subhead includes these three features altogether. Still, even if at least one feature goes for your subhead then most probably it will catch the attention of your readers.
5-Point Checklist: Attention-Winning Subheads Crafting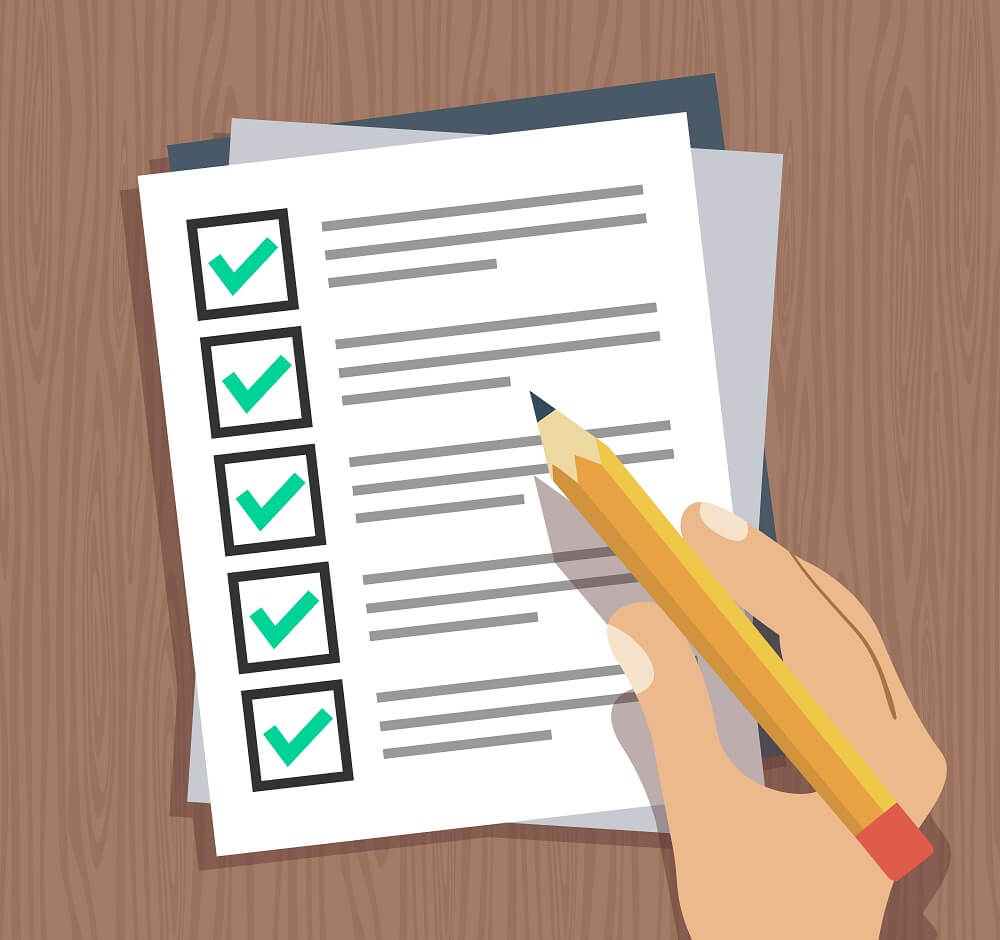 When you start writing your next blog post, follow these steps to stay on the right track of successful subheads creating:
The most important thing is to keep calm and go on writing articles as you usually do. Don't seduce out of your writing style because of the gained knowledge.

After you finish your article, we'd recommend you to go back and look at your subheads once again. Are they tempting enough? Would you like to read further if you were a reader? If not, then you'd better rewrite them into more intriguing ones.

Always ask yourself what are you talking about in your post? What idea are you trying to convey? Answers to these questions might be good hints to creating the brilliant subheads.

If that small text were an article unto itself, what headline would you choose for it?

Ensure that your subheads arouse interest. And after that work over easy flow and emotions in your words.
Now it's time to become the most strict editor of yourself and put these recommendations into action!