Anchor ads seem to be just the right solution for boosting your income from ads placement with their high CPC and CPM rates. But are they really that effective? Let's find out.
First of all, we'll define anchor ads and see some examples. Other names for this type of ads include sticky or floating. These are the banners that constantly stay active on the page, and "stick" at some side, usually at the bottom of it.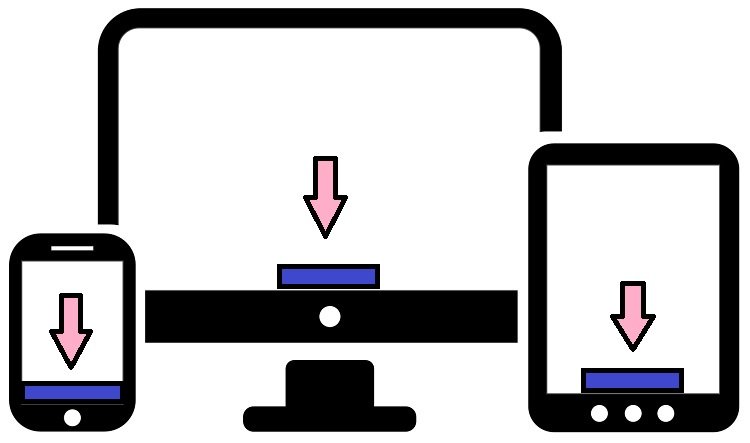 When a user scrolls the page, the ad stays visible, which supposedly should increase the visibility of the ad itself and the brand it advertises.
Our findings, however, show that it's often the other way around. Not only publishers' revenue doesn't go up, but some of them experience higher bounce rate. Still, we'd better start with the advantages that make publishers consider putting anchor ads on their websites.
Anchor ads' benefits
High CPC and CPM. Many publishers get seduced by the income boost that seems to come with the anchor ad implementation. It's true, such ads do have more attractive rates for clicks and impressions.
Better visibility. When the ad is there all the time, obviously, users see it all the time, even during scrolling.
Simple set up. You don't need hours of work to figure out how to install an anchor ad, as you can use a rather straightforward code to place it on your site.
Anchor ads' drawbacks
To understand why anchor ads are not as efficient as they are supposed to be you only need to see the results publishers are getting with them.
As we said before, anchor ads have more attractive rates which may convince a publisher to choose them over any other ads available for website monetization. Indeed, site owners who've set up anchor ads notice up to 500% increase in their income soon after the ads' launch. But after some time the results become much less striking. Two or three weeks later the earnings show only 20-30% boost for CPC, and CPMs came back just to the level they had shown before the page level ads.
"Well, 20-30% increase is still something", you say. But at the end of the day anchor ads bring more income loss than gains to publishers. When comparing total earnings of website owners who showed anchor ads and those who didn't we see a striking 30% difference. Yes, publishers choosing not to place anchor ads on their sites earn 30% more, even though the rates are higher for page level types of ads.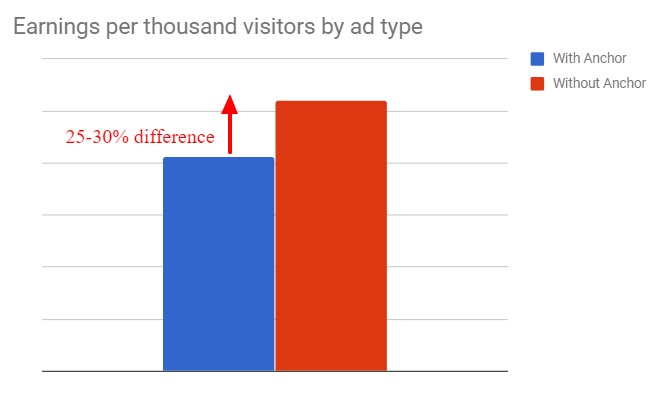 One of the reasons for that can be a poorer user experience which makes users leave the sites with anchor ads much quicker. The experiments with ads and no-ads groups confirm that – bounce rate for the first group is 8% higher.
As you can see, in the case of anchor ads 10-30% higher prices don't necessarily mean 10-30% earnings increase after all.
What should you do about anchor ads?
If you feel like placing them on your site, pay a special attention to your income fluctuations. This way you'll be able to notice any negative side effects like the above-mentioned bounce rate. What's more, think through the overall customer journey on your website. If you don't need your users to go further than one page, anchor ad may be a good choice. If you, however, want them to keep walking around your site's pages, then the anchor ads may cause the bounce rate you'd really want to avoid.
All in all, we suggest using safer methods for your site's monetization. This could be any other display ad that doesn't affect user experience.
Some effective yet less annoying ads
You can think about placing native ads on your site. They are much harder for users to identify, because they look "native" to the usual content of your site, imitating its design. This is one of the user-friendliest ways to monetize which will provide you with good click-through and engagement rates (10%+ and 14%+ respectively). But it will require more work from you, as you'll need to adapt the content of your site, as well as to spend some time looking for worthy opportunities from advertisers.
When it comes to handiness, contextual ads placed with MageNet are much easier to deal with. You as a publisher have nothing to worry about except your site's quality and attractiveness for advertisers. The ads inserted into your content look very natural and don't distract readers. Clicks or views don't worry you anymore, as you get paid per placement.
Then, there's also MageNet Referral Program with its ready-to-use creatives you can place on your site or share over the Internet. Its terms are developed for your continuous passive earnings, as you as a referrer get your commission for as long as your referrals earn with MageNet. You can read more about ways to succeed with the Program here, and give it a try to ensure income flow from your site.
As you can see, you don't need to annoy your users with page level ads to make money from your site. Respect your visitors, and use more subtle monetization methods that will bring you profit much longer.
NOTE: We've updated MageNet Quality Reward Program in June 2018. This text describes how our revised bonus program works starting from July, 2018.
To continue our conversation about factors affecting your income from blogging, we'd like to have a talk about quality.
Can poor quality of the site decrease your earnings? Are there any additional benefits when you maintain a top-quality website? The answer is, yes!
Quality Reward Program
All MageNet publishers have the opportunity to be rewarded for adding quality websites. We're using an algorithm that calculates a Quality Rank for your websites based on a number of parameters, that we'll talk about a bit later.
With our updated Quality Reward Program you can earn up to 150% extra commission for contextual ad sales.
The bonus you'll get each month in addition to your monthly earnings will depend on several parameters: Website Size Score, DA Score, PA Score,  IP Score and the competition in your niche.
Here's a brief description of what influences your extra earnings:
Website Size Score – The more indexed pages your website has – the higher your Website Size Score will be. Here's how many score points you can get depending on the number of indexed pages:
| | |
| --- | --- |
| Number of indexed pages | Website Size Score |
| Less than 10 | -20 |
| 10-25 | 0 |
| 25-75 | 5 |
| 75-200 | 20 |
| 200+ | 30 |
DA Score – Your DA score is calculated for each page separately. You'll get a higher DA score for websites that have high Moz DA parameters.
| | |
| --- | --- |
| Moz DA | Your DA Score |
| Less than 15 | -2 |
| 15-20 | 1 |
| 20-40 | 2 |
| 40-65 | 3 |
| 65+ | 15 |
PA Score – It reflects Moz PA parameters for each of your page. The higher Moz PA is – the higher the score.
| | |
| --- | --- |
| Moz PA | Your PA Score |
| Less than 15 | -2 |
| 15-20 | 1 |
| 20-40 | 2 |
| 40-65 | 3 |
| 65+ | 15 |
IP Score – MageNet encourages you not to host multiple websites on a single server with 1 IP address, but the final decision is up to you. Hosting over 5 sites on 1 IP address will give you a negative IP score of (-10). In any other case, your IP Score will be 0.
Category Competition – Depending on the competition in your niche and the number of sales you generate with your site, your category competition score can vary from 0 to 13. If the SB rank of your page is less than 6 – your category score will be counted in the final bonus formula. In case your page is SB6+, your category score will not be counted in the final equation.
How we calculate your bonus
We use a plain formula to calculate your bonus score. The bonus is calculated for each page separately. So if you have earnings for multiple pages and websites – you'll get a different bonus score for each:
Bonus score = 3*(Website Size Score +  DA Score + PA Score + IP Score + Category Competition)/100
If you've earned $1000 this month and your bonus score is 0.5, your total monthly income with MageNet will be $1500.
Let's take a look at an example:
You've got a website with 120 indexed pages, DA48, PA35, hosted on a server with no other websites of yours, and the competition in your niche (Industrial Goods) is relatively low. You earn $750/mo from selling contextual ads on MageNet.
Your quality reward scores will be:
Website Size Score – 10
DA Score  – 3
PA Score  – 2
IP Score – 0
Category Competition – 7
Bonus points: 22
Bonus score: 22/100*3=0.66
Total monthly earnings: $750+$750*0.66=$1245
If the sum of your score parameters (Website Size Score +  DA Score + PA Score + IP Score + Category Competition) is less than 10, you will not receive a bonus.
Tip: Our clients are looking for DA50+ links from Brazil, Indonesia, France, Germany, Mexico, Italy and Canada in the following niches: Business Services, Employment & Work, Aerospace & Defence, Automobiles & Motorcycles, Industrial Goods & Services, Management, Health, Medicine, Pharmacy. The competition in these niches is low and your contextual ads will be purchased fast. You'll also get a higher bonus for adding such websites.
Improving your site's quality
What to do if your site isn't yet of a good quality? As we mentioned above, there are some aspects of your site you can influence to rank better within the Quality reward program.
You can start with optimizing your on-page SEO. It's not about all those tags you have to work with on every page of your site. They are undoubtedly important, but what matters in terms of quality improvement are the signals that your site values its existing and potential readers.
Make sure you provide privacy policy to the users and tell them what information you're gathering about them if any.
Keep an eye on the bounce rate and do your best to decrease it by having a user-friendly layout and design, and by creating relevant content.
Have your contacts presented on the site, this will enhance your credibility in the eyes of Google and our system as well.
Work on your branding even if you're a small business of two people. Create a brand name and start using it consistently, be present on social media and have links to your profiles on your About Us page. Haven't got an About Us page yet? It's high time to create it!
Take control of your links. Both inbound and outbound links are a signal of your site's quality. Or its absence. That's why don't include links to sites of poor quality, as they will take you down. What's equally important, don't allow low-quality sites place backlinks pointing to you.
Have a look at your domain. You may already know that a domain that has been registered quite some time ago is a good sign for a website, and "fresh" domain may have a harmful impact on your site's credibility.
In addition, it makes a very big difference when you own a paid version of a site. For instance, MageNet's plugins don't work on free versions under WordPress or Blogspot. Don't be cheap, make your website run on a quality domain, as you'll be able to get your money back soon.
These are the essential factors that you can definitely optimize by yourself and profit not only from ads placement but from quality improvement as well. We value our users and make sure they get a proper reward for all the work they put into their websites.
As always, MageNet is devoted to your success and helps you earn more when monetizing your websites. Check on your website's Quality Rank here.
14% of bloggers earn their salary via blogging. Not so many, right? And it's good news, as it means you have a chance to take your place at the market and leave you nine-to-five job.
This time we will be talking specifics, numbers and real examples trying to present the real picture, without myths about billions of dollars and belittling that says it's impossible to money making blogs.
How much you can earn from a blog
It may be hard to believe, but several years ago the situation on blog market looked somewhat like this: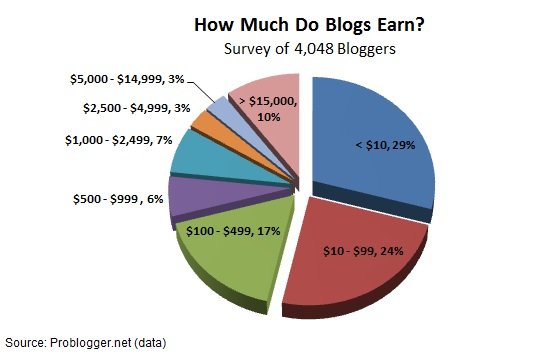 Not very optimistic, as more than a half of all bloggers who took part in the survey didn't make it up to $100.
The data from 2016 shows a more promising picture: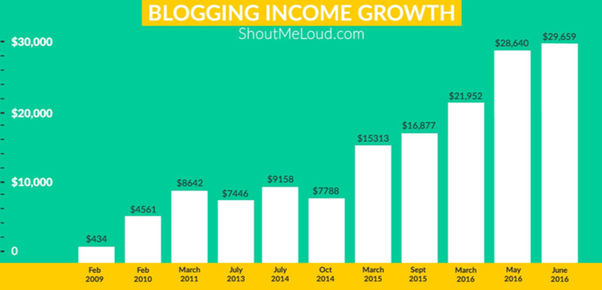 As you can see, the situation improved significantly, and it looks like the question of How to make extra money online? is no longer that complicated. But, why?
The era of paid advertisements started way back in 1994 when the first ad banner appeared, but it only with the rise of social media platforms, that we got to understand what's there valuable for us, simple Internet users.
Starting with 2010, companies like Mashable and BuzzFeed began to provide new opportunities to connect advertisers and their audience through paid ads. A couple of years before that MageNet started to grow as a platform that allows users to monetize their websites using contextual ads.
Is it already late to join this club? No, definitely not! Marketing is moving to its pique, and it's a perfect time to learn how to make money online and grow as a successful blogger.
Factors of success when make money blogging in 2018
We could make an endless list here, as, really, there is no limit to perfection, but the main three would be the following:
Content and its topic;

Number of blog visitors;

SB Rank of the blog;
You may already be tired of this, but content stays number one in your priority list. Good content on relevant subjects not only draws visitors and forms a devoted audience, but eventually, makes the blog attractive to search engines and advertisers.
This makes the second factor logical – the more people like your blog, the more they will choose to come back to it or share it with friends.
SB Rank here serves not to promote your blog on Google, as this goes without saying, but to prove your reputation to the advertisers.
Strategies to earn money from the blog
Okay, so it's not a lie – you can, in fact, make money on your blog, but how not to get lost in the variety of monetization options? Some strategies that can help in making choice are below. However, we covered many of these and others in previous articles about blog monetization and ways to make money by writing blogs.
Cost Per Click Advertising. As simple as it can be: you agree to place ads on your blogs' pages, and when someone clicks on them you get the money. It's very easy to start getting money from this type of advertising if you have high regular traffic to the blog.

Cost Per Mille. This one is very similar to CPC, however, you get the money for every thousand impressions viewed by users.

Google Adsense is a popular choice for both CPC and CPM. At 

MageNet

we have developed another system that helps you get money for ad placement once every month no matter how many clicks it gets. There are two plugins that will help you here:  

WordPress Plugin and

 

Universal Plugin

. If you haven't tried them yet, or you are concerned it will be difficult, make sure to read our

Installation Guide for Universal Plugin

and check

Installation tab for WordPress Plugin

.

Affiliate Program. If you join one of them, then you'll get the money for every purchase made after your recommendation. The wisest thing when participating in any affiliate program is to care about your readers' needs and wishes and promote the products that are relevant and useful. This way you'll be sure not to lose your audience in search for money.
MageNet Referral Program. You can actually earn more on a regular basis without searching for new monetization programs and systems. Our Referral Program allows you to get money easily by simply referring your friends to MageNet. When they start earning with us, you will get 10% commission for each dollar they make. Every month. Just like that.
Sponsored posts. When your readers trust you, you both can benefit from such monetization type: readers will get some useful advice about a product, and you will get paid for that. Always try to make it win-win for all of you, don't promote a product of bad quality, remember that your success has a lot to do with your visitors and, eventually, with their satisfaction. 

You can search for brands yourself, use freelance sites or some platforms designed specifically for these needs. The latter ones usually simplify the process of search for advertisers. Adsy is, probably, the easiest one to use – you add your site, choose a category for it, and get orders for sponsored posts with the price you name yourself.

Premium Content. Of course, you will start with free content for everyone, but as you become a real professional in a field or gain some valuable experience or skills, sell them, there's nothing bad about that. Another good thing here is that when you write premium content, there is no need for you to collaborate with advertisers or place ads on your blog.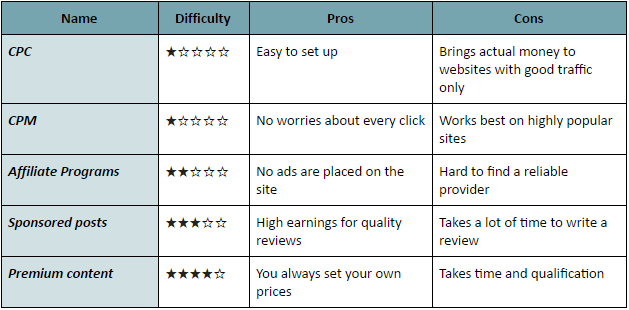 Lastly, when you get sick of your blog or decide to do something new, you have a chance to sell it and get money to follow your new dream. Weigh your achievements wisely, do some calculations and set a reasonable price. For example, if your blog makes about $10,000 a month, you could expect to get $200,000-300,000. However, it will depend a lot on you dealing with a professional broker who can get you such price.
What Ad Formats to Use to Earn money?
In general ad formats can be presented this way and you can keep it in mind when you set a place for ads using MageNet Plugins.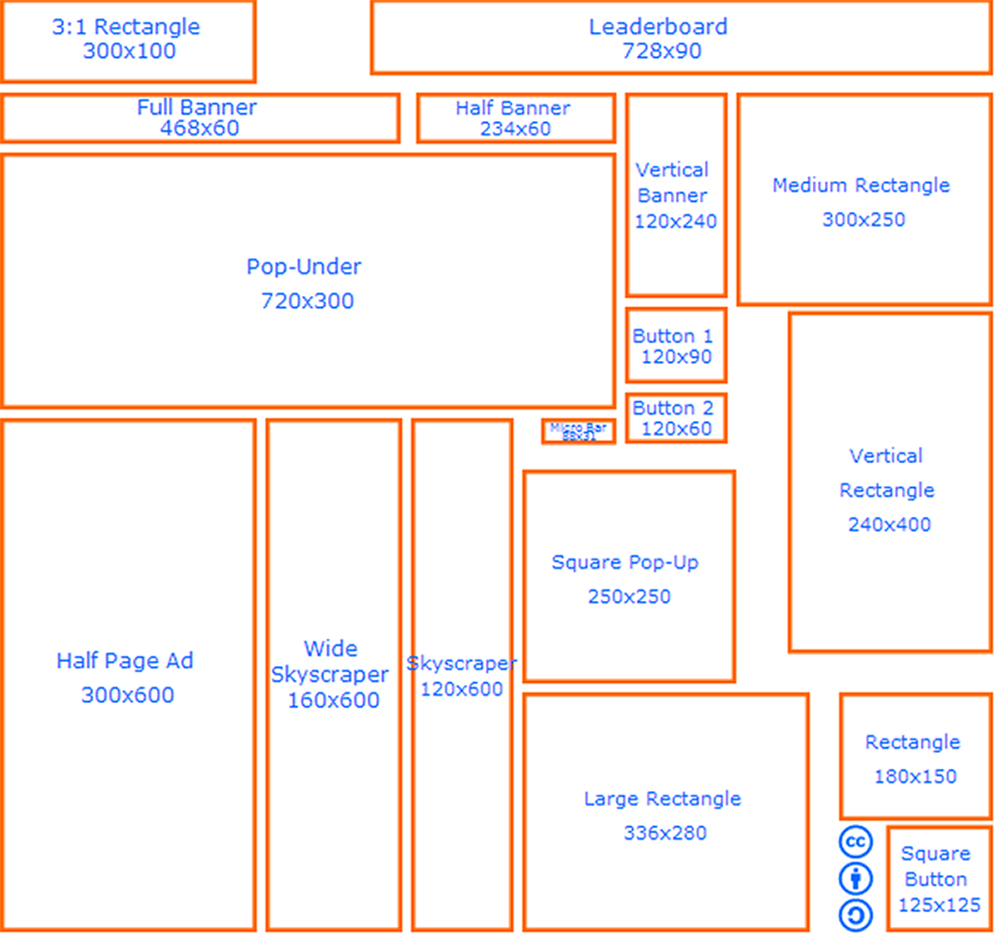 There are actually tons of horror stories about ad formats that will scare away the visitors of your site, but which of them are really true?
Let's take pop-up and pop-unders, for instance. Though many say that their presence affects the popularity of a site, tests like this show that there isn't much correlation there:

It doesn't mean that pop-ups and pop-unders must appear everywhere on the site, of course, but such info gives you more freedom when choosing options to monetize your site.
Another survey gave a curious result showing that the majority of users prefer banner ads to sponsored posts – another thing to consider before committing to these monetization ways.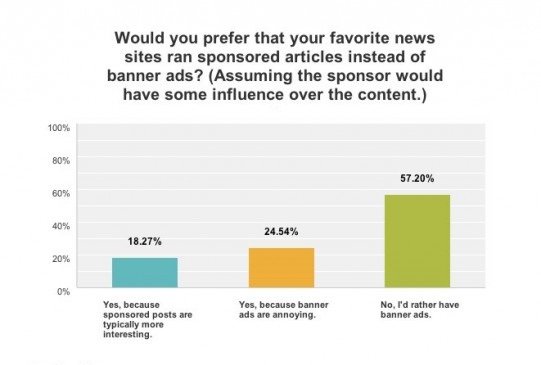 When we examine the way users treat different types of ads, overall Interaction Rate makes Large Rectangle the obvious winner. By interaction, in this case, we mean expanding the ad, making it full screen, moving a mouse over it for longer than a second and clicking the 'Close' link.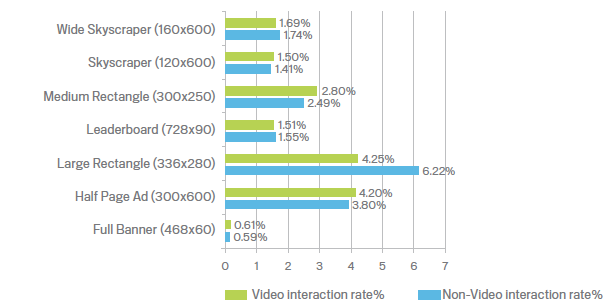 It's possible to earn real money from your blog
It really is! The numbers will differ from one niche to another as you can see below, but any well-though monetizing campaign will be fruitful.


If you want to see more numbers, check real-life examples of people who chose MageNet to monetize their blogs in our Success Stories section. Some of them give their practical advice, and it's a valuable information from people, who have already achieved good results in monetization.  
Your blog can help you make money online starting this month, use MageNet Website Value Calculator to see the exact amount of money you can earn and the most appropriate monetization methods for your particular case.
Find Out How Much You Can Earn
Have any stories about how your life changed after getting a unique IP address – feel free to share them by commenting below!
In today's market, only the businesses that manage to build a brand with a lot of loyal followers are able to succeed. This means that if you're running your own business, you'll simply have to make sure you focus on improving your brand loyalty. And there's hardly a better way to try to do this than to follow tips that have proven to do the trick for other entrepreneurs out there. We've come up with of these that might be exactly what your business needs.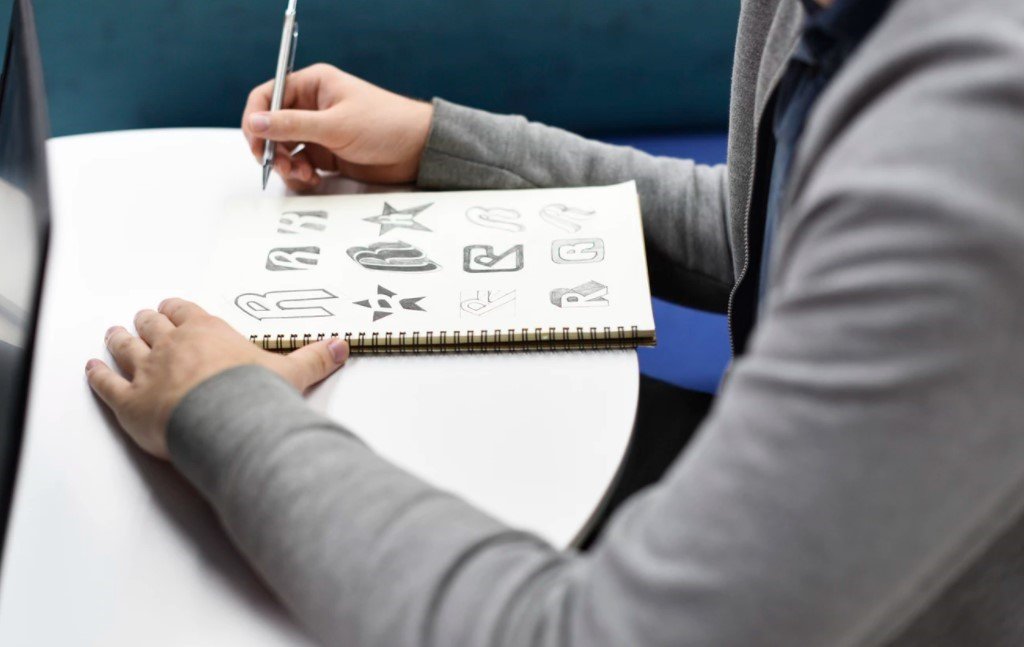 Design a memorable logo
When someone mentions a huge brand like Nike or Apple, the first thing you think of is their logo. This is the case because having a well-designed logo is critical for every business out there. Therefore, you'll put a lot of effort into designing a logo for your business.
And since your logo is the part of your business your customers will interact with the most, it's crucial that you make it as simple and memorable as possible. Moreover, you'll have to make it show what your business stands for and your audience has to find it relevant. We also recommend staying away from clip art and going for original artwork instead.
Go for the right color scheme
Besides a name and logo, every modern business needs to have a color scheme that makes it easier for customers to recognize it. That's why you have to be very careful when choosing colors your business is going to use. Just bear in mind that every color represents something and it's very important that your colors send your brand's followers the message you want it to.
For example, if you're running a fast food restaurant, using red is a great idea since this color stands for something urgent. On the other hand, if you're selling organic food, green is your safest bet since it represents something grown and organic.
Improve customer experience
We all know people now enjoy shopping online. Still, buying things on the web has become quite monotonous to an average consumer. You might think that returning to brick-and-mortar stores can make things more interesting but it's only going to result in the same experience they had shopping online.
Instead, what you're supposed to do is improve your customer experience. You can use things such as demographic and behavioral targeting to make sure that absolutely every user enjoys spending time on your website. Also, you might want to keep an eye on some of the most popular websites out there in order to be able to determine what's hot and what's not.
Turn to local experts
Sometimes, doing everything that's in your power won't be enough to improve your brand loyalty. Luckily, there are experts in this field who'll be able to help you when it comes to turning your customers into loyal fans.
However, your choice of experts who'll help you out is always going to play a huge role in how successful your efforts are going to be. Hiring local experts is always a good idea since you can get involved in everything you want. So, for example, if you're based in Melbourne, turning to a brand agency from Melbourne is something you simply can't go wrong with.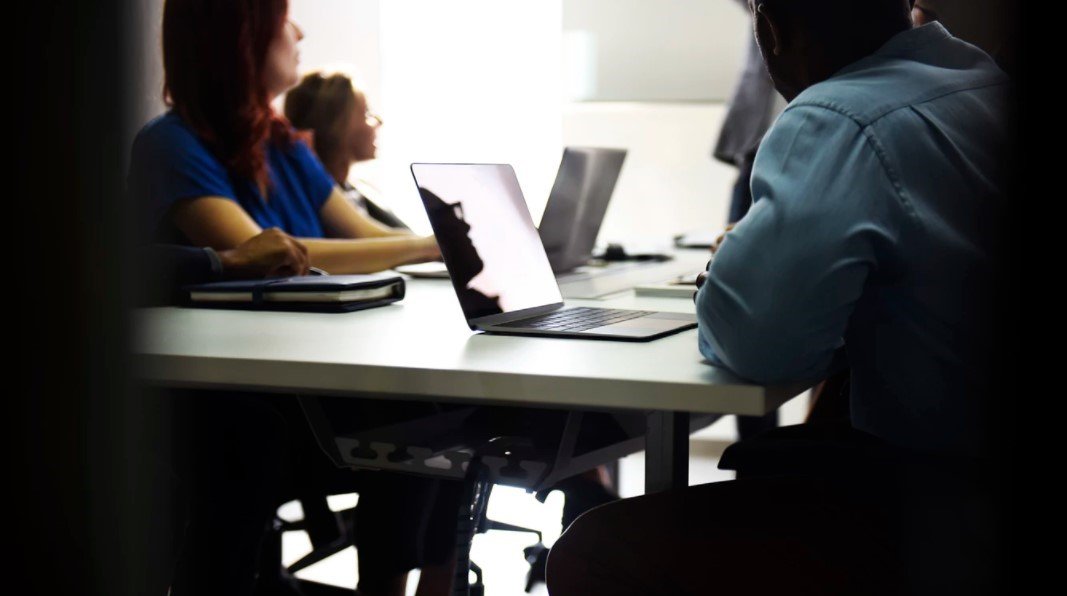 Tell your story
Another thing you can do that's guaranteed to result in improved loyalty is telling your company's story. People tend to connect emotionally with brands they love and having a good story to come with yours can do wonders for your business. The best topic to discuss is how you got your business off the ground and helped it grow. You can also talk about why your business exists and what you want it to achieve in the future.
These topics can be discussed both on your website and during your company's events. Telling an effective story is always going to result in people trusting your brand more and turning into even more loyal fans.
Entrepreneurs who've followed these 5 tips have managed to improve their brand loyalty significantly and make their businesses stand out from the crowd. Make sure you do the same thing and soon you'll find your brand having more loyal fans than you've ever imagined.
Dan Radak is a marketing professional with eleven years of experience. He is currently working with a number of companies in the field of digital marketing, closely collaborating with a couple of e-commerce companies. He is also a coauthor on several technology websites and a regular contributor to Technivorz.
If you have a website or blog, chances are you plan to make money with it. Maintaining a website or blog takes a lot of time and effort, so, of course, you want it to do well. Most people who take the time to do it right are able to make fairly decent money.
It is possible to try too hard, and there are a few simple mistakes that you could be making that could actually hurt the success of your blog and the amount of money you make from it. Here are a few monetization mistakes to avoid.
Ads That Trick Readers
You want your readers to click on the ads on your site. That's how you make money. What you don't want to do is trick them into clicking on them. If you use ads that are relevant to your content, most people will click on them without hesitation. You don't want to try to trick your readers into thinking that an ad is part of the content.
You may get them to click on it, but you could be penalized by search engines for these types of practices. Readers may also get angry and avoid your website or blog. It's OK to have ads on your site but make sure it's clear that they are ads.
Ads That Are Annoying
If your ads are coming between your readers and your content, you could have a problem. There are certain types of ads that get in the way of the content. Ads that pop up in the middle of the screen, move across the screen, take up the entire screen, or otherwise make it hard to read the content could hurt your website.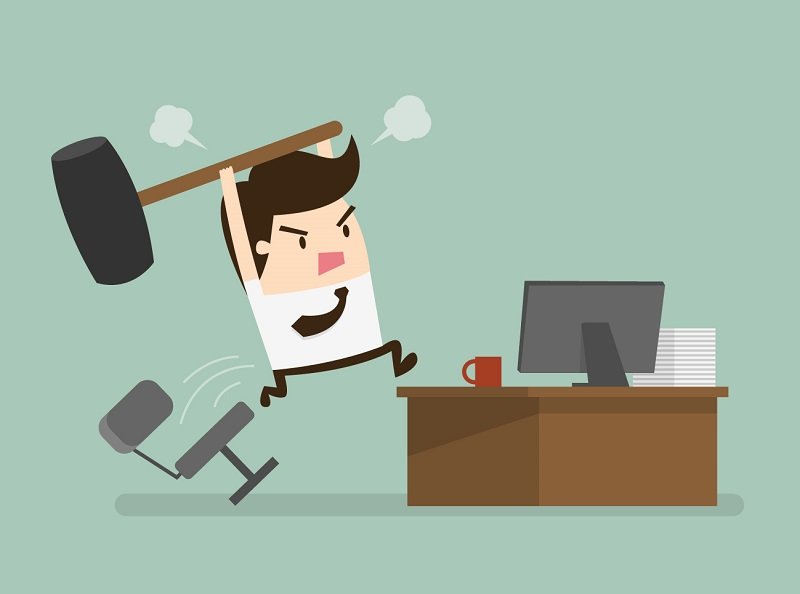 Readers aren't going to click on your ads if they find them intrusive. Instead, they are just going to close them as quickly as possible to get to the content. Some may not even bother reading the content or returning to the website because the ads are so aggravating.
Using Ads Prematurely
Most people don't like seeing ads. They are willing to put up with them if they believe that the content they are reading is worth it. If you are not adding quality content to your website, people won't be willing to look past the ads to read it. If your website or blog is new and doesn't have an established audience, readers also may not be willing to look past the ads.
You should get your website up and running for a while before you put ads on it. The people who enjoy reading your content won't mind the ads. Ads always do better on websites and blogs that have a good reputation.
Misleading Ads
You might think that you can just ask people to click on your ads over and over again. This might sound good in theory, but it doesn't work that way. Google and other search engines have ways of knowing if clicks are legitimate, and they can easily notice a pattern or repeat clicks.
This won't help and can actually hurt your earnings. Search engines will rank you lower as a result of these illegal practices, and some companies will no longer let you place their ads on your website. It's always better to just get clicks the right way.
Too Many Ads
When you visit a website, you don't want to be overwhelmed by ads and things that have nothing to do with that content. You want to read the content. While most people don't mind ads and have gotten used to seeing them on almost every blog and website they visit, if there are too many ads, it could hurt your traffic.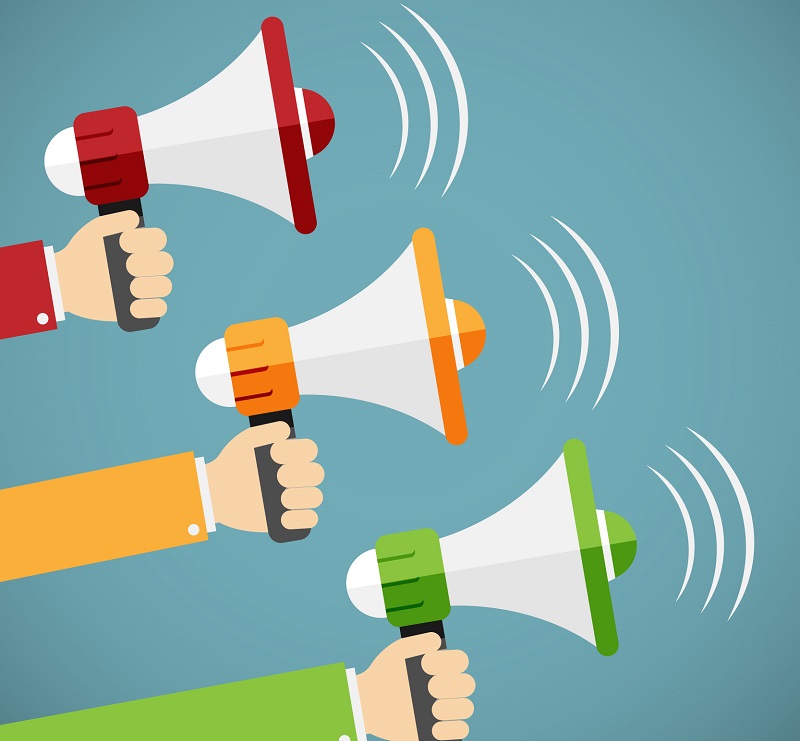 People aren't going to continue to visit your site if it is overrun with ads. You need to find a good balance between content and ads. Readers are more likely to click on an ad and stay on your page longer if they do not feel like they are being forced to view them.
Incorrect Ad Placement
Sometimes simply putting ads in the wrong place can cause big problems for your website. You need to make sure ads are placed out of the way of the content. Visitors don't want to see them flashing all over the screen while they are trying to read. Readers also don't want to have to scroll halfway down the page to find the content and have to pass dozens of ads in the process.
There are certain places where ads should go. A banner ad at the top of the page is one. You could also put ads on the bottom of the page or on the sides. Some people even use ads to break up the content. If you choose to do this, you must be careful not to put too many ads in your content. This can confuse readers and distract them. Not everyone wants to see ads.
Ad Usage Can Help or Hurt Your Website
Knowing how to use ads on your website can mean the difference between making money and having a failing blog. If you are new to the game, it can be a little confusing at first. The best thing to do is think about what you like to see when you click on a website. What would make you more likely to read the content of a blog, and what would make you want to navigate away from it?
By avoiding these mistakes, you can improve the readability of your website, increase your traffic, and make more money with your site.
It may take a while to learn how to use ads to help you make money online. You will have to use trial and error in many cases. Make sure to avoid the mistakes above, and give yourself an advantage by starting your website off right.
Monetize with MageNet to be certain that the ads you place look 100% naturally and don't distract users.
MageNet Referral Program is your chance to get a limitless passive income in addition to all the money you earn by placing contextual ads on your websites. To help you feel at ease with everything the Program has to offer, and optimize the earning process, we are sharing these 10 steps. They will give you a better understanding of the Referral Program and explain all it has to offer.
We did (and still are doing) our best to make this program simple and effective. That's why the basic principle is quite simple – share the link, and get a 10% commission from the money your referrals earn every month.
To make your referral links stand out we designed preset creatives which attract people's attention and help you invite more referrals.
Step 1 – Register on MageNet Referral Program
Your first step would be to join MageNet Referral Program. Just go to your account (or register if you're not a MageNet user yet), and choose the Referral Program Tab at the top of the page.
From there it's all very simple:
You share the creatives across any channel you like

The referrals you've invited join MageNet as well and start making money by placing ads on their sites

You receive a monthly commission, which is 10% from every dollar your referrals make
Step 2 – Enjoy progressive payout system
We developed a scheme that allows you to get earn more money with every new referral that you invite. How does it work?
Let's say you invited 10 people to earn with MageNet. If each of them earns about $200/month you'll be getting your $200/month without even lifting a finger.
If you invite 100 people, who'll earn the same $200, then you'll be getting $2,000/month.
And, of course, no one stops you from inviting more and more people, and increase your earnings accordingly. It's up to you, just set your goal!
Step 3 – Share your referral link using pre-set banners
Banners are the easiest way to ensure new referrals registering with MageNet using your unique referral link. Place them on the most popular pages of your sites to be certain that people will see and make use of them. As you remember, the more referrals you invite, the higher monthly income you'll receive.
Why banners?
They are easy to set. With MageNet banners you won't have to waste a second – choose the size of the banner you'd like to use, copy the link provided, and place it on your site.

They are effective. In 2014 Google Media Lab carried out a test demonstrating that banners show a much better result in reach than videos, for example.

They help you care about your visitors. Banners are a good choice for everyone who's concerned about the user-friendliness of their site. Unlike pop-ups, which distract visitors and prevent them from navigating the site freely, banners don't evoke a negative reaction and don't upset your users.
MageNet provides you with banners of various sizes to fit any page, and we'll share some advice on their most effective application.
The stats say that some banners actually work better than some other ones, have a look yourself: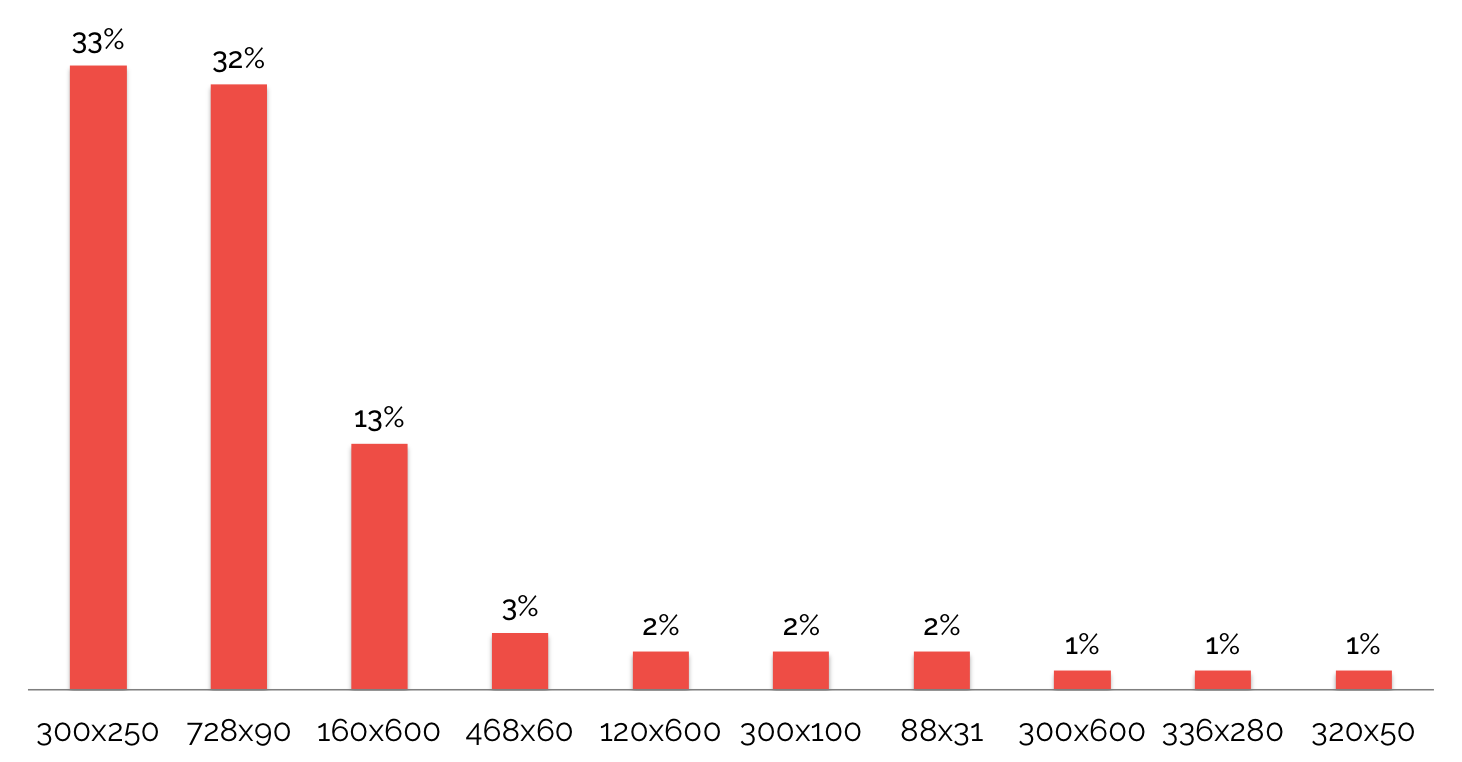 As you can see, at MageNet we've gathered only the best-performing banners to make sure you'll be able to attract lots of referrals and get a steady income.

Step 4 – Share your referral link using social networks
With prepared texts for social networks, you can reach out to millions of people on Facebook, Twitter or LinkedIn.
Facebook. Currently, there are more than 2 billion active monthly users, and this number is just too big to ignore Facebook as an opportunity for getting referrals interested in monetizing their sites.
We made sure the information you provide for your potential referrals brings gives them some value. So we picked the most useful and practical blog posts you can share.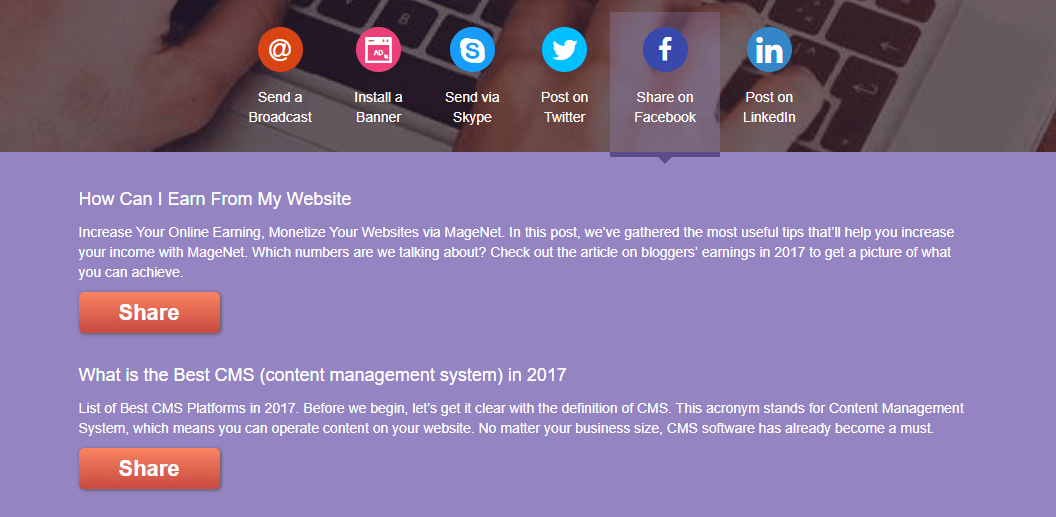 You can share one or each of them, and as soon as your referrals choose to read the post, they'll come to MageNet using YOUR referral link. As you may remember, we're keeping cookies for 180 days, and keep track of every referral that registers using your unique link.
Posts for Twitter and LinkedIn are written specifically for these networks, so the number of symbols and the message conveyed are thought through and optimized for those social media.
Step 5 – Share your referral link using Skype
You can send the creatives for Skype to one user or a group of users in your contact list. There are three texts you can choose between. The system is the same: copy, paste, profit.
Step 6 – Share your referral link using broadcasts
If you have a base of subscribers on your website, send them the broadcast, and you'll see the result really fast, as most recipients will open their email within a working day. You won't need to wait for someone to run into you banner or post on Facebook and will be able to measure the effectiveness of the email almost immediately.
Step 7 – Share your referral link using forums
If you're a regular participant in any relevant forum, you can share your referral link there as well. If not, you can register and join the conversations to find the like-minded audience to share your monetization experience with. Be careful, though, on some forums you need to build the reputation before you start sharing any links.
Step 8 – Share your referral link through your own content
And, of course, you can simply tell your readers about MageNet Referral Program in the blog post or articles on your site. Simply don't forget to include your referral link so that we can track the referrals coming from your recommendation.

Step 9 – Combine different channels to get better result
It really doesn't matter which channel you decide to use, the referral link will keep count of the referrals you invite. To maximize your earnings you can combine them all until you find the ones that work best for you.
Step 10 – Use professional help from our experts
We are always pleased to help you earn more with our platform and referral program as well. In our blog, you'll find some monetization and blogging advice, useful tips and little secrets. If you face any difficulties or have any questions, feel free to contact us at [email protected] or use this form.
We genuinely hope this information will be useful for you, and you'll make progress you expect from our Referral Program. Go to your profile and choose the channels to spread the word – seize your chance to earn $1000/mo. 
Boost your earnings with the MageNet Referral Program today, and ensure your steady passive income.
Money for adding a site? MageNet makes it possible!
We couldn't miss the opportunity to treat you with a Black Friday Offer, so here you go. From 11/22/2017 to 11/30/2017 you have a chance to get up to $40* to your account for newly added websites.
Add websites that weren't used on other accounts previously, and get $1 for each one that corresponds to the requirements set. Start monetizing your website with MageNet, and receive a bonus before the first ad appears on it.
For you to get the bonus, your site needs to meet AT LEAST ONE of these requirements:
Have DA=70, or more,

Have a generic top-level domain .edu

or

.gov

or

.org,

Be in one of the following domain zones (or have an IP registered there): Australia, Mexico, Sweden, Norway, Denmark, Netherlands, Spain
After you've added your site, it takes around 14 days to have it indexed. As soon as this process is over, you'll get your bonus. All the website owners will receive their bonus by 12/15/2017.
Add sites now to get your Black Friday Bonus. Earn before even placing ads on your site.
* $40 is the maximum payout you can get. The deal is only valid for those users who have earned <=$5 with MageNet.
If you run a blog, you might follow several proper aims. Of course, you want to share some valuable information and engage as many readers as possible. Because you know that the more readers you have, the higher income you'll get. MageNet provides you with a perfect opportunity to earn more with your website.
You can safely monetize your site and get easy money for placing contextual ads within your content. All you need to do is create an account with MageNet, accomplish a few steps and voilà – the first profit is here for you. Sounds great, doesn't it? But let's start at the beginning and get to the bottom of how to get started with MageNet. In this article, we are going to provide detailed instructions on MageNet platform.
How To Get In Our Inventory?
The very first step on the way to getting money from your site is creating an account with MageNet if you're not an active publisher yet.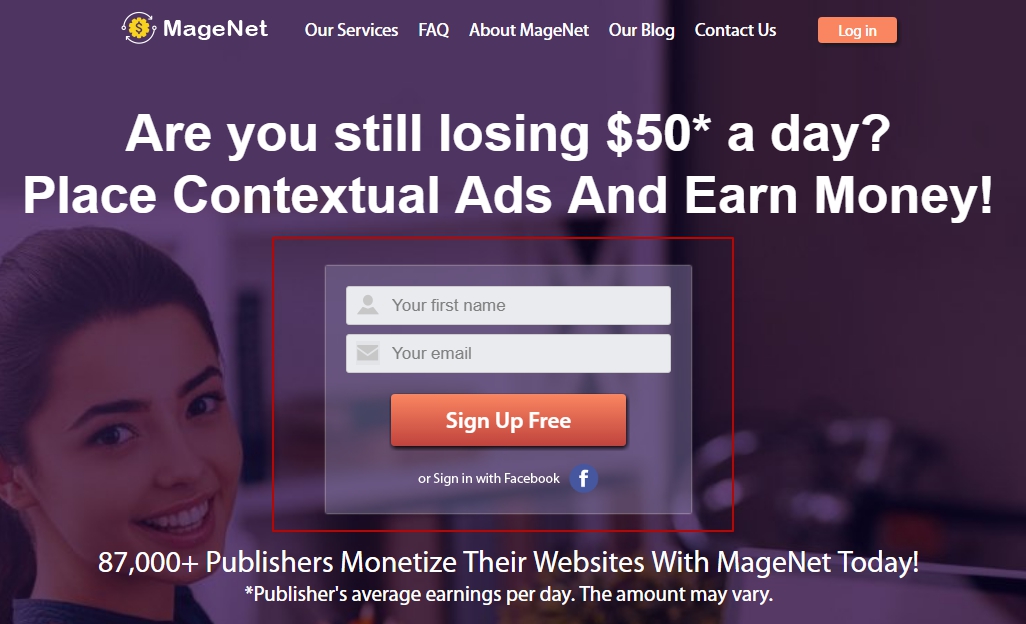 In case you have an account with MageNet, log in by clicking the button in the upper right corner.

After logging in, you will get on the main page of MageNet inventory. Here you will find the detailed recommendations on your further steps along with an introductory video.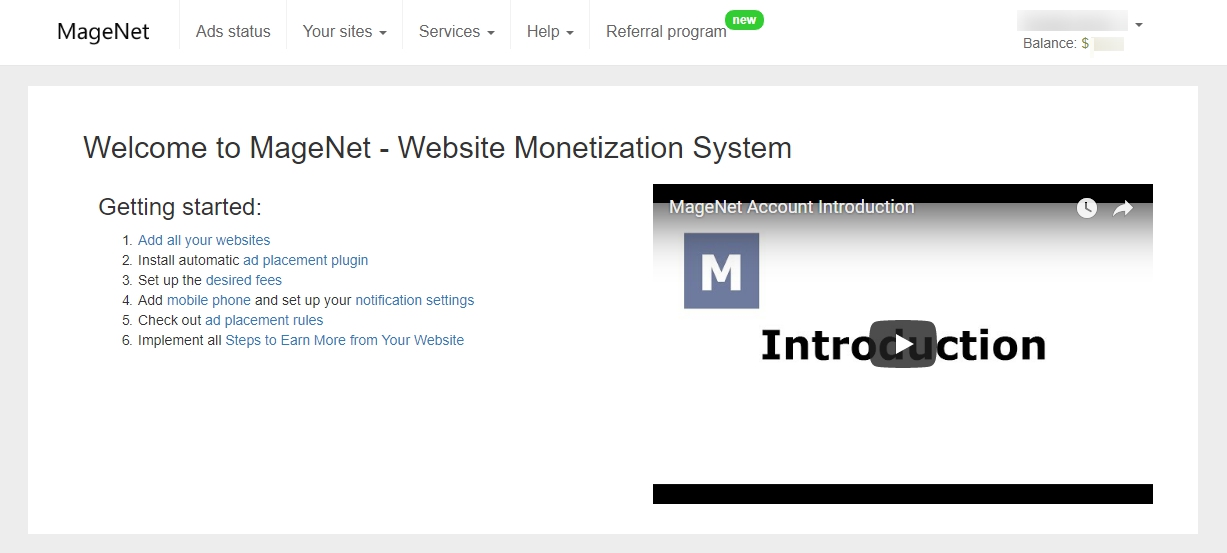 To get profit with MageNet, add your website or websites in our inventory by clicking Your sites tab and thereafter choose the Add new website line.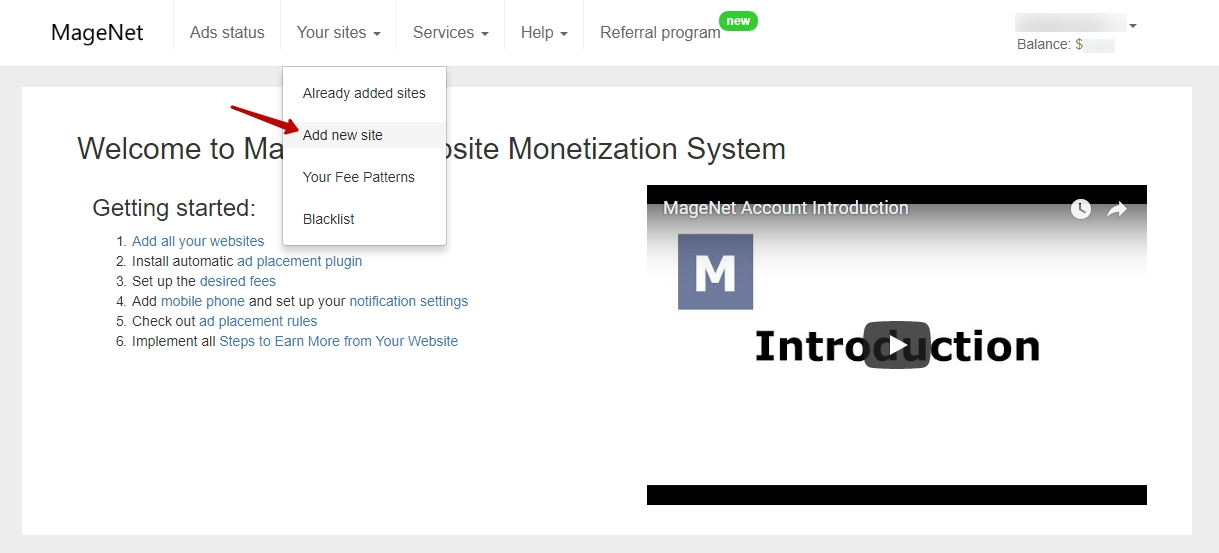 After clicking Add new site line, you'll get the following popup window. Here you need to indicate your website's URL, the platform it works on, and relevant category so marketers could easily find and choose your website for ads placement.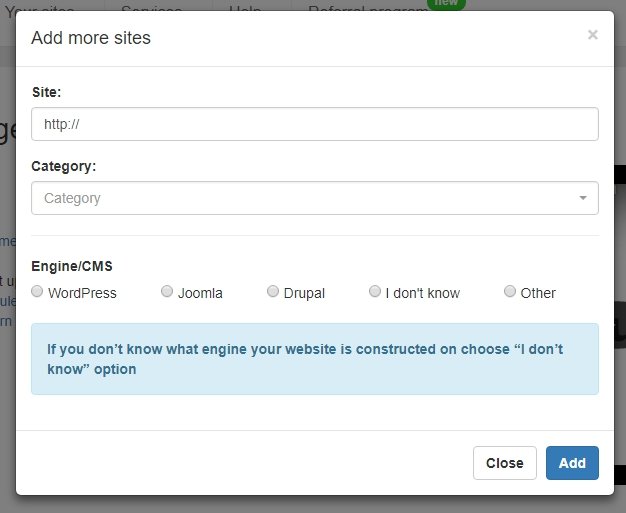 Once you fill in all the necessary data, click Add button to confirm your ownership rights. You can do it in two ways: manually or automatically with the help of plugins. After all these done, you need to wait 48 hours for us to index your website. Please note that MageNet doesn't accept websites that promote escort services, pornography, adult, or other harmful content.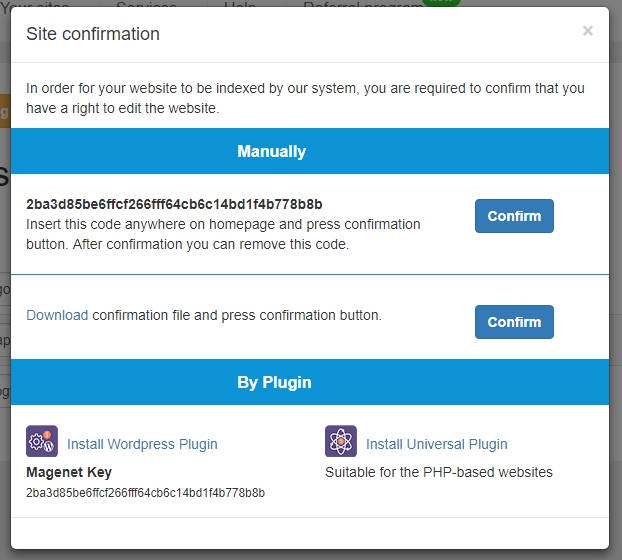 As soon as your website pages are indexed, you'll see them listed in the inventory. (Your sites – Already added sites)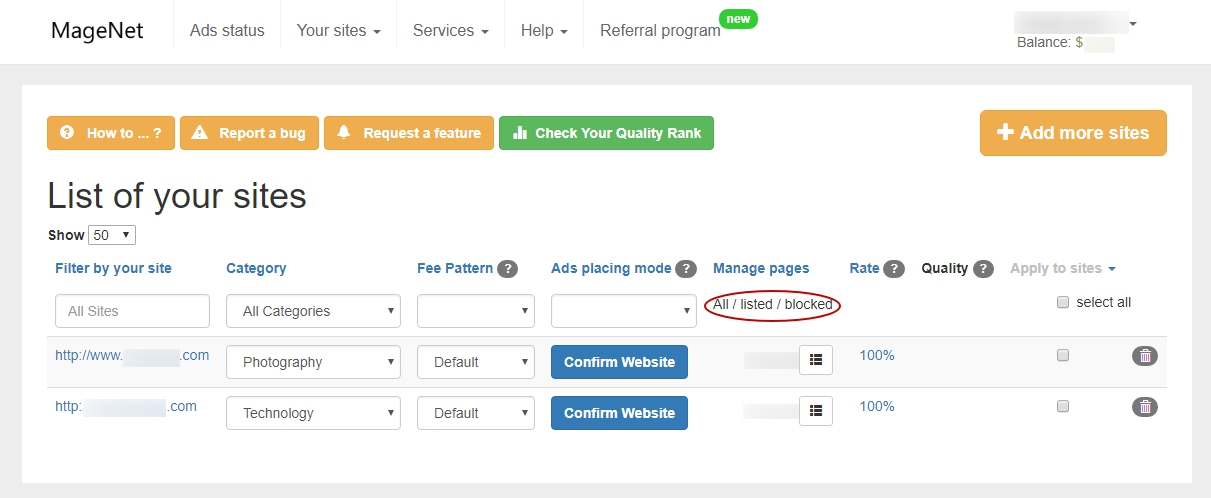 This interface provides you with the comprehensive data on your added websites:
In the first column, you'll find the URL of your added website and the category of this site in the side-by-side column

A fee pattern is a customized or default price for your services. Default fee is a standard tariff proposed by MageNet for your website services. This price is based on

SB Rank

of your website and the number of outbound links. The better rankings you have, the higher prices you'll get for your services. Still, you can set your own prices as well.

Ads placement mode means the way you install ads on your website. MageNet offers you to enjoy three ways of ads placement: manual, and automatic, with the help of

plugins

– WordPress Monetization Plugin or Universal Ads Placing Plugin.

Rate column indicates the number of placements that failed. Note that the higher rate you get, the most attractive you'll be to your customers.

Quality column tells you how quality your website is and what

commission you are going to get

.
Ads Statuses & Why They Should Be Active

This interface gives you the crucial information on statuses of ads placed on your website. Namely, you can check:
The page of your website with ad placed

Clickable text for your users

Type of backlink placement: manual when you take care of all ads by your own, and automatic with the help of

MageNet plugins

that save your time and place ads without bothering you.

SB rank of your page

Your monthly fee for the ad placed

Whether your links are permanent

Status of the ad. This is the column you should pay careful attention. Because you can get money only if the placed ad is active.

Start/end date of ad placement
Quality Matters
MageNet rewards publishers for good page quality. In figures it means that you get additional sales bonus in such cases:
60% bonus for 31-49 Quality Rank

80% bonus for 50+ Quality Rank
You get your bonus on the 1st day of the following calendar month. For instance, if you've managed to earn $1000 from any page of your website with Quality Rank 40 in March, you would receive extra $600 for this page quality in April. 
MageNet Benefits For Publishers
To sum up, take a look at the advantages you can get by using MageNet:
Safe and easy passive income just for placing ads.

All you need to do is just add your website, pass our moderation and wait until the marketer will choose your website for their ads placement. Please note that MageNet has no influence on the choice of marketers. That is why the amount of money you can earn with MageNet may vary depending on your website niche, page quality,

SB Rank

, and many other factors.

Rich statistics of your earnings progress.

MageNet platform offers you convenient and all-sided information concerning your income. You can evaluate the dynamics and popularity of your website by your own. On the basis of this information, you'll decide which steps should be taken to gain popularity with the marketers.

Total control over placed ads.

All you need to know about placed ads on your website is just at your fingertips. Status, price, duration, and placement of every ad is clearly pointed out in the interface of our inventory.

Get paid regularly.

You'll get an opportunity to receive additional regular payments. The more attractive your website for marketers is, the more money you will get. Every 1

st

day of the next month you get paid for the previous one.

Fool-proof and transparent interface.

MageNet serves you handy and informative interfaces that provide you with all the necessary information so you can have a clear vision of your further steps towards income increase.

Website Value Calculator.

Make use of this

free tool to reveal how much you can earn with your website

after joining MageNet.

Quality Rank allows you to earn more.

Check how much you can

additionally earn

just for adding a quality website to our inventory.

Join MageNet Referral Program.

You may boost your profit when

referring friends to MageNet

.

Add as many websites as you wish for FREE.

The last but not the least benefit of using MageNet is that if you run more than 1 website, you can monetize them all! More websites on various topics increase your chances to boost profit.
Remember that a good beginning makes a good ending. So start enjoying the benefits of using MageNet right away!
Reading some theoretical information about any piece of the topic can be useful at some point. But soon learning the endless rules of what to do and what not to do gets exhausting.
In many cases, you learn the best working things the hard way – having spent a couple of sleepless nights and a few hundred dollars on some baloney that didn't work.
By this blog post, we're trying to make your life easier and gathering opinions of people who've already succeeded in monetization. Tips, tricks, secrets that helped them get to the top. Predictions for the near future of monetization.
"Feel free to experiment,"
Neil Patel
Neil Patel, a guru of content marketing, monetization and online business, insists on making the wise choice of the topic for your blog. We've actually made an article to help you decide on the blog niche that will bring you money. Patel is among those who're saying that only the subject that evokes strong interest in you, will make you popular and successful: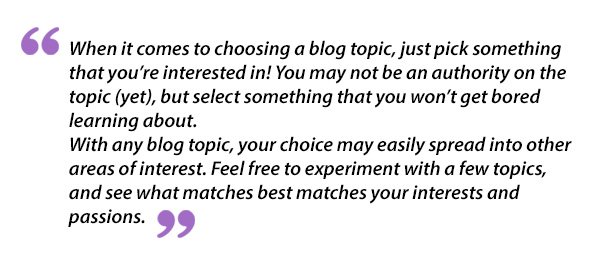 As for other Patel's tips on blogging, he's got plenty simple, but effective ideas, like using the vocabulary that is as simple as possible, or writing more posts on how to do some things, and creating them detailed and to the point.
"Repeat visitors help you earn more,"
Ankit Oberoi
The name of Ankit Oberoi is known to many who are reading and learning about monetization. He's a Web Entrepreneur & Co-Founder of AdPushup – a platform that helps publishers optimize their online ads earnings. Ankit is convinced that the audience is the most valuable asset you possess. So the first step according to him is founding a base of readers and subscribers. The users that are regularly visiting your blog will bring you more money in the long run.
Additionally, Ankit thinks very highly of modern advertising networks, as they allow website owners minimize the efforts of revenue acquisition. Nonetheless, there are some elements that none of the ad system or networks can help you with. With them, you'll have to make up your mind and do the testing by yourself, says Oberoi.

"You need to be testing everything,"
Jim Wang
Another monetization pro, Jim Wang, founder of Bargaineering, is also crazy about testing.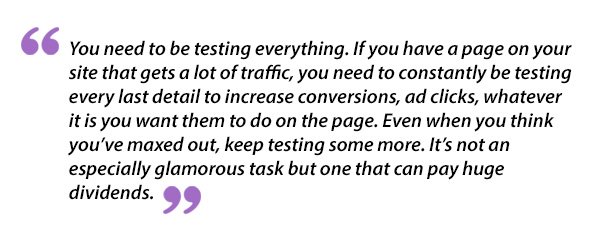 Split testing is not the only way to measure content and its separate parts, according to Wang. Notice the results of changes in every headline, call-to-action or significant sections of your texts. Use new testing methods to get new results, don't just do the stuff that was working in the past and hope to outperform yourself and competitors.
Just like Ankit Oberoi, Wang values the audience. He advises thinking about the users and readers before all and placing monetization as the end goal. This way of thinking allows you to release the stress when your site doesn't bring money momentarily. You spend more time and efforts in present and don't worry constantly about the future. One step at a time.
Another tip that Jim shares on the matter is not to think way too far in the future. The internet develops extremely fast, and it doesn't make sense to create plans for 5-10 years only to realize that your business field and the world, in general, are moving in another direction.
"Augmented reality is going to be huge,"
Jeff Cordeiro 
Cordeiro is a COO of MUNDOmedia Ltd. – an online agency that works out methods of users attraction and retention with the help of paid media. The company mainly works with game and app developers. Monetization is a big challenge for those businesses, he admits. Getting traffic to increase rankings in AppStore or Google Play requires an approach a bit different from traditional SEO.
With games, just like with blogs, the topic is important. Many games that don't require a lot of thinking tend to go viral. The same is true for battle and strategic games. However, Cordeiro admits that very few new approaches to games industry appear now:

What do you think about the tips given? Do you agree with Jim Wang and Ankit Oberoi, and do the testing for each and every part of your blog? Or, maybe, prefer to experiment with the topics for your blogs to see what satisfies you most, like Niel Patel advises? Have you ever monetized an app or an online game? Share in the comments below!
Choosing a site category or niche is one of the first things you would want to consider if you have monetization in your future plans. The first idea could be to create a website or blog with a range of topics to attract a bigger audience. Well, the practice shows, this is not a good choice.
According to ShoutMeLoud, blogs that try to cover multiple topics perform worse than those concentrating on one single niche and digging deep in it. Of course, there are different definitions to "perform good/bad", we'll take monetization as a main determining factor.
Why do you need a site category?
What affects monetization of a website in the first place? Correct, it's traffic! The more traffic comes to your site, the more money you'll be able to earn. Now come two reasons that prove that a specialized site is going to be more profitable than a generalized one.
A too general subject of a site makes it difficult for you to get a loyal audience. As the readers don't know what to expect from following your site, they may hesitate while subscribing to your news. In the modern world, we don't have time to read all the information that's coming to us, and prefer to get the most relevant and interesting features on the most needed topics.
Acquiring organic traffic by search-engine optimization gets extremely hard if you target a huge variety of keywords. Moreover, if you follow SEO-changes that are happening in the online world at the moment, you know that search engines, namely Google, value authority, and competence. It's hard to demonstrate a high level of proficiency on different topics and be a valuable source of information in the eyes of Google. On the contrary, extremely specific blogs tend to demonstrate impressive results in search engines even with basic SEO.
In addition to these factors, there is also a fact that targeted traffic is more useful in terms of online earnings. 1000 perfectly targeted visitors will bring more money from the ads than 5000 visitors who see the ads of the products they are not interested in.
Luckily, this particular example is not an issue for MageNet, as our publishers get paid for placement, not for clicks. Nonetheless, if you choose multiple monetization options, this is something worth paying attention to.
Questions to ask yourself when choosing a category
Now when you understand the idea that one single niche is worth investing your efforts, you should start considering the one and only you're going to stick to. Surely, you are free to take up several subjects and dedicate several blogs to them, if you feel like it. Or, put all your drive and passion into this one to make the most out of it.
So what exactly matters in the niche-picking process?
Do you like it?
The first question most successful bloggers suggest you ask. The easiest for some and the toughest for others. We all tend to show better results when doing something we enjoy and have a strong interest in. There is a pretty good chance that if your blog succeeds, you will spend years of your life working in the niche of your choice, so try to be honest with yourself when answering the question.
Do you have enough knowledge about the topic?
If you want to create an authoritative source of information, you almost absolutely need to have a good base of theoretical and practical knowledge of the topic.
You can, of course, take up a kind of project where you start learning or doing something from a scratch, and share your insights with the readers at every step of your work.
However, if we're talking about other cases, you want to show your readers that you are the right person to read and to take advice from. That's why make sure your level of understanding helps you provide the most up-to-date, deep and useful information.
What's more, spend some quality time improving your skills, reading fresh news, participating in workshops or conferences to share the knowledge and opinions with experts in the field.
Is the niche profitable enough?
Yes, unfortunately, not all the niches are of the same level of profitability, and not all site categories provide the same level of income when you decide to monetize your site. We're not saying that there are niches where you can't make any money at all, but there are surely some that are very competitive or too narrow to attract the required amount of visitors.
What to look at when determining the potential effectiveness and of a site category? Well, you could start with looking at how your competitors are doing. What monetization methods do they use? How much traffic do they normally get? Do they have any profit at all?
After that, you can determine the resources you have available for promotion and all possible monetization options that appeal to you. This will give you a general understanding of your assets, opportunities, and prospects with a particular category.
To help you orientate yourself in the market, we'll give you some info on the most profitable niches from the point of view of site monetization.
The most profitable categories on the Internet
We'll talk about broad niches, so keep in mind that there are plenty of sub-categories you can use to create a site on.
Money-making
The most obvious choice for bloggers who are beginners in monetization, as making money is always in trend and monetization options are countless in the field. However, it only makes sense to expect a high level of revenue if you are very knowledgeable and experienced and have something truly valuable to share.
If on the other hand, you start your blog for the sake of earning money within a profitable niche, chances are, you'll waste your time and effort. For your audience may not know about your expertise from the very beginning, but they will guess very soon whether you're incompetent.
You can always employ the method we've described above – where you start a journey as a beginner and share your way with your audience. But don't pretend to have the know-how you don't possess.
Finances
Specifically, the field of personal finances, where you can give the information on money saving, budget cuts or investments to make. Once you've got your audience created, you can monetize your site by placing ads on it or turn it into a proper business by creating some courses or organizing workshops on the topic.
Nutrition and food
Relevant ads are a good way to monetize a site or a blog about food or cooking. Additionally, if you're looking for monetization options besides ads, you could try writing a recipe book on a particular topic and make an e-book out of it.
News websites
Sites with breaking news or gossips about celebrities present an opportunity for monetization through ads and have one of the highest earning rates.
Lifestyle
This is a very broad term that can include lots of sub-categories like traveling, decor, gardening, etc. For lifestyle blogs, ads are the most appropriate monetization method together with writing and selling e-books, just like in food blogs.
Some other popular and profitable categories according to Google Adwords include employment and legal spheres, as they are quite expensive services by themselves.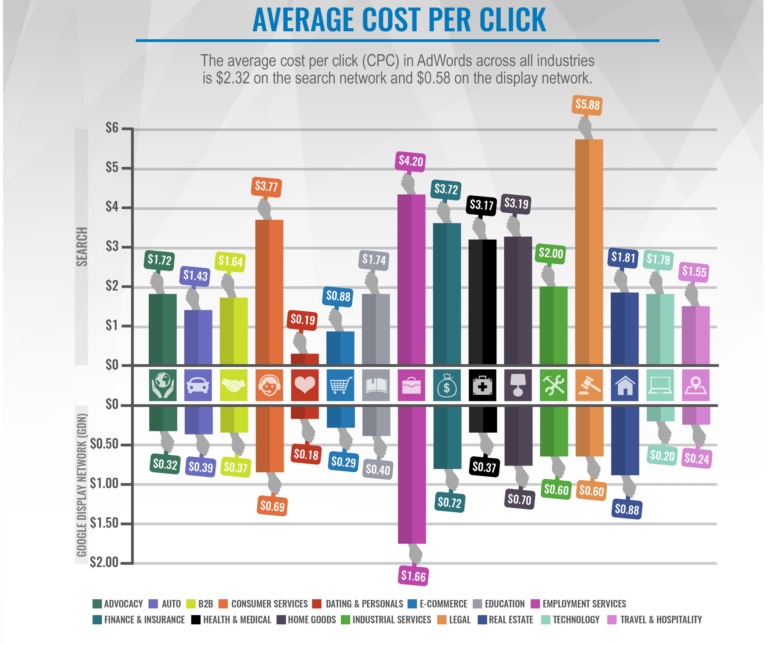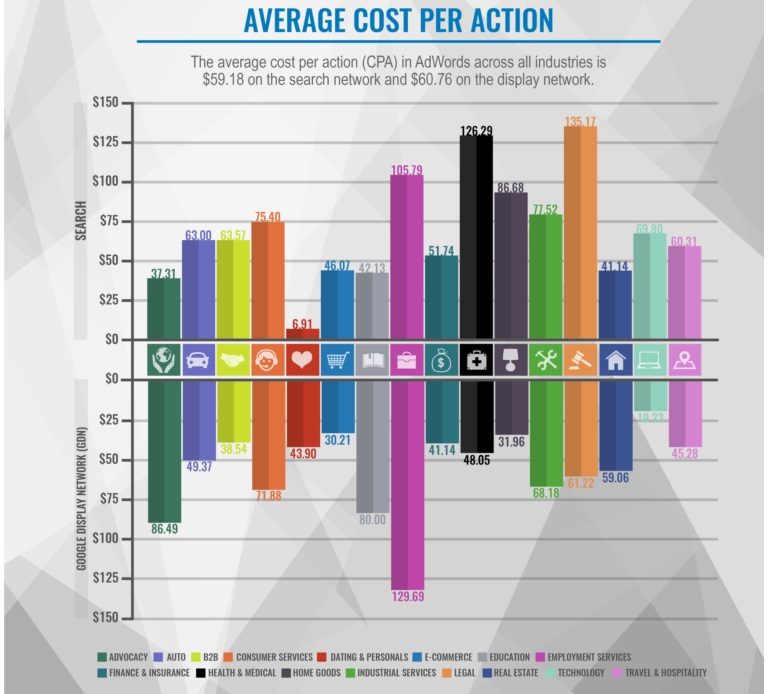 The most profitable categories on MageNet
As we mentioned above, MageNet makes payment to the publishers on cost-per-placement terms. This means that you don't need to worry about the number of visitors who see the ads, as you get paid once a month irrespective of views or clicks.
However, there are still some niches that are more popular than others and we suggest you find out about them to make the best decision about your blog's category.
The most popular categories with the advertisers on MageNet are Business, Recreation & Entertainment, and Health. The websites of these categories bring more incomes to their owners than others.
While as for the ads cost, the most expensive ones belong to the Animals, Shopping and Finance categories. The advertisers are inclined to pay a higher price for the ads on such websites.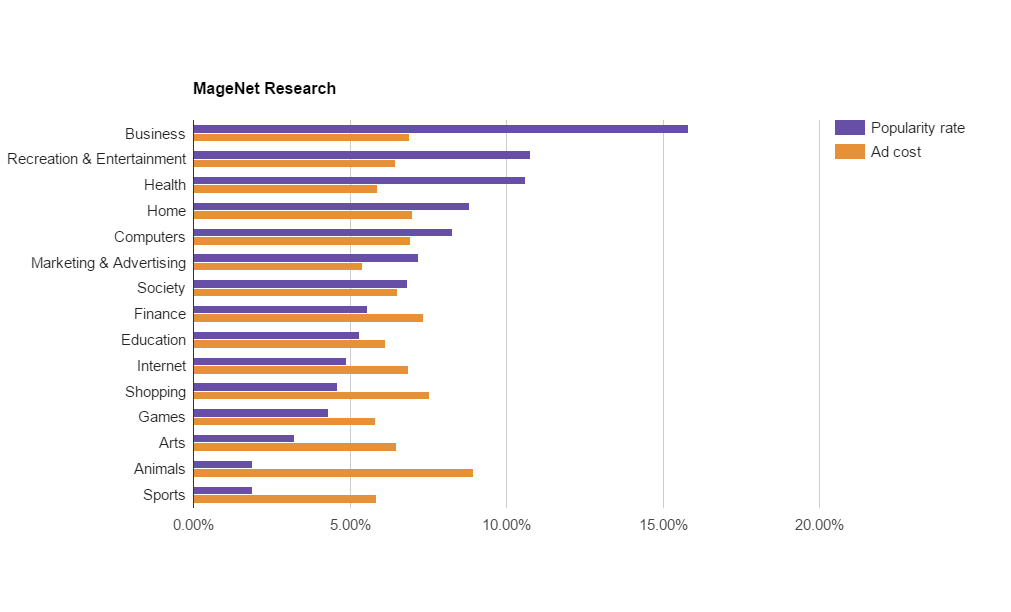 When a client is seeking an ad to buy, he chooses the certain category through our filters. If the website doesn't match the required category, you won't get the offer.
It is also important not to choose the category you think is gainful or in-demand just because of its profitability. In this case, you may get the reverse effect and disappoint expectations of the potential buyer if the content of your site doesn't have the desired quality.