How to check DA/PA/SB Rank of a website?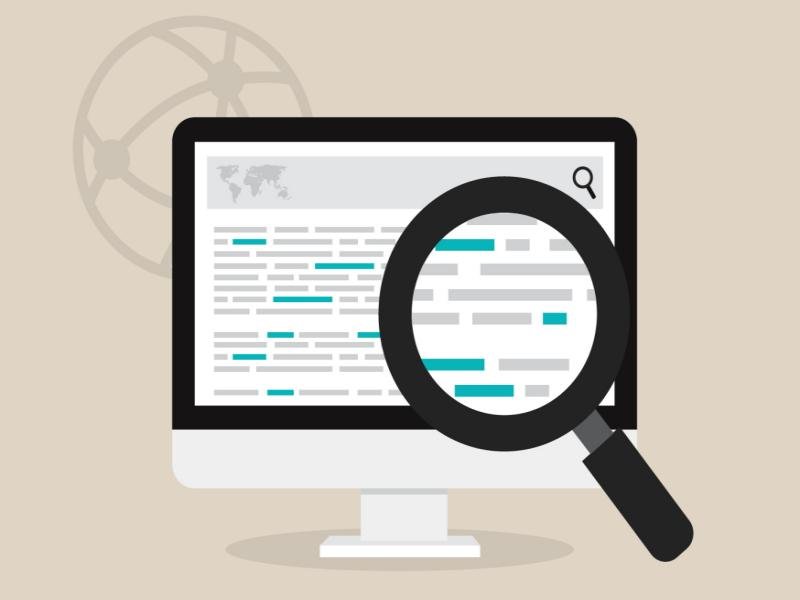 Once you step on the SEO-path, you'll want to know for sure which buttons to push to get high rankings on search engines. In this article, we shed light on the factors that have a strong hold upon your website performance. Namely, DA, PA, and SB rank.
What means DA?
Folks from MOZ invented this metric to identify the authoritativeness of a website. Combining more than 40 factors, DA takes an unbiased look at your site chances to get high rankings on SERPs. Among the most prominent and apparent things considered are the number of backlinks, MozRank and MOZTrust.
Every decent SEO expert considers DA metric to foresee how well your site may rank on search engines. In essence, this metric has become an integral factor needed to compare any website to the competitors' sites.
The DA metric is represented by a 0-100 scale. The higher score means stronger authority and reliability of a website.
Previously in the article, we mentioned MozRank and MozTrust, the two ingredients that make the DA picture full.
MozRank
MozRank denotes how many websites link to you. The more quality websites link to your site, the higher MozRank you obtain. Basically, MozRank deals with your backlink profile and look much like the Google's now non-existent PR.
In other words, there is a point in linking to quality websites since they automatically boost your backlink profile as well.
MozTrust
As you can see by the name of this metric, it's one more invention from the Moz team. Whereas MozRank deals with the number of links in your website backlink profile, MozTrust scrutinizes the value of your backlinks. There's a bunch of pages that are automatically considered as the more trustworthy: homepages, government and university pages, websites with .com domains and many more.
How to increase DA?
The sure way to boost your DA rank is picking in quality backlinks. But still you have to remember that not all backlinks are treated equally, so the trick is diligently to search for the relevant and quality links. Every time you enlarge your backlink profile your domain authority will steadily grow up.
Four simple ways you can increase your domain authority:
Craft a lot of quality content with diligent internal linking
Work on gathering plenty of high-quality inbound links.
Weed out bad links pointing to your website.
Give yourself time because of DA slow increase.
What means Page Authority?
In contrast to DA, PA (Page Authority) evaluates the strength of a separate webpage. Page Authority is based on the quality and authority of inbound links.
A whole website can have high DA while its separate pages can have low PA. Usually, this score matters when you monetize your site content. People tend to buy ads from web pages with high score.
Needless to say that web owners always strive to make their website pages quality so be able to monetize each of them. So here are simple steps you can take to improve your page authority.
How to increase PA?
Domain authority matters. So web pages on high authority domains tend to gain high PA score as well.
Make sure that the content of your web page is useful, relevant, and unique.
Check and fix on page issues that may also prevent you from getting high PA.
Don't forget about relevant internal linking on the given page.
Grow many high-quality backlinks pointing to the given page.
Clear away any bad links pointing to the page (this is also true for your whole website).
What means SB Rank?
Back in the days when Google announced that PageRank ceased to exist, ScanBacklinks developed a new score that can easily replace PR. That is the story about how SB Rank appeared. And the cornerstone of this new metric is DA, PA, CF, and TF.
Citation Flow (CF) is a number of predicting how influential a URL might be based on how many sites link to it. Trust Flow (TF) is a number predicting how trustworthy a page is based on how trustworthy sites tend to link to trustworthy neighbors. CF and TF are a set of link metrics represented by Majestic SEO.
SB Rank is a perfect blend of all these 4 metrics from MOZ and Majestic. What we like the most in SB rank is that it's totally fair and you cannot cheat it. Plus, SB Rank updates every single month so you can be sure that the scores provided are always up-to-date.
Furthermore, you don't have to check each of the link metrics separately. Instead, you can check only SB Rank and get the fair score of any web page you wish. SB Rank is a time and nerve-saver that will let you build links correct and effortlessly.
How to make your DA, PA, and SB Rank Better?
When it comes to any improvements to your website performance we'd recommend you to consider the following factors: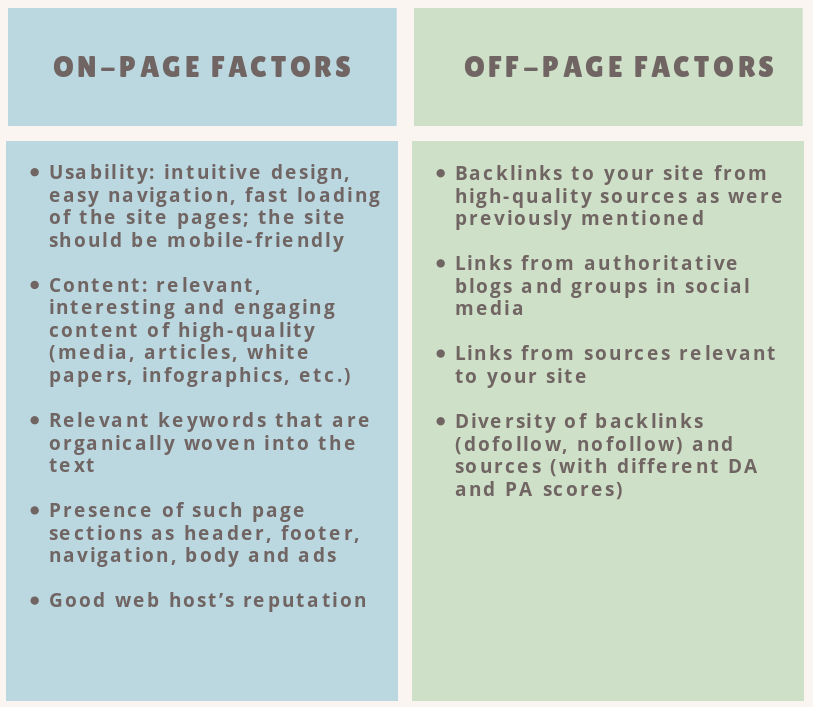 Unified solution to check DA, PA, and SB Rank
You can view your website's SB Rank by using ScanBacklinks. All you need to do to check the DA, PA or SB Rank of a website is simply put the URL into the box and click 'Check right now' button. Just in a few seconds, you'll get DA, PA, CF, TF, and a summarizing SB rank of a selected web page. It's easy as 1-2-3.
Step 1. Enter the URL into the box.

Step 2. Click 'Check right now' button.

Step 3. Ta da! Check out the result.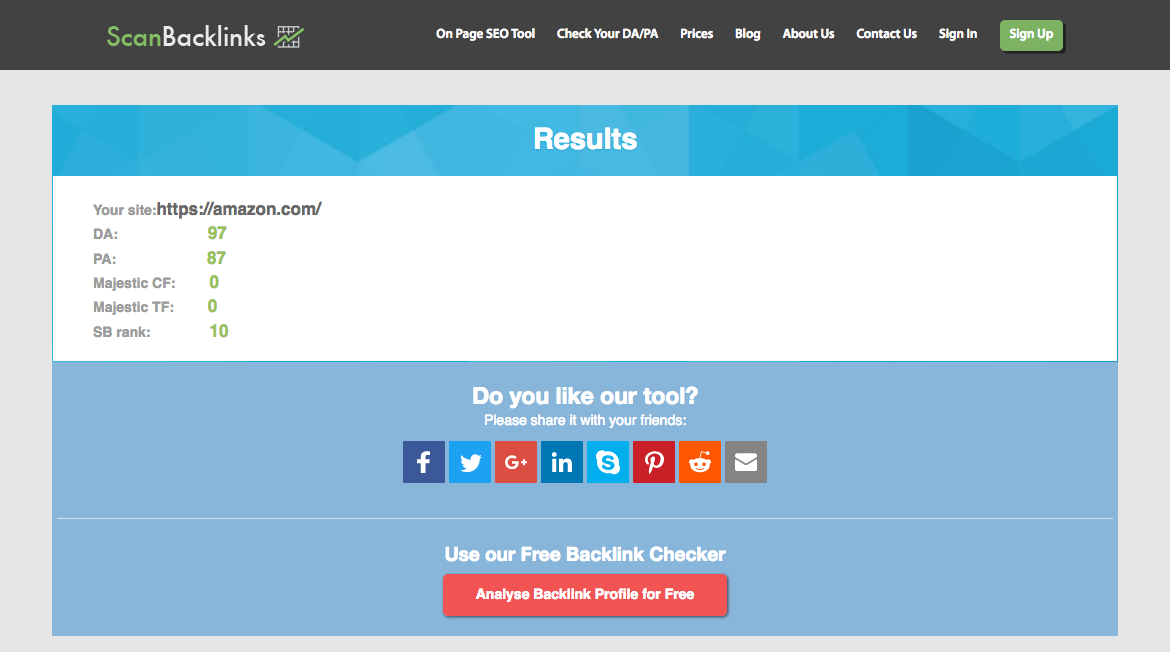 In case you want to check your backlink profile or on-page issues, you'll have to sign up for ScanBacklinks and examine your website from all SEO angles possible.
Check DA/PA/SB Rank of My Website
Have any questions left? Leave your comments just below the article and we'll do our best to clench the matter!