How to Find Blogs that Accept Guest Blogging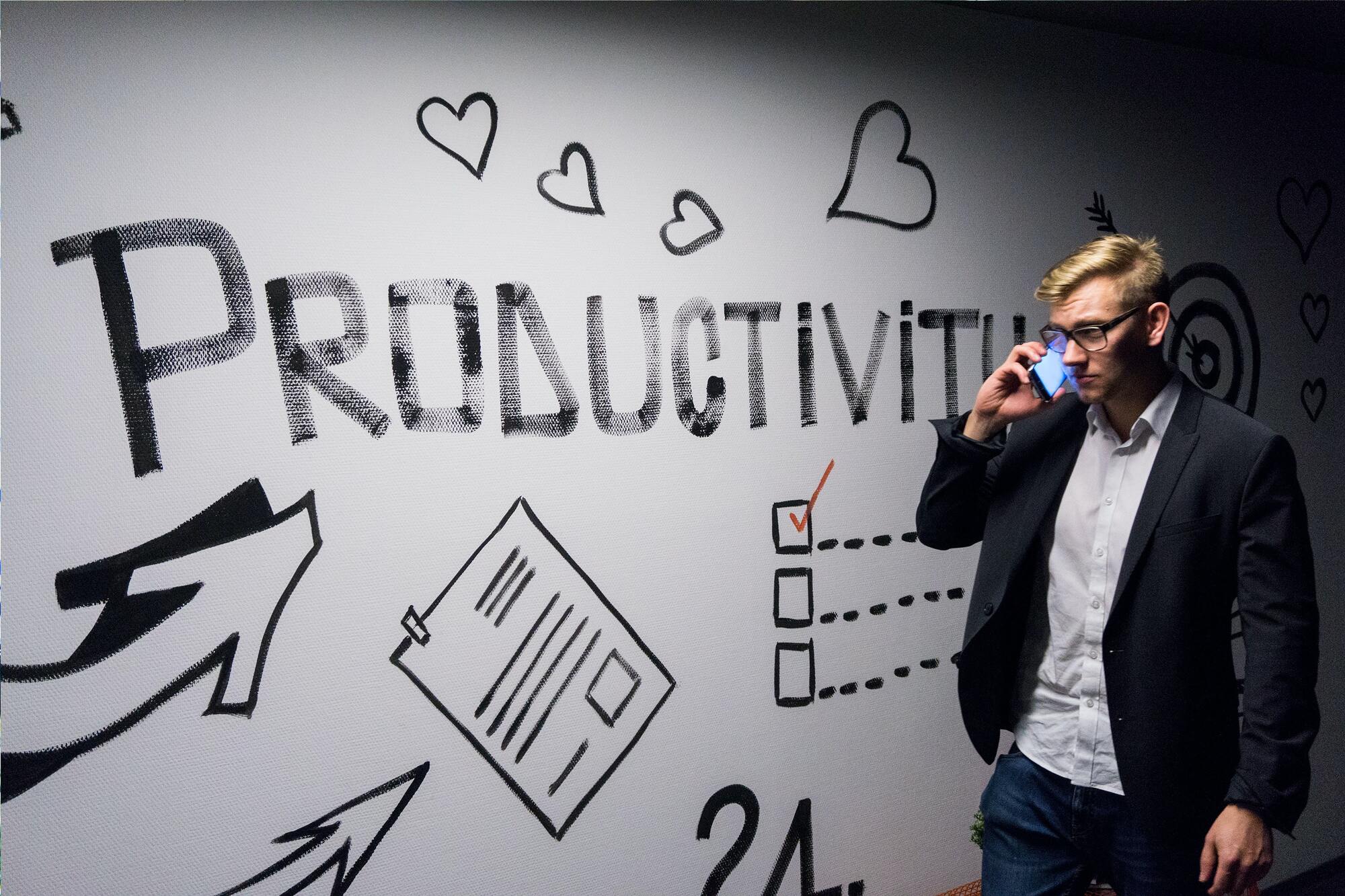 When you have established yourself as a professional blogger in your niche, it's time to start thinking about appearing as a guest on different blogging sites. One of the hardest parts of getting started as a guest blogger is finding blogs that will publish your posts without them reaching out to you directly.
Sure, there are big name sites that you can reach out to,  like HuffPo, but getting your work published immediately is not something that happens to every writer, regardless of your status in the blogging world. 

You need to grow your name, work your way up the ladder of the blogging community, and then reach out to other blogs to see if they want you to accept a guest post. Now the question becomes, how do you find blogs that accept guest blogging?
Finding Guest Blogging Opportunities
Finding guest blogging site can be challenging, but that doesn't mean it has to be impossible. A few things to remember when you are looking into how to do guest posting are as follows:
Target blogs

that have something to do with your niche market or your industry.

The

audience

that you're writing for should have some sort of interest in your own website – the point of

guest blogging

is to reach an audience that you don't have exposure to.

The blog you're writing for should have a

large social media engagement

, and be owned by someone that is active on social media.

You can partner with MageNet as a guest blogger provided that your deliver 100% unique article without grammatical mistakes and cover the relevant topic.
Let's say you're running a blog on cooking, specifically French food. You want to find other culinary blogs, and blogs that lean toward the French market, or those associated with French cuisine, or all things French. You wouldn't want to reach out to electronic or technology blogs – these people won't care about your topic. 
Finding the Right Guest Blogging Site
Start with a list of potential sites that you'd possible want to write for. The sites don't have to be looking for guest bloggers right away, but getting a list of prospective guest blogging sites is important.
Once you have a list of your guest blogging sites, start by accumulating information on each and every one.  How do you contact them? How do you find

guest blogging opportunities

for their site? A spreadsheet is perfect for this information. You can keep it focused and see all of your prospective guest blogging sites in one spot.

Now that you've gathered this information on the

blogs that accept guest blogging

, start removing sites that don't meet your minimum requirements for a

guest blogging site. 

Remember, you're looking for site that have a

large social media engagement

, and someone that obviously cares about interacting with their audience. Since you don't have access to their

web statistics

, looking at their social stats is the easiest way to see where they stand with audience engagement.

Eliminate those sites that may be out of your

niche market

, or those sites that won't

accept guest bloggers

.
Now that you've cleaned up your spreadsheet and have only a list of sites that you'd like to work with on a regular basis, it's time to start your pitch to these blogs to get them to accept you as a guest writer.
Google Search
Google is a great tool when you're researching blogs for guest posts. Using key phrases, along with the specific URL, you can quickly find information on where to submit your guest blogging pitch.
Use operation "intitle:" or "inurl:" with  the following: 
"Submit a guest post"
"Guest blogging"
"Accepted guest posts"
"Guest post"
"Guest contributor"
"Write for us"
"How to do guest posting"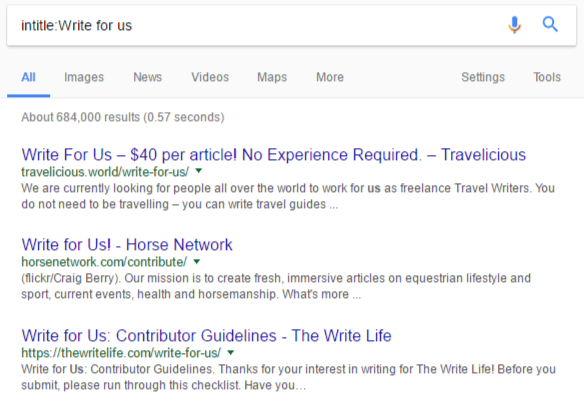 These are just a few examples that you can utilize to search. You can use the results on pages one and two of Google, as these are most likely to be the best results for your needs. Remember, working with a specific URL is fun, but opening up Google to every website they index will provide you with many more guest blogging possibilities.
Contact Common Contributors
Each industry has experts in its field, and these are great places to research for guest blogging. In SEO, we have names like Neil Patel, Danny Iny, Kristi Hines, and much much more. The more you start to recognize and realize where these names write, the more information you can gather about these sites.
Start by writing a list of name of the heavy hitters in your industry.
Return to Google and search some of the phrases that we reviewed above, but add in one of the names from your list. "guest post by Kristi Hines", for example. This will bring up results, but be sure that these results are not the sites owned by the writers themselves.
Sure, eventually guest blogging on Kristi's site would be amazing, but she may not be looking for people to write for her at this point, or the site may require specific experience in the field.
Remember to use all of the methods that Google provides for you – if you find that your results are producing many posts on the same sites, start to add in negative search fields. By adding a " – " before a search term, you're telling Google to eliminate any site that has that domain.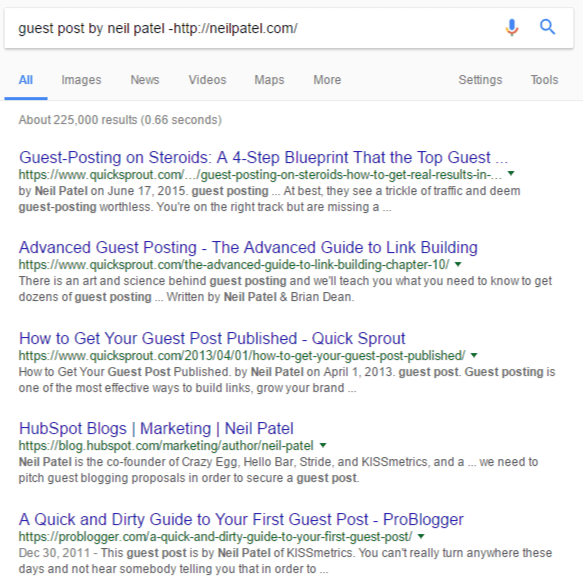 Once you've narrowed down your list of authors, you can start using these names for further research.
Social Network Connection
Social Networking is a great way to get ideas on how to guest blog. For example, look at your own blog. Your readers more than likely leave comments on your posts. If these readers have their own website, they're using your platform as a way to get their domain out in the world. Use their URLs and see if you can find a few that meet the criteria you're looking for in a guest blogging site.
The best part about this strategy is you can ask THEM to guest blog for you in the future – it's a win win on both sides!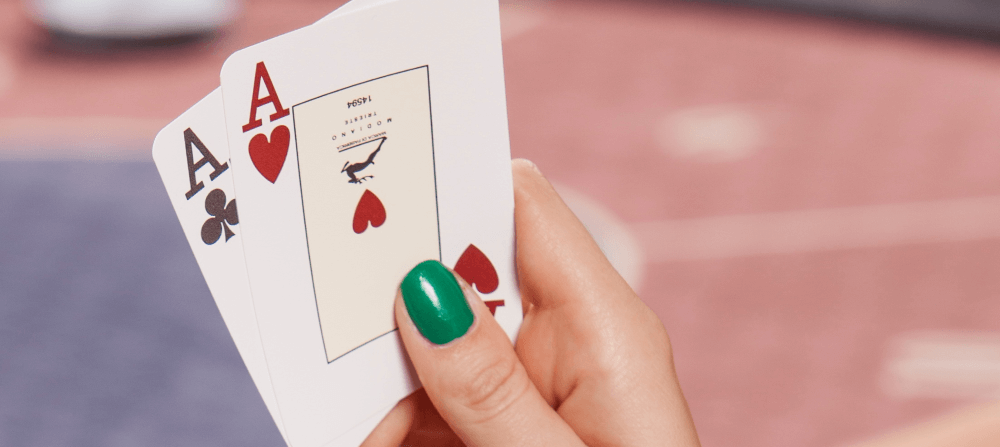 Now move to your social community. Flat out ask your followers on Facebook and Twitter if they have any websites where they would like to see you contribute as a writer. It's always interesting to see what sites other people are reading, and you may get some decent leads that you wouldn't have seen before.
And third, just write a post about it! Start asking for help from your network – tell them you want to gain more exposure, etc. They've been where you are, and some are more than willing to work with aspiring bloggers that need an extra hand.
Blog Communities
Reach out to a few different community groups and see if anything stems from the connections you make there! The issues with blogging communities can be a little tricky – as spam site seem to pop up regularly. You will really need to do your due diligence with the research on these sites, and make certain that they follow the criteria of a site that you're going to want to work with in the future.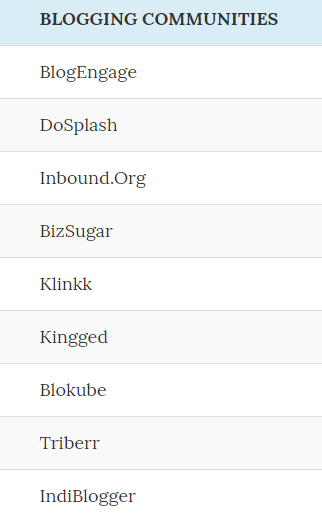 Secondly, some of the sites may have been flagged by Google as spam, and may do you more harm than good when it comes to building a link network. However, there are some great Google+ Groups and LinkedIn Groups that produce amazing results for guest bloggers.
Keep Good Records
Some sites may pop up more than one during your research. It's important to mark these repeats on your list, to allow you to see when and where you've run into the site before.
Always mark down when you've submitted a request for a guest blog post. This can be as simple as "email sent" and the date.  You may also want to jot down the subject you requested to write about and the topic you pitched. This way, you know you won't repeat yourself if you send in an additional request for a guest blog post.
If any results came from your request, such as a rejection, add this to your list of potential sites as well.
Conclusion
Guest blogging is fun, and a great way to build your audience, and give you more credence to the market industry you're specializing in.
It's important to remember to keep your list growing, and continuously updated. Make guest blogging research part of your writing routine, and update your list of potential sites weekly with additional prospects.
Record keeping is key, and don't get discouraged. The opportunities are out there, its simply about finding the right ones for your needs!